Get More, Get All with MSC
Get FREE Wi-Fi and FREE Drinks with Cruise Nation & MSC Cruises
On a huge range of Winter 2019 and 2020 sailings, we're giving away FREE W-Fi Packages and FREE Drinks worth up to £500 When you book an Oceanview Stateroom or above!
There are a range of destinations on offer including the Mediterranean, Caribbean, Cuba, Dubai & the Emirates.
If you book an Inside stateroom, you'll get a FREE Social Wi-Fi package, book an Oceanview Stateroom and you'll get a FREE Social Wi-Fi package and a FREE Easy Drinks Package, book a Balcony or Suite and get a FREE Social Wi-Fi Package and a FREE Premium Drinks Package.
Check out our video showing you what MSC Cruises are all about.
Which drinks are included on the Premium Drinks Package?
When you book a Balcony or Suite, you'll get the following drinks included in your fare:
Beer - Heineken draught beer and all bottled and draught beers from the bar list.
Wines - All sparkling, white-red-rosé wines by the glass priced up to €10.
Cocktails - Rum & cola, Gin & tonic, Vodka & lemon, Whisky & cola, Campary orange, screwdriver, Moscow mule and all other cocktails priced up to €10.
Spirits - Bell's whisky, vodka, Gordon's gin, Captain Morgan rum and all other standard/premium spirits priced up to €10.
Aperitifs & Cordials - All aperitifs e.g. Crodino, Aperol, Bacardi Breezer and all bitters, sweet liqueurs, port and sherry.
Non-alcoholic - All zero-alcohol cocktails from the bar list, bottled mineral water, selection of soft drinks, fresh fruit and vegetable cocktails.
Coffee - Espresso, cappuccino, caffé latte, hot tea, hot and cold specialties with coffee/chocolate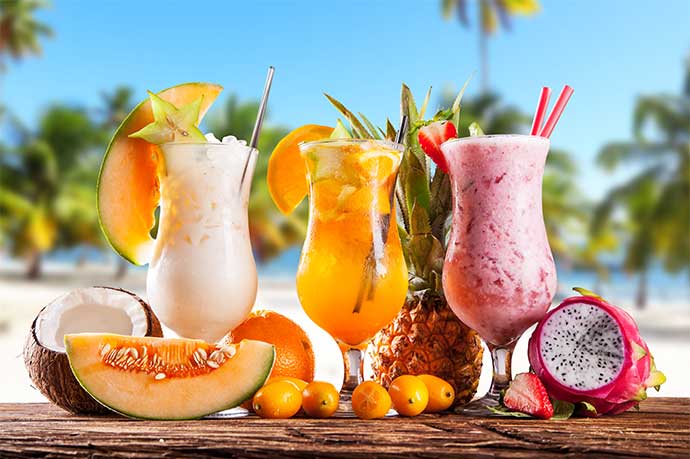 Cruise Deals departing in
Price information
Prices shown here are cached, which means the price was the last available known price when last searched. Our price is always based on 2 adults sharing the lowest available room grade, unless otherwise stated. When you view a deal from the list below, we search the latest live price that is available from our hotel, flight, and cruise providers. Prices are subject to change without notice and might be lower (or higher) than currently shown on this page. E&OE.
For the latest and most up to date availability & pricing, please click View Deal or call our team on 0800 408 0757
Departure
What's Included?
Price (From)

Barcelona & Christmas in The Med

Barcelona

-

Rome (Civitavecchia)

-

Genoa

-

Marseille

-

Barcelona

MSC Magnifica | 7 nights

21 Dec 19

FREE centrally located handpicked hotel stay
Flights Included
Book an Inside cabin & get Free Wifi
Book an Outside cabin & get Free Wifi & Easy Drinks Package
Book a Balcony cabin & get Free Wifi & Premium Drinks Package

£

729

View Deal

Europe, Mediterranean

MSC Magnifica

MSC Cruises

Barcelona

-

Rome (Civitavecchia)

-

Genoa

-

Marseille

-

Barcelona

Dubai 1nt Stay & 7nt Dubai & Emirates

Dubai

-

Abu Dhabi

-

Sir Bani Yas Island (UAE)

-

Bahrain

-

Doha

-

Dubai

MSC Lirica | 8 nights

19 Mar 20

FREE centrally located handpicked hotel stay
Flights Included
Book an Inside cabin & get Free Wifi
Book an Outside cabin & get Free Wifi & Easy Drinks Package
Book a Balcony cabin & get Free Wifi & Premium Drinks Package

£

799

View Deal

Dubai & Emirates

MSC Lirica

MSC Cruises

Dubai

-

Abu Dhabi

-

Sir Bani Yas Island (UAE)

-

Bahrain

-

Doha

-

Dubai

Dubai Stay & 7nt Dubai & Emirates

Dubai

-

Abu Dhabi

-

Khor al Fakkan, UAE

-

Muscat

-

Khasab

-

Dubai

MSC Lirica | 8 nights

12 Mar 20

FREE centrally located handpicked hotel stay
Flights Included
Book an Inside cabin & get Free Wifi
Book an Outside cabin & get Free Wifi & Easy Drinks Package
Book a Balcony cabin & get Free Wifi & Premium Drinks Package

£

829

View Deal

Dubai & Emirates

MSC Lirica

MSC Cruises

Dubai

-

Abu Dhabi

-

Khor al Fakkan, UAE

-

Muscat

-

Khasab

-

Dubai

12nt Dubai & Emirates with Dubai Stay

Dubai

-

Abu Dhabi

-

Sir Bani Yas Island (UAE)

-

Khasab

-

Muscat

-

Bahrain

-

Doha

-

Dubai

MSC Lirica | 12 nights

09 Dec 19

FREE centrally located handpicked hotel stay
Flights Included
Book an Inside cabin & get Free Wifi
Book an Outside cabin & get Free Wifi & Easy Drinks Package
Book a Balcony cabin & get Free Wifi & Premium Drinks Package

£

849

View Deal

Dubai & Emirates

MSC Lirica

MSC Cruises

Dubai

-

Abu Dhabi

-

Sir Bani Yas Island (UAE)

-

Khasab

-

Muscat

-

Bahrain

-

Doha

-

Dubai

13nt Dubai & Emirates with Dubai Stay

Dubai

-

Abu Dhabi

-

Sir Bani Yas Island (UAE)

-

Bahrain

-

Doha

-

Muscat

-

Khasab

-

Dubai

MSC Lirica | 13 nights

14 Jan 20

FREE centrally located handpicked hotel stay
Flights Included
Book an Inside cabin & get Free Wifi
Book an Outside cabin & get Free Wifi & Easy Drinks Package
Book a Balcony cabin & get Free Wifi & Premium Drinks Package

£

879

View Deal

Dubai & Emirates

MSC Lirica

MSC Cruises

Dubai

-

Abu Dhabi

-

Sir Bani Yas Island (UAE)

-

Bahrain

-

Doha

-

Muscat

-

Khasab

-

Dubai

1nt Marseille Stay & 5nt Mediterranean Cruise

Marseille

-

Barcelona

-

Rome (Civitavecchia)

-

Genoa

-

Marseille

MSC Magnifica | 6 nights

21 Dec 19

FREE centrally located handpicked hotel stay
Flights Included
Book an Inside cabin & get Free Wifi
Book an Outside cabin & get Free Wifi & Easy Drinks Package
Book a Balcony cabin & get Free Wifi & Premium Drinks Package

£

879

View Deal

Europe, Mediterranean

MSC Magnifica

MSC Cruises

Marseille

-

Barcelona

-

Rome (Civitavecchia)

-

Genoa

-

Marseille

12nt Dubai & Emirates with Dubai Stay

Dubai

-

Abu Dhabi

-

Sir Bani Yas Island (UAE)

-

Khasab

-

Muscat

-

Bahrain

-

Doha

-

Dubai

MSC Lirica | 12 nights

03 Jan 20

FREE centrally located handpicked hotel stay
Flights Included
Book an Inside cabin & get Free Wifi
Book an Outside cabin & get Free Wifi & Easy Drinks Package
Book a Balcony cabin & get Free Wifi & Premium Drinks Package

£

899

View Deal

Dubai & Emirates

MSC Lirica

MSC Cruises

Dubai

-

Abu Dhabi

-

Sir Bani Yas Island (UAE)

-

Khasab

-

Muscat

-

Bahrain

-

Doha

-

Dubai

13nt Dubai & Emirates with Dubai Stay

Dubai

-

Abu Dhabi

-

Sir Bani Yas Island (UAE)

-

Bahrain

-

Doha

-

Muscat

-

Khasab

-

Dubai

MSC Lirica | 13 nights

25 Jan 20

FREE centrally located handpicked hotel stay
Flights Included
Book an Inside cabin & get Free Wifi
Book an Outside cabin & get Free Wifi & Easy Drinks Package
Book a Balcony cabin & get Free Wifi & Premium Drinks Package

£

929

View Deal

Dubai & Emirates

MSC Lirica

MSC Cruises

Dubai

-

Abu Dhabi

-

Sir Bani Yas Island (UAE)

-

Bahrain

-

Doha

-

Muscat

-

Khasab

-

Dubai

1nt Genoa Stay & 5nt Mediterranean Cruise

Genoa

-

Marseille

-

Barcelona

-

Rome (Civitavecchia)

-

Genoa

MSC Magnifica | 6 nights

20 Dec 19

FREE centrally located handpicked hotel stay
Flights Included
Book an Inside cabin & get Free Wifi
Book an Outside cabin & get Free Wifi & Easy Drinks Package
Book a Balcony cabin & get Free Wifi & Premium Drinks Package

£

929

View Deal

Europe, Mediterranean

MSC Magnifica

MSC Cruises

Genoa

-

Marseille

-

Barcelona

-

Rome (Civitavecchia)

-

Genoa

9nt Dubai, United Arab Emirates & Oman

Dubai

-

Abu Dhabi

-

Sir Bani Yas Island (UAE)

-

Muscat

-

Khasab

-

Dubai

MSC Bellissima | 9 nights

12 Dec 19

FREE centrally located handpicked hotel stay
Flights Included
Book an Inside cabin & get Free Wifi
Book an Outside cabin & get Free Wifi & Easy Drinks Package
Book a Balcony cabin & get Free Wifi & Premium Drinks Package

£

949

View Deal

Middle East, Dubai & Emirates

MSC Bellissima

MSC Cruises

Dubai

-

Abu Dhabi

-

Sir Bani Yas Island (UAE)

-

Muscat

-

Khasab

-

Dubai

9nt United Arab Emirates,Bahrain & Qatar

Dubai

-

Abu Dhabi

-

Sir Bani Yas Island (UAE)

-

Bahrain

-

Doha

-

Dubai

MSC Bellissima | 9 nights

27 Feb 20

FREE centrally located handpicked hotel stay
Flights Included
Book an Inside cabin & get Free Wifi
Book an Outside cabin & get Free Wifi & Easy Drinks Package
Book a Balcony cabin & get Free Wifi & Premium Drinks Package

£

949

View Deal

Dubai & Emirates

MSC Bellissima

MSC Cruises

Dubai

-

Abu Dhabi

-

Sir Bani Yas Island (UAE)

-

Bahrain

-

Doha

-

Dubai

9nt United Arab Emirates,Bahrain & Qatar

Dubai

-

Abu Dhabi

-

Sir Bani Yas Island (UAE)

-

Bahrain

-

Doha

-

Dubai

MSC Bellissima | 9 nights

30 Jan 20

FREE centrally located handpicked hotel stay
Flights Included
Book an Inside cabin & get Free Wifi
Book an Outside cabin & get Free Wifi & Easy Drinks Package
Book a Balcony cabin & get Free Wifi & Premium Drinks Package

£

969

View Deal

Dubai & Emirates

MSC Bellissima

MSC Cruises

Dubai

-

Abu Dhabi

-

Sir Bani Yas Island (UAE)

-

Bahrain

-

Doha

-

Dubai

1nt Dubai & 7nt Dubai & Emirates Explorer

Dubai

-

Abu Dhabi

-

Sir Bani Yas Island (UAE)

-

Bahrain

-

Doha

-

Dubai

MSC Bellissima | 8 nights

06 Dec 19

FREE centrally located handpicked hotel stay
Flights Included
Book an Inside cabin & get Free Wifi
Book an Outside cabin & get Free Wifi & Easy Drinks Package
Book a Balcony cabin & get Free Wifi & Premium Drinks Package

£

979

View Deal

Dubai & Emirates

MSC Bellissima

MSC Cruises

Dubai

-

Abu Dhabi

-

Sir Bani Yas Island (UAE)

-

Bahrain

-

Doha

-

Dubai

9nt Dubai, United Arab Emirates & Oman

Dubai

-

Abu Dhabi

-

Sir Bani Yas Island (UAE)

-

Muscat

-

Khasab

-

Dubai

MSC Bellissima | 9 nights

06 Feb 20

FREE centrally located handpicked hotel stay
Flights Included
Book an Inside cabin & get Free Wifi
Book an Outside cabin & get Free Wifi & Easy Drinks Package
Book a Balcony cabin & get Free Wifi & Premium Drinks Package

£

979

View Deal

Middle East, Dubai & Emirates

MSC Bellissima

MSC Cruises

Dubai

-

Abu Dhabi

-

Sir Bani Yas Island (UAE)

-

Muscat

-

Khasab

-

Dubai

9nt Dubai, United Arab Emirates & Oman

Dubai

-

Abu Dhabi

-

Sir Bani Yas Island (UAE)

-

Muscat

-

Khasab

-

Dubai

MSC Bellissima | 9 nights

20 Feb 20

FREE centrally located handpicked hotel stay
Flights Included
Book an Inside cabin & get Free Wifi
Book an Outside cabin & get Free Wifi & Easy Drinks Package
Book a Balcony cabin & get Free Wifi & Premium Drinks Package

£

979

View Deal

Middle East, Dubai & Emirates

MSC Bellissima

MSC Cruises

Dubai

-

Abu Dhabi

-

Sir Bani Yas Island (UAE)

-

Muscat

-

Khasab

-

Dubai

Miami ,Caribbean and Bahamas

Miami

-

San Juan, Puerto Rico

-

Roadtown

-

Philipsburg, St Maarten

-

Nassau

-

Miami

MSC Divina | 9 nights

29 Jan 20

FREE centrally located handpicked hotel stay
Flights Included
Book an Inside cabin & get Free Wifi
Book an Outside cabin & get Free Wifi & Easy Drinks Package
Book a Balcony cabin & get Free Wifi & Premium Drinks Package

£

979

View Deal

Caribbean, Bahamas

MSC Divina

MSC Cruises

Miami

-

San Juan, Puerto Rico

-

Roadtown

-

Philipsburg, St Maarten

-

Nassau

-

Miami

9nt Dubai, United Arab Emirates & Oman

Dubai

-

Abu Dhabi

-

Sir Bani Yas Island (UAE)

-

Muscat

-

Khasab

-

Dubai

MSC Bellissima | 9 nights

23 Jan 20

FREE centrally located handpicked hotel stay
Flights Included
Book an Inside cabin & get Free Wifi
Book an Outside cabin & get Free Wifi & Easy Drinks Package
Book a Balcony cabin & get Free Wifi & Premium Drinks Package

£

999

View Deal

Middle East, Dubai & Emirates

MSC Bellissima

MSC Cruises

Dubai

-

Abu Dhabi

-

Sir Bani Yas Island (UAE)

-

Muscat

-

Khasab

-

Dubai

9nt United Arab Emirates,Bahrain & Qatar

Dubai

-

Abu Dhabi

-

Sir Bani Yas Island (UAE)

-

Bahrain

-

Doha

-

Dubai

MSC Bellissima | 9 nights

16 Jan 20

FREE centrally located handpicked hotel stay
Flights Included
Book an Inside cabin & get Free Wifi
Book an Outside cabin & get Free Wifi & Easy Drinks Package
Book a Balcony cabin & get Free Wifi & Premium Drinks Package

£

1019

View Deal

Dubai & Emirates

MSC Bellissima

MSC Cruises

Dubai

-

Abu Dhabi

-

Sir Bani Yas Island (UAE)

-

Bahrain

-

Doha

-

Dubai

9nt Dubai, United Arab Emirates & Oman

Dubai

-

Abu Dhabi

-

Sir Bani Yas Island (UAE)

-

Muscat

-

Khasab

-

Dubai

MSC Bellissima | 9 nights

05 Mar 20

FREE centrally located handpicked hotel stay
Flights Included
Book an Inside cabin & get Free Wifi
Book an Outside cabin & get Free Wifi & Easy Drinks Package
Book a Balcony cabin & get Free Wifi & Premium Drinks Package

£

1019

View Deal

Middle East, Dubai & Emirates

MSC Bellissima

MSC Cruises

Dubai

-

Abu Dhabi

-

Sir Bani Yas Island (UAE)

-

Muscat

-

Khasab

-

Dubai

9nt United Arab Emirates,Bahrain & Qatar

Dubai

-

Abu Dhabi

-

Sir Bani Yas Island (UAE)

-

Bahrain

-

Doha

-

Dubai

MSC Bellissima | 9 nights

12 Mar 20

FREE centrally located handpicked hotel stay
Flights Included
Book an Inside cabin & get Free Wifi
Book an Outside cabin & get Free Wifi & Easy Drinks Package
Book a Balcony cabin & get Free Wifi & Premium Drinks Package

£

1019

View Deal

Dubai & Emirates

MSC Bellissima

MSC Cruises

Dubai

-

Abu Dhabi

-

Sir Bani Yas Island (UAE)

-

Bahrain

-

Doha

-

Dubai

9nt Dubai, United Arab Emirates & Oman

Dubai

-

Abu Dhabi

-

Sir Bani Yas Island (UAE)

-

Muscat

-

Khasab

-

Dubai

MSC Bellissima | 9 nights

09 Jan 20

FREE centrally located handpicked hotel stay
Flights Included
Book an Inside cabin & get Free Wifi
Book an Outside cabin & get Free Wifi & Easy Drinks Package
Book a Balcony cabin & get Free Wifi & Premium Drinks Package

£

1029

View Deal

Middle East, Dubai & Emirates

MSC Bellissima

MSC Cruises

Dubai

-

Abu Dhabi

-

Sir Bani Yas Island (UAE)

-

Muscat

-

Khasab

-

Dubai

12nt Dubai & Emirates with Dubai Stay

Dubai

-

Abu Dhabi

-

Sir Bani Yas Island (UAE)

-

Khasab

-

Muscat

-

Bahrain

-

Doha

-

Dubai

MSC Lirica | 12 nights

16 Feb 20

FREE centrally located handpicked hotel stay
Flights Included
Book an Inside cabin & get Free Wifi
Book an Outside cabin & get Free Wifi & Easy Drinks Package
Book a Balcony cabin & get Free Wifi & Premium Drinks Package

£

1029

View Deal

Dubai & Emirates

MSC Lirica

MSC Cruises

Dubai

-

Abu Dhabi

-

Sir Bani Yas Island (UAE)

-

Khasab

-

Muscat

-

Bahrain

-

Doha

-

Dubai

Dubai 1nt Stay & 7nt Dubai & Emirates

Dubai

-

Abu Dhabi

-

Sir Bani Yas Island (UAE)

-

Bahrain

-

Doha

-

Dubai

MSC Lirica | 8 nights

02 Apr 20

FREE centrally located handpicked hotel stay
Flights Included
Book an Inside cabin & get Free Wifi
Book an Outside cabin & get Free Wifi & Easy Drinks Package
Book a Balcony cabin & get Free Wifi & Premium Drinks Package

£

1029

View Deal

Dubai & Emirates

MSC Lirica

MSC Cruises

Dubai

-

Abu Dhabi

-

Sir Bani Yas Island (UAE)

-

Bahrain

-

Doha

-

Dubai

8nt Miami, Caribbean with Stays

Miami

-

Ocho Rios

-

George Town, Cayman Islands

-

Cozumel

-

Ocean Cay MSC Marine Reserve

-

Miami

MSC Meraviglia | 8 nights

30 Nov 19

All Inclusive Cruise!
Book an Outside cabin & get Free Wifi & Easy Drinks Package
Book a Balcony cabin & get Free Wifi & Premium Drinks Package

£

1049

View Deal

Caribbean

MSC Meraviglia

MSC Cruises

Miami

-

Ocho Rios

-

George Town, Cayman Islands

-

Cozumel

-

Ocean Cay MSC Marine Reserve

-

Miami

8nt Miami, Caribbean with Stays

Miami

-

Costa Maya

-

Belize

-

Isla de Roatan, Honduras

-

Ocean Cay MSC Marine Reserve

-

Miami

MSC Meraviglia | 8 nights

09 Nov 19

FREE centrally located handpicked hotel stay
Flights Included
All Inclusive Cruise!
Book an Outside cabin & get Free Wifi & Easy Drinks Package
Book a Balcony cabin & get Free Wifi & Premium Drinks Package

£

1049

View Deal

Caribbean, Mexico

MSC Meraviglia

MSC Cruises

Miami

-

Costa Maya

-

Belize

-

Isla de Roatan, Honduras

-

Ocean Cay MSC Marine Reserve

-

Miami

9nt United Arab Emirates,Bahrain & Qatar

Dubai

-

Abu Dhabi

-

Sir Bani Yas Island (UAE)

-

Bahrain

-

Doha

-

Dubai

MSC Bellissima | 9 nights

02 Jan 20

FREE centrally located handpicked hotel stay
Flights Included
Book an Inside cabin & get Free Wifi
Book an Outside cabin & get Free Wifi & Easy Drinks Package
Book a Balcony cabin & get Free Wifi & Premium Drinks Package

£

1069

View Deal

Dubai & Emirates

MSC Bellissima

MSC Cruises

Dubai

-

Abu Dhabi

-

Sir Bani Yas Island (UAE)

-

Bahrain

-

Doha

-

Dubai

9nt Miami & Caribbean Adventure

Miami

-

San Juan, Puerto Rico

-

Roadtown

-

Philipsburg, St Maarten

-

Miami

MSC Divina | 9 nights

11 Mar 20

FREE centrally located handpicked hotel stay
Flights Included
Book an Inside cabin & get Free Wifi
Book an Outside cabin & get Free Wifi & Easy Drinks Package
Book a Balcony cabin & get Free Wifi & Premium Drinks Package

£

1069

View Deal

Caribbean

MSC Divina

MSC Cruises

Miami

-

San Juan, Puerto Rico

-

Roadtown

-

Philipsburg, St Maarten

-

Miami

1nt Dubai Stay & 7nt Dubai & Emirates

Dubai

-

Abu Dhabi

-

Sir Bani Yas Island (UAE)

-

Muscat

-

Khasab

-

Dubai

MSC Lirica | 9 nights

09 Apr 20

FREE centrally located handpicked hotel stay
Flights Included
Book an Inside cabin & get Free Wifi
Book an Outside cabin & get Free Wifi & Easy Drinks Package
Book a Balcony cabin & get Free Wifi & Premium Drinks Package

£

1079

View Deal

Dubai & Emirates

MSC Lirica

MSC Cruises

Dubai

-

Abu Dhabi

-

Sir Bani Yas Island (UAE)

-

Muscat

-

Khasab

-

Dubai

8nt Dubai and United Arab Emirates, Oman

Dubai

-

Abu Dhabi

-

Sir Bani Yas Island (UAE)

-

Muscat

-

Khasab

-

Dubai

MSC Bellissima | 8 nights

29 Nov 19

FREE centrally located handpicked hotel stay
Flights Included
Book an Inside cabin & get Free Wifi
Book an Outside cabin & get Free Wifi & Easy Drinks Package
Book a Balcony cabin & get Free Wifi & Premium Drinks Package

£

1149

View Deal

Dubai & Emirates

MSC Bellissima

MSC Cruises

Dubai

-

Abu Dhabi

-

Sir Bani Yas Island (UAE)

-

Muscat

-

Khasab

-

Dubai

9nt United Arab Emirates,Bahrain & Qatar

Dubai

-

Abu Dhabi

-

Sir Bani Yas Island (UAE)

-

Bahrain

-

Doha

-

Dubai

MSC Bellissima | 9 nights

13 Feb 20

FREE centrally located handpicked hotel stay
Flights Included
Book an Inside cabin & get Free Wifi
Book an Outside cabin & get Free Wifi & Easy Drinks Package
Book a Balcony cabin & get Free Wifi & Premium Drinks Package

£

1169

View Deal

Dubai & Emirates

MSC Bellissima

MSC Cruises

Dubai

-

Abu Dhabi

-

Sir Bani Yas Island (UAE)

-

Bahrain

-

Doha

-

Dubai

8nt Miami, Caribbean with Stays

Miami

-

Isla de Roatan, Honduras

-

Belize

-

Costa Maya

-

Ocean Cay MSC Marine Reserve

-

Miami

MSC Meraviglia | 8 nights

15 Feb 20

All Inclusive Cruise!
Book an Outside cabin & get Free Wifi & Easy Drinks Package
Book a Balcony cabin & get Free Wifi & Premium Drinks Package

£

1199

View Deal

North America

MSC Meraviglia

MSC Cruises

Miami

-

Isla de Roatan, Honduras

-

Belize

-

Costa Maya

-

Ocean Cay MSC Marine Reserve

-

Miami

1nt Dubai Stay & 7nt Dubai & Emirates

Dubai

-

Abu Dhabi

-

Sir Bani Yas Island (UAE)

-

Muscat

-

Khasab

-

Dubai

MSC Lirica | 9 nights

20 Dec 19

FREE centrally located handpicked hotel stay
Flights Included
Book an Inside cabin & get Free Wifi
Book an Outside cabin & get Free Wifi & Easy Drinks Package
Book a Balcony cabin & get Free Wifi & Premium Drinks Package

£

1229

View Deal

Dubai & Emirates

MSC Lirica

MSC Cruises

Dubai

-

Abu Dhabi

-

Sir Bani Yas Island (UAE)

-

Muscat

-

Khasab

-

Dubai

9nt United Arab Emirates,Bahrain & Qatar

Dubai

-

Abu Dhabi

-

Sir Bani Yas Island (UAE)

-

Bahrain

-

Doha

-

Dubai

MSC Bellissima | 9 nights

19 Dec 19

FREE centrally located handpicked hotel stay
Flights Included
Book an Inside cabin & get Free Wifi
Book an Outside cabin & get Free Wifi & Easy Drinks Package
Book a Balcony cabin & get Free Wifi & Premium Drinks Package

£

1299

View Deal

Dubai & Emirates

MSC Bellissima

MSC Cruises

Dubai

-

Abu Dhabi

-

Sir Bani Yas Island (UAE)

-

Bahrain

-

Doha

-

Dubai

15nt Dubai & India with Dubai Stay

Dubai

-

Abu Dhabi

-

Muscat

-

New Mangalore

-

Goa

-

Mumbai

-

Khor al Fakkan, UAE

-

Dubai

MSC Lirica | 15 nights

27 Feb 20

FREE centrally located handpicked hotel stay
Flights Included
Book an Inside cabin & get Free Wifi
Book an Outside cabin & get Free Wifi & Easy Drinks Package
Book a Balcony cabin & get Free Wifi & Premium Drinks Package

£

1299

View Deal

Asia & Indian Ocean, Dubai & Emirates

MSC Lirica

MSC Cruises

Dubai

-

Abu Dhabi

-

Muscat

-

New Mangalore

-

Goa

-

Mumbai

-

Khor al Fakkan, UAE

-

Dubai

1nt Barcelona & 10nt Mediterranean Christmas

Barcelona

-

Gibraltar

-

Lisbon

-

Cadiz

-

Malaga

-

Rome (Civitavecchia)

-

Genoa

-

Marseille

-

Barcelona

MSC Magnifica | 11 nights

27 Dec 19

FREE centrally located handpicked hotel stay
Flights Included
Book an Inside cabin & get Free Wifi
Book an Outside cabin & get Free Wifi & Easy Drinks Package
Book a Balcony cabin & get Free Wifi & Premium Drinks Package

£

1299

View Deal

Europe, Mediterranean, Iberian Peninsula

MSC Magnifica

MSC Cruises

Barcelona

-

Gibraltar

-

Lisbon

-

Cadiz

-

Malaga

-

Rome (Civitavecchia)

-

Genoa

-

Marseille

-

Barcelona

Miami 2nt Stay & 7nt Caribbean

Miami

-

Ocho Rios

-

George Town, Cayman Islands

-

Costa Maya

-

Ocean Cay MSC Marine Reserve

-

Miami

MSC Meraviglia | 9 nights

03 Apr 20

FREE centrally located handpicked hotel stay
Flights Included
Book an Inside cabin & get Free Wifi
Book an Outside cabin & get Free Wifi & Easy Drinks Package
Book a Balcony cabin & get Free Wifi & Premium Drinks Package

£

1299

View Deal

North America

MSC Meraviglia

MSC Cruises

Miami

-

Ocho Rios

-

George Town, Cayman Islands

-

Costa Maya

-

Ocean Cay MSC Marine Reserve

-

Miami

New York, Miami & Caribbean & Vegas

Miami

-

Nassau

-

Ocean Cay MSC Marine Reserve

-

Miami

MSC Meraviglia | 12 nights

12 Nov 19

FREE centrally located handpicked hotel stay
Flights Included
Book an Inside cabin & get Free Wifi
Book an Outside cabin & get Free Wifi & Easy Drinks Package
Book a Balcony cabin & get Free Wifi & Premium Drinks Package

£

1299

View Deal

Caribbean

MSC Meraviglia

MSC Cruises

Miami

-

Nassau

-

Ocean Cay MSC Marine Reserve

-

Miami

9nt Caribbean Christmas

Miami

-

San Juan, Puerto Rico

-

Roadtown

-

Philipsburg, St Maarten

-

Nassau

-

Miami

MSC Divina | 9 nights

18 Dec 19

FREE centrally located handpicked hotel stay
Flights Included
Book an Inside cabin & get Free Wifi
Book an Outside cabin & get Free Wifi & Easy Drinks Package
Book a Balcony cabin & get Free Wifi & Premium Drinks Package

£

1329

View Deal

Caribbean, Bahamas

MSC Divina

MSC Cruises

Miami

-

San Juan, Puerto Rico

-

Roadtown

-

Philipsburg, St Maarten

-

Nassau

-

Miami

Miami 2nt Stay & 11nt Caribbean & Ocean Cay

Miami

-

Falmouth,Jamaica

-

Oranjestad, Aruba

-

Cartagena, Colombia

-

Colon, Panama

-

Costa Maya

-

Ocean Cay MSC Marine Reserve

-

Miami

MSC Divina | 13 nights

05 Feb 20

FREE centrally located handpicked hotel stay
Flights Included
Book an Inside cabin & get Free Wifi
Book an Outside cabin & get Free Wifi & Easy Drinks Package
Book a Balcony cabin & get Free Wifi & Premium Drinks Package

£

1329

View Deal

Caribbean, Bahamas, Panama Canal

MSC Divina

MSC Cruises

Miami

-

Falmouth,Jamaica

-

Oranjestad, Aruba

-

Cartagena, Colombia

-

Colon, Panama

-

Costa Maya

-

Ocean Cay MSC Marine Reserve

-

Miami

11nt Dubai & Emirates with Dubai Stay

Dubai

-

Abu Dhabi

-

Doha

-

Bahrain

-

Muscat

-

Khasab

-

Dubai

MSC Lirica | 12 nights

05 Feb 20

FREE centrally located handpicked hotel stay
Flights Included
Book an Inside cabin & get Free Wifi
Book an Outside cabin & get Free Wifi & Easy Drinks Package
Book a Balcony cabin & get Free Wifi & Premium Drinks Package

£

1379

View Deal

Dubai & Emirates

MSC Lirica

MSC Cruises

Dubai

-

Abu Dhabi

-

Doha

-

Bahrain

-

Muscat

-

Khasab

-

Dubai

2nt Marseille Stay & 10nt Mediterranean Cruise

Marseille

-

Barcelona

-

Gibraltar

-

Lisbon

-

Cadiz

-

Malaga

-

Rome (Civitavecchia)

-

Genoa

-

Marseille

MSC Magnifica | 12 nights

25 Dec 19

FREE centrally located handpicked hotel stay
Flights Included
Book an Inside cabin & get Free Wifi
Book an Outside cabin & get Free Wifi & Easy Drinks Package
Book a Balcony cabin & get Free Wifi & Premium Drinks Package

£

1379

View Deal

Europe, Iberian Peninsula

MSC Magnifica

MSC Cruises

Marseille

-

Barcelona

-

Gibraltar

-

Lisbon

-

Cadiz

-

Malaga

-

Rome (Civitavecchia)

-

Genoa

-

Marseille

13nt Barbados, Trinidad & Tobago & Grenada

Bridgetown

-

Port of Spain

-

St Georges, Grenada

-

Kingstown

-

Fort de France

-

Point-a-Pitre

-

Roadtown

-

Philipsburg, St Maarten

-

Roseau

-

St. Kitts

-

St John's, Antigua

-

Fort de France

-

Point-a-Pitre

-

Castries

MSC Preziosa | 13 nights

10 Dec 19

Flights Included
Book an Inside cabin & get Free Wifi
Book an Outside cabin & get Free Wifi & Easy Drinks Package
Book a Balcony cabin & get Free Wifi & Premium Drinks Package

£

1399

View Deal

Caribbean

MSC Preziosa

MSC Cruises

Bridgetown

-

Port of Spain

-

St Georges, Grenada

-

Kingstown

-

Fort de France

-

Point-a-Pitre

-

Roadtown

-

Philipsburg, St Maarten

-

Roseau

-

St. Kitts

-

St John's, Antigua

-

Fort de France

-

Point-a-Pitre

-

Castries

Havana 2nt Stay & 7nt Cuba & Caribbean

Havana

-

Belize

-

Isla de Roatan, Honduras

-

Costa Maya

-

Cozumel

-

Havana

MSC Opera | 9 nights

08 Dec 19

FREE centrally located handpicked hotel stay
Flights Included
Book an Inside cabin & get Free Wifi
Book an Outside cabin & get Free Wifi & Easy Drinks Package
Book a Balcony cabin & get Free Wifi & Premium Drinks Package

£

1399

View Deal

Caribbean, Mexico

MSC Opera

MSC Cruises

Havana

-

Belize

-

Isla de Roatan, Honduras

-

Costa Maya

-

Cozumel

-

Havana

Havana 2nt Stay & 7nt Cuba & Caribbean

Havana

-

Belize

-

Isla de Roatan, Honduras

-

Costa Maya

-

Cozumel

-

Havana

MSC Opera | 9 nights

02 Feb 20

FREE centrally located handpicked hotel stay
Flights Included
Book an Inside cabin & get Free Wifi
Book an Outside cabin & get Free Wifi & Easy Drinks Package
Book a Balcony cabin & get Free Wifi & Premium Drinks Package

£

1419

View Deal

Caribbean, Mexico

MSC Opera

MSC Cruises

Havana

-

Belize

-

Isla de Roatan, Honduras

-

Costa Maya

-

Cozumel

-

Havana

Havana 2nt Stay & 7nt Cuban Calypso

Havana

-

Montego Bay

-

George Town, Cayman Islands

-

Cozumel

-

Havana

MSC Opera | 9 nights

09 Feb 20

FREE centrally located handpicked hotel stay
Flights Included
Book an Inside cabin & get Free Wifi
Book an Outside cabin & get Free Wifi & Easy Drinks Package
Book a Balcony cabin & get Free Wifi & Premium Drinks Package

£

1419

View Deal

Caribbean

MSC Opera

MSC Cruises

Havana

-

Montego Bay

-

George Town, Cayman Islands

-

Cozumel

-

Havana

Havana 2nt Stay & 7nt Cuba & Caribbean

Havana

-

Belize

-

Isla de Roatan, Honduras

-

Costa Maya

-

Cozumel

-

Havana

MSC Opera | 9 nights

01 Mar 20

FREE centrally located handpicked hotel stay
Flights Included
Book an Inside cabin & get Free Wifi
Book an Outside cabin & get Free Wifi & Easy Drinks Package
Book a Balcony cabin & get Free Wifi & Premium Drinks Package

£

1449

View Deal

Caribbean, Mexico

MSC Opera

MSC Cruises

Havana

-

Belize

-

Isla de Roatan, Honduras

-

Costa Maya

-

Cozumel

-

Havana

Havana 2nt Stay & 7nt Cuban Calypso

Havana

-

Montego Bay

-

George Town, Cayman Islands

-

Cozumel

-

Havana

MSC Opera | 9 nights

15 Dec 19

FREE centrally located handpicked hotel stay
Flights Included
Book an Inside cabin & get Free Wifi
Book an Outside cabin & get Free Wifi & Easy Drinks Package
Book a Balcony cabin & get Free Wifi & Premium Drinks Package

£

1449

View Deal

Caribbean

MSC Opera

MSC Cruises

Havana

-

Montego Bay

-

George Town, Cayman Islands

-

Cozumel

-

Havana

Havana 2nt Stay & 7nt Cuban Calypso

Havana

-

Montego Bay

-

George Town, Cayman Islands

-

Cozumel

-

Havana

MSC Opera | 9 nights

23 Feb 20

FREE centrally located handpicked hotel stay
Flights Included
Book an Inside cabin & get Free Wifi
Book an Outside cabin & get Free Wifi & Easy Drinks Package
Book a Balcony cabin & get Free Wifi & Premium Drinks Package

£

1449

View Deal

Caribbean

MSC Opera

MSC Cruises

Havana

-

Montego Bay

-

George Town, Cayman Islands

-

Cozumel

-

Havana

Havana 2nt Stay & 7nt Cuban Calypso

Havana

-

Montego Bay

-

George Town, Cayman Islands

-

Cozumel

-

Havana

MSC Opera | 9 nights

26 Jan 20

FREE centrally located handpicked hotel stay
Flights Included
Book an Inside cabin & get Free Wifi
Book an Outside cabin & get Free Wifi & Easy Drinks Package
Book a Balcony cabin & get Free Wifi & Premium Drinks Package

£

1449

View Deal

Caribbean

MSC Opera

MSC Cruises

Havana

-

Montego Bay

-

George Town, Cayman Islands

-

Cozumel

-

Havana

2nt Rome & 10nt Mediterranean Christmas

Rome (Civitavecchia)

-

Genoa

-

Marseille

-

Barcelona

-

Gibraltar

-

Lisbon

-

Cadiz

-

Malaga

-

Rome (Civitavecchia)

MSC Magnifica | 12 nights

23 Dec 19

FREE centrally located handpicked hotel stay
Flights Included
Book an Inside cabin & get Free Wifi
Book an Outside cabin & get Free Wifi & Easy Drinks Package
Book a Balcony cabin & get Free Wifi & Premium Drinks Package

£

1449

View Deal

Europe, Iberian Peninsula

MSC Magnifica

MSC Cruises

Rome (Civitavecchia)

-

Genoa

-

Marseille

-

Barcelona

-

Gibraltar

-

Lisbon

-

Cadiz

-

Malaga

-

Rome (Civitavecchia)

Havana 2nt Stay & 7nt Cuban Calypso

Havana

-

Montego Bay

-

George Town, Cayman Islands

-

Cozumel

-

Havana

MSC Opera | 9 nights

29 Dec 19

FREE centrally located handpicked hotel stay
Flights Included
Book an Inside cabin & get Free Wifi
Book an Outside cabin & get Free Wifi & Easy Drinks Package
Book a Balcony cabin & get Free Wifi & Premium Drinks Package

£

1469

View Deal

Caribbean

MSC Opera

MSC Cruises

Havana

-

Montego Bay

-

George Town, Cayman Islands

-

Cozumel

-

Havana

Havana 2nt Stay & 7nt Cuban Calypso

Havana

-

Montego Bay

-

George Town, Cayman Islands

-

Cozumel

-

Havana

MSC Opera | 9 nights

08 Mar 20

FREE centrally located handpicked hotel stay
Flights Included
Book an Inside cabin & get Free Wifi
Book an Outside cabin & get Free Wifi & Easy Drinks Package
Book a Balcony cabin & get Free Wifi & Premium Drinks Package

£

1479

View Deal

Caribbean

MSC Opera

MSC Cruises

Havana

-

Montego Bay

-

George Town, Cayman Islands

-

Cozumel

-

Havana

16nt Miami, Caribbean & Ocean Cay

Miami

-

Costa Maya

-

Belize

-

Isla de Roatan, Honduras

-

Ocean Cay MSC Marine Reserve

-

Miami

-

Nassau

-

Ocean Cay MSC Marine Reserve

-

Miami

-

Nassau

-

Ocean Cay MSC Marine Reserve

-

Miami

MSC Meraviglia | 16 nights

08 Nov 19

FREE centrally located handpicked hotel stay
Flights Included
Book an Inside cabin & get Free Wifi
Book an Outside cabin & get Free Wifi & Easy Drinks Package
Book a Balcony cabin & get Free Wifi & Premium Drinks Package

£

1499

View Deal

Caribbean, Mexico

MSC Meraviglia

MSC Cruises

Miami

-

Costa Maya

-

Belize

-

Isla de Roatan, Honduras

-

Ocean Cay MSC Marine Reserve

-

Miami

-

Nassau

-

Ocean Cay MSC Marine Reserve

-

Miami

-

Nassau

-

Ocean Cay MSC Marine Reserve

-

Miami

Havana 2nt Stay & 7nt Cuba & Caribbean

Havana

-

Belize

-

Isla de Roatan, Honduras

-

Costa Maya

-

Cozumel

-

Havana

MSC Opera | 9 nights

16 Feb 20

FREE centrally located handpicked hotel stay
Flights Included
Book an Inside cabin & get Free Wifi
Book an Outside cabin & get Free Wifi & Easy Drinks Package
Book a Balcony cabin & get Free Wifi & Premium Drinks Package

£

1499

View Deal

Caribbean, Mexico

MSC Opera

MSC Cruises

Havana

-

Belize

-

Isla de Roatan, Honduras

-

Costa Maya

-

Cozumel

-

Havana

Havana 2nt Stay & 7nt Cuban Calypso

Havana

-

Montego Bay

-

George Town, Cayman Islands

-

Cozumel

-

Havana

MSC Opera | 9 nights

12 Jan 20

FREE centrally located handpicked hotel stay
Flights Included
Book an Inside cabin & get Free Wifi
Book an Outside cabin & get Free Wifi & Easy Drinks Package
Book a Balcony cabin & get Free Wifi & Premium Drinks Package

£

1499

View Deal

Caribbean

MSC Opera

MSC Cruises

Havana

-

Montego Bay

-

George Town, Cayman Islands

-

Cozumel

-

Havana

14nt Caribbean, Cuba & Antilles

Bridgetown

-

Port of Spain

-

St Georges, Grenada

-

Kingstown

-

Fort de France

-

Point-a-Pitre

-

Roadtown

-

Philipsburg, St Maarten

-

Roseau

-

St. Kitts

-

St John's, Antigua

-

Fort de France

-

Point-a-Pitre

-

Castries

-

Bridgetown

MSC Preziosa | 14 nights

17 Mar 20

Flights Included
Includes Transfers
Book an Inside cabin & get Free Wifi
Book an Outside cabin & get Free Wifi & Easy Drinks Package
Book a Balcony cabin & get Free Wifi & Premium Drinks Package

£

1529

View Deal

Caribbean

MSC Preziosa

MSC Cruises

Bridgetown

-

Port of Spain

-

St Georges, Grenada

-

Kingstown

-

Fort de France

-

Point-a-Pitre

-

Roadtown

-

Philipsburg, St Maarten

-

Roseau

-

St. Kitts

-

St John's, Antigua

-

Fort de France

-

Point-a-Pitre

-

Castries

-

Bridgetown

Havana 2nt Stay & 7nt Cuba & Caribbean

Havana

-

Belize

-

Isla de Roatan, Honduras

-

Costa Maya

-

Cozumel

-

Havana

MSC Opera | 9 nights

19 Jan 20

FREE centrally located handpicked hotel stay
Flights Included
Book an Inside cabin & get Free Wifi
Book an Outside cabin & get Free Wifi & Easy Drinks Package
Book a Balcony cabin & get Free Wifi & Premium Drinks Package

£

1549

View Deal

Caribbean, Mexico

MSC Opera

MSC Cruises

Havana

-

Belize

-

Isla de Roatan, Honduras

-

Costa Maya

-

Cozumel

-

Havana

15nt USA & Canada with San Fran & Big Apple Stays

New York

-

Bar Harbor

-

St John's, Newfoundland

-

Halifax

-

Sydney, Canada

-

Portland, USA

-

Boston, USA

-

New York

MSC Meraviglia | 15 nights

15 Oct 19

FREE centrally located handpicked hotel stay
Flights Included
Book an Inside cabin & get Free Wifi
Book an Outside cabin & get Free Wifi & Easy Drinks Package
Book a Balcony cabin & get Free Wifi & Premium Drinks Package

£

1549

View Deal

North America

MSC Meraviglia

MSC Cruises

New York

-

Bar Harbor

-

St John's, Newfoundland

-

Halifax

-

Sydney, Canada

-

Portland, USA

-

Boston, USA

-

New York

14nt Caribbean, Cuba & Antilles

Bridgetown

-

Port of Spain

-

St Georges, Grenada

-

Kingstown

-

Fort de France

-

Point-a-Pitre

-

Roadtown

-

Philipsburg, St Maarten

-

Roseau

-

St. Kitts

-

St John's, Antigua

-

Fort de France

-

Point-a-Pitre

-

Castries

-

Bridgetown

MSC Preziosa | 14 nights

18 Feb 20

Flights Included
Includes Transfers
Book an Inside cabin & get Free Wifi
Book an Outside cabin & get Free Wifi & Easy Drinks Package
Book a Balcony cabin & get Free Wifi & Premium Drinks Package

£

1569

View Deal

Caribbean

MSC Preziosa

MSC Cruises

Bridgetown

-

Port of Spain

-

St Georges, Grenada

-

Kingstown

-

Fort de France

-

Point-a-Pitre

-

Roadtown

-

Philipsburg, St Maarten

-

Roseau

-

St. Kitts

-

St John's, Antigua

-

Fort de France

-

Point-a-Pitre

-

Castries

-

Bridgetown

14nt Caribbean, Cuba & Antilles

Bridgetown

-

Port of Spain

-

St Georges, Grenada

-

Kingstown

-

Fort de France

-

Point-a-Pitre

-

Roadtown

-

Philipsburg, St Maarten

-

Roseau

-

St. Kitts

-

St John's, Antigua

-

Fort de France

-

Point-a-Pitre

-

Castries

-

Bridgetown

MSC Preziosa | 14 nights

21 Jan 20

Flights Included
Includes Transfers
Book an Inside cabin & get Free Wifi
Book an Outside cabin & get Free Wifi & Easy Drinks Package
Book a Balcony cabin & get Free Wifi & Premium Drinks Package

£

1569

View Deal

Caribbean

MSC Preziosa

MSC Cruises

Bridgetown

-

Port of Spain

-

St Georges, Grenada

-

Kingstown

-

Fort de France

-

Point-a-Pitre

-

Roadtown

-

Philipsburg, St Maarten

-

Roseau

-

St. Kitts

-

St John's, Antigua

-

Fort de France

-

Point-a-Pitre

-

Castries

-

Bridgetown

14nt Caribbean, Cuba & Antilles

Bridgetown

-

Port of Spain

-

St Georges, Grenada

-

Kingstown

-

Fort de France

-

Point-a-Pitre

-

Roadtown

-

Philipsburg, St Maarten

-

Roseau

-

St. Kitts

-

St John's, Antigua

-

Fort de France

-

Point-a-Pitre

-

Castries

-

Bridgetown

MSC Preziosa | 14 nights

07 Jan 20

Flights Included
Includes Transfers
Book an Inside cabin & get Free Wifi
Book an Outside cabin & get Free Wifi & Easy Drinks Package
Book a Balcony cabin & get Free Wifi & Premium Drinks Package

£

1569

View Deal

Caribbean

MSC Preziosa

MSC Cruises

Bridgetown

-

Port of Spain

-

St Georges, Grenada

-

Kingstown

-

Fort de France

-

Point-a-Pitre

-

Roadtown

-

Philipsburg, St Maarten

-

Roseau

-

St. Kitts

-

St John's, Antigua

-

Fort de France

-

Point-a-Pitre

-

Castries

-

Bridgetown

Miami 2nt Stay & 11nt Caribbean Calypso

Miami

-

Ocho Rios

-

Cartagena, Colombia

-

Colon, Panama

-

Puerto Limon

-

Costa Maya

-

Ocean Cay MSC Marine Reserve

-

Miami

MSC Divina | 13 nights

25 Dec 19

FREE centrally located handpicked hotel stay
Flights Included
Book an Inside cabin & get Free Wifi
Book an Outside cabin & get Free Wifi & Easy Drinks Package
Book a Balcony cabin & get Free Wifi & Premium Drinks Package

£

1579

View Deal

Caribbean, Central America, Panama Canal

MSC Divina

MSC Cruises

Miami

-

Ocho Rios

-

Cartagena, Colombia

-

Colon, Panama

-

Puerto Limon

-

Costa Maya

-

Ocean Cay MSC Marine Reserve

-

Miami

14nt Caribbean, Cuba & Antilles

Bridgetown

-

Port of Spain

-

St Georges, Grenada

-

Kingstown

-

Fort de France

-

Point-a-Pitre

-

Roadtown

-

Philipsburg, St Maarten

-

Roseau

-

St. Kitts

-

St John's, Antigua

-

Fort de France

-

Point-a-Pitre

-

Castries

-

Bridgetown

MSC Preziosa | 14 nights

04 Feb 20

Flights Included
Includes Transfers
Book an Inside cabin & get Free Wifi
Book an Outside cabin & get Free Wifi & Easy Drinks Package
Book a Balcony cabin & get Free Wifi & Premium Drinks Package

£

1599

View Deal

Caribbean

MSC Preziosa

MSC Cruises

Bridgetown

-

Port of Spain

-

St Georges, Grenada

-

Kingstown

-

Fort de France

-

Point-a-Pitre

-

Roadtown

-

Philipsburg, St Maarten

-

Roseau

-

St. Kitts

-

St John's, Antigua

-

Fort de France

-

Point-a-Pitre

-

Castries

-

Bridgetown

15nt USA & Canada with San Fran & Big Apple Stays

New York

-

Sydney, Canada

-

Corner Brook, Newfoundland

-

Charlottetown

-

Quebec

-

New York

MSC Meraviglia | 15 nights

05 Oct 19

FREE centrally located handpicked hotel stay
Flights Included
Book an Inside cabin & get Free Wifi
Book an Outside cabin & get Free Wifi & Easy Drinks Package
Book a Balcony cabin & get Free Wifi & Premium Drinks Package

£

1599

View Deal

North America

MSC Meraviglia

MSC Cruises

New York

-

Sydney, Canada

-

Corner Brook, Newfoundland

-

Charlottetown

-

Quebec

-

New York

9nt Dubai, United Arab Emirates & Oman

Dubai

-

Abu Dhabi

-

Sir Bani Yas Island (UAE)

-

Muscat

-

Khasab

-

Dubai

MSC Bellissima | 9 nights

26 Dec 19

FREE centrally located handpicked hotel stay
Flights Included
Book an Inside cabin & get Free Wifi
Book an Outside cabin & get Free Wifi & Easy Drinks Package
Book a Balcony cabin & get Free Wifi & Premium Drinks Package

£

1629

View Deal

Middle East, Dubai & Emirates

MSC Bellissima

MSC Cruises

Dubai

-

Abu Dhabi

-

Sir Bani Yas Island (UAE)

-

Muscat

-

Khasab

-

Dubai

14nt Caribbean, Cuba & Antilles

Bridgetown

-

Port of Spain

-

St Georges, Grenada

-

Kingstown

-

Fort de France

-

Point-a-Pitre

-

Roadtown

-

Philipsburg, St Maarten

-

Roseau

-

St. Kitts

-

St John's, Antigua

-

Fort de France

-

Point-a-Pitre

-

Castries

-

Bridgetown

MSC Preziosa | 14 nights

03 Mar 20

Flights Included
Includes Transfers
Book an Inside cabin & get Free Wifi
Book an Outside cabin & get Free Wifi & Easy Drinks Package
Book a Balcony cabin & get Free Wifi & Premium Drinks Package

£

1649

View Deal

Caribbean

MSC Preziosa

MSC Cruises

Bridgetown

-

Port of Spain

-

St Georges, Grenada

-

Kingstown

-

Fort de France

-

Point-a-Pitre

-

Roadtown

-

Philipsburg, St Maarten

-

Roseau

-

St. Kitts

-

St John's, Antigua

-

Fort de France

-

Point-a-Pitre

-

Castries

-

Bridgetown

Miami 2nt Stay & 14nt Caribbean Adventure

Miami

-

Ocho Rios

-

George Town, Cayman Islands

-

Cozumel

-

Ocean Cay MSC Marine Reserve

-

Miami

-

San Juan, Puerto Rico

-

Charlotte Amalie

-

Nassau

-

Ocean Cay MSC Marine Reserve

-

Miami

MSC Seaside | 16 nights

09 Apr 20

FREE centrally located handpicked hotel stay
Flights Included

£

1669

View Deal

North America

MSC Seaside

MSC Cruises

Miami

-

Ocho Rios

-

George Town, Cayman Islands

-

Cozumel

-

Ocean Cay MSC Marine Reserve

-

Miami

-

San Juan, Puerto Rico

-

Charlotte Amalie

-

Nassau

-

Ocean Cay MSC Marine Reserve

-

Miami

Miami 2nt Stay & 14nt Caribbean Treasures

Miami

-

San Juan, Puerto Rico

-

Charlotte Amalie

-

Nassau

-

Ocean Cay MSC Marine Reserve

-

Miami

-

Ocho Rios

-

George Town, Cayman Islands

-

Cozumel

-

Ocean Cay MSC Marine Reserve

-

Miami

MSC Seaside | 16 nights

16 Apr 20

FREE centrally located handpicked hotel stay
Flights Included

£

1669

View Deal

North America

MSC Seaside

MSC Cruises

Miami

-

San Juan, Puerto Rico

-

Charlotte Amalie

-

Nassau

-

Ocean Cay MSC Marine Reserve

-

Miami

-

Ocho Rios

-

George Town, Cayman Islands

-

Cozumel

-

Ocean Cay MSC Marine Reserve

-

Miami

Miami 2nt Stay & 14nt Caribbean Treasures

Miami

-

San Juan, Puerto Rico

-

Charlotte Amalie

-

Nassau

-

Ocean Cay MSC Marine Reserve

-

Miami

-

Ocho Rios

-

George Town, Cayman Islands

-

Cozumel

-

Ocean Cay MSC Marine Reserve

-

Miami

MSC Seaside | 16 nights

28 Nov 19

FREE centrally located handpicked hotel stay
Flights Included
Book an Inside cabin & get Free Wifi
Book an Outside cabin & get Free Wifi & Easy Drinks Package
Book a Balcony cabin & get Free Wifi & Premium Drinks Package

£

1719

View Deal

North America

MSC Seaside

MSC Cruises

Miami

-

San Juan, Puerto Rico

-

Charlotte Amalie

-

Nassau

-

Ocean Cay MSC Marine Reserve

-

Miami

-

Ocho Rios

-

George Town, Cayman Islands

-

Cozumel

-

Ocean Cay MSC Marine Reserve

-

Miami

Havana 2nt Stay & 7nt Cuba & Caribbean

Havana

-

Belize

-

Isla de Roatan, Honduras

-

Costa Maya

-

Cozumel

-

Havana

MSC Opera | 9 nights

05 Jan 20

FREE centrally located handpicked hotel stay
Flights Included
Book an Inside cabin & get Free Wifi
Book an Outside cabin & get Free Wifi & Easy Drinks Package
Book a Balcony cabin & get Free Wifi & Premium Drinks Package

£

1719

View Deal

Caribbean, Mexico

MSC Opera

MSC Cruises

Havana

-

Belize

-

Isla de Roatan, Honduras

-

Costa Maya

-

Cozumel

-

Havana

Havana 2nt Stay & 7nt Cuba & Caribbean

Havana

-

Belize

-

Isla de Roatan, Honduras

-

Costa Maya

-

Cozumel

-

Havana

MSC Opera | 9 nights

22 Dec 19

FREE centrally located handpicked hotel stay
Flights Included
Book an Inside cabin & get Free Wifi
Book an Outside cabin & get Free Wifi & Easy Drinks Package
Book a Balcony cabin & get Free Wifi & Premium Drinks Package

£

1799

View Deal

Caribbean, Mexico

MSC Opera

MSC Cruises

Havana

-

Belize

-

Isla de Roatan, Honduras

-

Costa Maya

-

Cozumel

-

Havana

8nt Miami, Caribbean with Stays

Miami

-

Ocho Rios

-

George Town, Cayman Islands

-

Costa Maya

-

Ocean Cay MSC Marine Reserve

-

Miami

MSC Meraviglia | 8 nights

28 Dec 19

All Inclusive Cruise!
Book an Outside cabin & get Free Wifi & Easy Drinks Package
Book a Balcony cabin & get Free Wifi & Premium Drinks Package

£

1799

View Deal

Caribbean, Mexico

MSC Meraviglia

MSC Cruises

Miami

-

Ocho Rios

-

George Town, Cayman Islands

-

Costa Maya

-

Ocean Cay MSC Marine Reserve

-

Miami