Prepare for an adventure extravaganza; our huge Royal Caribbean FREE DRINKS sale has begun and there's never been a better time to book a cruise holiday! You can sail on any one of Royal Caribbean's 26 world-class ships to 249 spectacular destinations. Discover destinations such as Dubai, Australia or Hawaii - there is bound to be something to inspire you.
If you're booking a sailing from Southmapton on Independence of the Seas or Explorer of the Seas that sails in 2019, you can get up to a massive $400 to spend on board!!
For worldwide sailings, we are still giving up to $200 to spend on board on selected sailings!
You can even discover your very own 'Perfect Day' at Royal Caribbean's private island - Coco Cay! Not to mention the unforgettable excursions awaiting your arrival, simply decide whether you want epic thrills or tranquil chills. There's something for everyone. So, what are you waiting for? Get yourself booked for a low deposit today!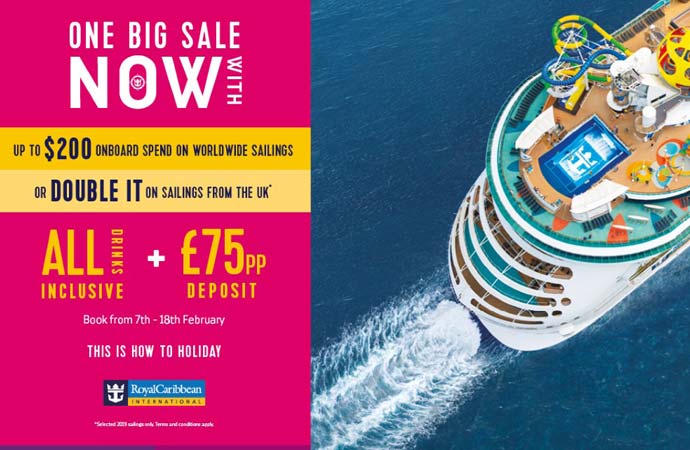 Cruise Deals departing in
Departure
What's Included?
Price (From)

France & Spain

Southampton

-

Vigo

-

Gijon

-

Le Havre

-

Southampton

Explorer of the Seas | 6 nights

05 Oct 19

No Fly Cruise
Free Deluxe Drinks Package (excludes guaranteed cabins)
Up to $400 onboard spend per stateroom (excludes guarantee cabins)

£

549

View Deal

Europe

Explorer of the Seas

Royal Caribbean International

Southampton

-

Vigo

-

Gijon

-

Le Havre

-

Southampton

Northern European Cityscapes

Southampton

-

Hamburg

-

Oslo

-

Brugge

-

Southampton

Independence of the Seas | 7 nights

18 May 19

No Fly Cruise
Free Deluxe Drinks Package (excludes guaranteed cabins)
Up to $400 onboard spend per stateroom (excludes guarantee cabins)

£

580

View Deal

Europe

Independence of the Seas

Royal Caribbean International

Southampton

-

Hamburg

-

Oslo

-

Brugge

-

Southampton

France, Spain & Portugal

Southampton

-

Le Havre

-

Vigo

-

Lisbon

-

Southampton

Independence of the Seas | 7 nights

19 Oct 19

No Fly Cruise
Free Deluxe Drinks Package (excludes guaranteed cabins)
Up to $400 onboard spend per stateroom (excludes guarantee cabins)

£

599

View Deal

Europe

Independence of the Seas

Royal Caribbean International

Southampton

-

Le Havre

-

Vigo

-

Lisbon

-

Southampton

Dutch & French Adventure

Southampton

-

Hamburg

-

Rotterdam

-

Amsterdam

-

Le Havre

-

Southampton

Explorer of the Seas | 7 nights

18 Oct 19

No Fly Cruise
Free Deluxe Drinks Package (excludes guaranteed cabins)

£

620

View Deal

Europe

Explorer of the Seas

Royal Caribbean International

Southampton

-

Hamburg

-

Rotterdam

-

Amsterdam

-

Le Havre

-

Southampton

Norwegian Fjords

Southampton

-

Bergen

-

Flam

-

Geiranger

-

Alesund

-

Stavanger

-

Southampton

Explorer of the Seas | 8 nights

13 Sep 19

No Fly Cruise
Free Deluxe Drinks Package (excludes guaranteed cabins)
Up to $400 onboard spend per stateroom (excludes guarantee cabins)

£

676

View Deal

Scandinavia

Explorer of the Seas

Royal Caribbean International

Southampton

-

Bergen

-

Flam

-

Geiranger

-

Alesund

-

Stavanger

-

Southampton

Norwegian Fjords

Southampton

-

Bergen

-

Geiranger

-

Molde

-

Olden

-

Alesund

-

Stavanger

-

Southampton

Explorer of the Seas | 9 nights

31 May 19

No Fly Cruise
Free Deluxe Drinks Package (excludes guaranteed cabins)
Up to $400 onboard spend per stateroom (excludes guarantee cabins)

£

819

View Deal

Scandinavia

Explorer of the Seas

Royal Caribbean International

Southampton

-

Bergen

-

Geiranger

-

Molde

-

Olden

-

Alesund

-

Stavanger

-

Southampton

All Inclusive Balcony Explorer

Southampton

-

Vigo

-

Gijon

-

Le Havre

-

Southampton

Explorer of the Seas | 6 nights

05 Oct 19

No Fly Cruise
Balcony Cabin
Free Deluxe Drinks Package (excludes guaranteed cabins)
Up to $400 onboard spend per stateroom (excludes guarantee cabins)

£

829

View Deal

Europe, Iberian Peninsula

Explorer of the Seas

Royal Caribbean International

Southampton

-

Vigo

-

Gijon

-

Le Havre

-

Southampton

France & Spain

Southampton

-

Le Havre

-

La Coruna

-

Bilbao

-

Southampton

Independence of the Seas | 6 nights

24 Aug 19

No Fly Cruise
Free Deluxe Drinks Package (excludes guaranteed cabins)
Up to $400 onboard spend per stateroom (excludes guarantee cabins)

£

849

View Deal

Europe, Mediterranean

Independence of the Seas

Royal Caribbean International

Southampton

-

Le Havre

-

La Coruna

-

Bilbao

-

Southampton

Mediterranean Cities

Southampton

-

Malaga

-

Cannes

-

Barcelona

-

Palma De Mallorca

-

Lisbon

-

Vigo

-

Southampton

Independence of the Seas | 12 nights

26 Sep 19

No Fly Cruise
Free Deluxe Drinks Package (excludes guaranteed cabins)
Up to $400 onboard spend per stateroom (excludes guarantee cabins)

£

871

View Deal

Europe, Mediterranean

Independence of the Seas

Royal Caribbean International

Southampton

-

Malaga

-

Cannes

-

Barcelona

-

Palma De Mallorca

-

Lisbon

-

Vigo

-

Southampton

Canaries Adventure

Southampton

-

Vigo

-

Lisbon

-

Lanzarote

-

Gran Canaria

-

Tenerife

-

Funchal

-

La Coruna

-

Southampton

Independence of the Seas | 12 nights

14 Sep 19

No Fly Cruise
Free Deluxe Drinks Package (excludes guaranteed cabins)
Up to $400 onboard spend per stateroom (excludes guarantee cabins)

£

965

View Deal

Canaries, Europe

Independence of the Seas

Royal Caribbean International

Southampton

-

Vigo

-

Lisbon

-

Lanzarote

-

Gran Canaria

-

Tenerife

-

Funchal

-

La Coruna

-

Southampton

Canaries & Azores

Southampton

-

Ponta Delgada, Azores

-

Funchal

-

Gran Canaria

-

Tenerife

-

Lanzarote

-

Lisbon

-

Southampton

Explorer of the Seas | 13 nights

31 Aug 19

No Fly Cruise
Free Deluxe Drinks Package (excludes guaranteed cabins)
Up to $400 onboard spend per stateroom (excludes guarantee cabins)

£

965

View Deal

Canaries, Europe

Explorer of the Seas

Royal Caribbean International

Southampton

-

Ponta Delgada, Azores

-

Funchal

-

Gran Canaria

-

Tenerife

-

Lanzarote

-

Lisbon

-

Southampton

Italian Mediterranean

Southampton

-

Gibraltar

-

Nice (Villefranche)

-

Rome (Civitavecchia)

-

La Spezia

-

Genoa

-

Malaga

-

Lisbon

-

Southampton

Explorer of the Seas | 14 nights

21 Sep 19

No Fly Cruise
Free Deluxe Drinks Package (excludes guaranteed cabins)
Up to $400 onboard spend per stateroom (excludes guarantee cabins)

£

967

View Deal

Europe, Mediterranean

Explorer of the Seas

Royal Caribbean International

Southampton

-

Gibraltar

-

Nice (Villefranche)

-

Rome (Civitavecchia)

-

La Spezia

-

Genoa

-

Malaga

-

Lisbon

-

Southampton

Qatar, Bahrain & UAE with Dubai Stay

Dubai

-

Doha

-

Bahrain

-

Sir Bani Yas Island (UAE)

-

Abu Dhabi

-

Dubai

Jewel of the Seas | 9 nights

29 Feb 20

FREE centrally located handpicked hotel stay
Flights Included

£

979

View Deal

Dubai & Emirates

Jewel of the Seas

Royal Caribbean International

Dubai

-

Doha

-

Bahrain

-

Sir Bani Yas Island (UAE)

-

Abu Dhabi

-

Dubai

Rome 2nts Stay + 7nts Greek Isles & Italy

Rome (Civitavecchia)

-

Santorini Island

-

Mykonos

-

Athens (Piraeus)

-

Salerno

-

Rome (Civitavecchia)

Explorer of the Seas | 9 nights

26 Jun 20

FREE centrally located handpicked hotel stay
Flights Included
Free Deluxe Drinks Package (excludes guaranteed cabins)

£

999

View Deal

Europe, Mediterranean

Explorer of the Seas

Royal Caribbean International

Rome (Civitavecchia)

-

Santorini Island

-

Mykonos

-

Athens (Piraeus)

-

Salerno

-

Rome (Civitavecchia)

Rome 2nts Stay + 9nts Greek Isles & Italy

Rome (Civitavecchia)

-

Siracusa, Sicily

-

Malta (La Valletta)

-

Mykonos

-

Santorini Island

-

Athens (Piraeus)

-

Salerno

-

Rome (Civitavecchia)

Explorer of the Seas | 11 nights

16 Sep 20

FREE centrally located handpicked hotel stay
Flights Included
Free Deluxe Drinks Package (excludes guaranteed cabins)

£

999

View Deal

Europe, Mediterranean

Explorer of the Seas

Royal Caribbean International

Rome (Civitavecchia)

-

Siracusa, Sicily

-

Malta (La Valletta)

-

Mykonos

-

Santorini Island

-

Athens (Piraeus)

-

Salerno

-

Rome (Civitavecchia)

Tampa 3nt Stay & 7nt Key West & Caribbean

Tampa

-

Key West

-

George Town, Cayman Islands

-

Cozumel

-

Puerto Costa Maya

-

Tampa

Rhapsody of the Seas | 10 nights

20 Nov 19

FREE centrally located handpicked hotel stay
Flights Included
Free Deluxe Drinks Package on Balcony & Suite staterooms (excludes guaranteed cabins)

£

999

View Deal

Caribbean, Mexico

Rhapsody of the Seas

Royal Caribbean International

Tampa

-

Key West

-

George Town, Cayman Islands

-

Cozumel

-

Puerto Costa Maya

-

Tampa

Tampa 3nt Stay & 7nt Key West & Caribbean

Tampa

-

Key West

-

George Town, Cayman Islands

-

Cozumel

-

Puerto Costa Maya

-

Tampa

Rhapsody of the Seas | 10 nights

04 Dec 19

FREE centrally located handpicked hotel stay
Flights Included
Free Deluxe Drinks Package on Balcony & Suite staterooms (excludes guaranteed cabins)

£

999

View Deal

Caribbean, Mexico

Rhapsody of the Seas

Royal Caribbean International

Tampa

-

Key West

-

George Town, Cayman Islands

-

Cozumel

-

Puerto Costa Maya

-

Tampa

Caribbean Calypso

Fort Lauderdale

-

Cozumel

-

George Town, Cayman Islands

-

Falmouth,Jamaica

-

Labadee

-

Fort Lauderdale

Independence of the Seas | 9 nights

07 Nov 19

FREE centrally located handpicked hotel stay
Flights Included
Free Deluxe Drinks Package on Balcony & Suite staterooms (excludes guaranteed cabins)

£

999

View Deal

Caribbean, Mexico

Independence of the Seas

Royal Caribbean International

Fort Lauderdale

-

Cozumel

-

George Town, Cayman Islands

-

Falmouth,Jamaica

-

Labadee

-

Fort Lauderdale

3nt Tampa & 7nt Caribbean Cruise

Tampa

-

Puerto Costa Maya

-

Belize

-

Roatan, Bay Islands

-

Cozumel

-

Tampa

Rhapsody of the Seas | 10 nights

27 Nov 19

FREE centrally located handpicked hotel stay
Flights Included
Free Deluxe Drinks Package on Balcony & Suite staterooms (excludes guaranteed cabins)

£

1029

View Deal

Caribbean

Rhapsody of the Seas

Royal Caribbean International

Tampa

-

Puerto Costa Maya

-

Belize

-

Roatan, Bay Islands

-

Cozumel

-

Tampa

Rome 2nts Stay + 6nts Greek Isles & Italy

Rome (Civitavecchia)

-

Nice (Villefranche)

-

Barcelona

-

Valencia

-

Cartagena, Spain

-

Rome (Civitavecchia)

Explorer of the Seas | 8 nights

24 Jul 20

FREE centrally located handpicked hotel stay
Flights Included
Free Deluxe Drinks Package (excludes guaranteed cabins)

£

1029

View Deal

Europe, Mediterranean

Explorer of the Seas

Royal Caribbean International

Rome (Civitavecchia)

-

Nice (Villefranche)

-

Barcelona

-

Valencia

-

Cartagena, Spain

-

Rome (Civitavecchia)

Venice Stay + Croatia & Greece

Venice

-

Split

-

Athens (Piraeus)

-

Katakolon

-

Venice

Rhapsody of the Seas | 7 nights

12 Jul 19

FREE centrally located handpicked hotel stay
Flights Included
Free Deluxe Drinks Package (excludes guaranteed cabins)

£

1029

View Deal

Europe, Mediterranean

Rhapsody of the Seas

Royal Caribbean International

Venice

-

Split

-

Athens (Piraeus)

-

Katakolon

-

Venice

Venice Stay & 7nts Greek Isles

Venice

-

Kotor

-

Corfu

-

Athens (Piraeus)

-

Mykonos

-

Argostoli

-

Venice

Rhapsody of the Seas | 8 nights

13 Sep 19

FREE centrally located handpicked hotel stay
Flights Included
Free Deluxe Drinks Package (excludes guaranteed cabins)

£

1049

View Deal

Europe, Mediterranean

Rhapsody of the Seas

Royal Caribbean International

Venice

-

Kotor

-

Corfu

-

Athens (Piraeus)

-

Mykonos

-

Argostoli

-

Venice

Canaries Adventure

Southampton

-

La Coruna

-

Funchal

-

Tenerife

-

Gran Canaria

-

Lisbon

-

Vigo

-

Southampton

Independence of the Seas | 11 nights

08 Oct 19

No Fly Cruise
Free Deluxe Drinks Package (excludes guaranteed cabins)
Up to $400 onboard spend per stateroom (excludes guarantee cabins)

£

1049

View Deal

Europe

Independence of the Seas

Royal Caribbean International

Southampton

-

La Coruna

-

Funchal

-

Tenerife

-

Gran Canaria

-

Lisbon

-

Vigo

-

Southampton

Spanish Mediterranean

Southampton

-

Vigo

-

Lisbon

-

Ibiza

-

Palma De Mallorca

-

Barcelona

-

Cartagena, Spain

-

Seville

-

Southampton

Independence of the Seas | 12 nights

02 Sep 19

No Fly Cruise
Free Deluxe Drinks Package (excludes guaranteed cabins)
Up to $400 onboard spend per stateroom (excludes guarantee cabins)

£

1061

View Deal

Europe, Mediterranean

Independence of the Seas

Royal Caribbean International

Southampton

-

Vigo

-

Lisbon

-

Ibiza

-

Palma De Mallorca

-

Barcelona

-

Cartagena, Spain

-

Seville

-

Southampton

Mediterranean Cities

Southampton

-

Gibraltar

-

Cannes

-

Barcelona

-

Valencia

-

Malaga

-

Lisbon

-

Vigo

-

Southampton

Independence of the Seas | 14 nights

01 Jun 19

No Fly Cruise
Free Deluxe Drinks Package (excludes guaranteed cabins)
Up to $400 onboard spend per stateroom (excludes guarantee cabins)

£

1062

View Deal

Europe, Mediterranean

Independence of the Seas

Royal Caribbean International

Southampton

-

Gibraltar

-

Cannes

-

Barcelona

-

Valencia

-

Malaga

-

Lisbon

-

Vigo

-

Southampton

Rome 2nts Stay + 8nts Greek Isles & Italy

Rome (Civitavecchia)

-

Messina

-

Mykonos

-

Santorini Island

-

Athens (Piraeus)

-

Salerno

-

Rome (Civitavecchia)

Explorer of the Seas | 10 nights

30 Jul 20

FREE centrally located handpicked hotel stay
Flights Included
Free Deluxe Drinks Package (excludes guaranteed cabins)

£

1069

View Deal

Europe, Mediterranean

Explorer of the Seas

Royal Caribbean International

Rome (Civitavecchia)

-

Messina

-

Mykonos

-

Santorini Island

-

Athens (Piraeus)

-

Salerno

-

Rome (Civitavecchia)

Rome 2nts Stay + 7nts Greek Isles & Italy

Rome (Civitavecchia)

-

Santorini Island

-

Mykonos

-

Athens (Piraeus)

-

Salerno

-

Rome (Civitavecchia)

Explorer of the Seas | 9 nights

14 Aug 20

FREE centrally located handpicked hotel stay
Flights Included
Free Deluxe Drinks Package (excludes guaranteed cabins)

£

1069

View Deal

Europe, Mediterranean

Explorer of the Seas

Royal Caribbean International

Rome (Civitavecchia)

-

Santorini Island

-

Mykonos

-

Athens (Piraeus)

-

Salerno

-

Rome (Civitavecchia)

Rome 2nts Stay + 10nts Greek Isles & Italy

Rome (Civitavecchia)

-

Chania, Crete

-

Mykonos

-

Ephesus

-

Santorini Island

-

Athens (Piraeus)

-

Salerno

-

Rome (Civitavecchia)

Explorer of the Seas | 12 nights

04 Oct 20

FREE centrally located handpicked hotel stay
Flights Included
Free Deluxe Drinks Package (excludes guaranteed cabins)

£

1069

View Deal

Europe, Mediterranean

Explorer of the Seas

Royal Caribbean International

Rome (Civitavecchia)

-

Chania, Crete

-

Mykonos

-

Ephesus

-

Santorini Island

-

Athens (Piraeus)

-

Salerno

-

Rome (Civitavecchia)

Venice Stay & 7nts Greek Isles

Venice

-

Kotor

-

Corfu

-

Athens (Piraeus)

-

Mykonos

-

Argostoli

-

Venice

Rhapsody of the Seas | 8 nights

30 Aug 19

FREE centrally located handpicked hotel stay
Flights Included
Free Deluxe Drinks Package (excludes guaranteed cabins)

£

1079

View Deal

Europe, Mediterranean

Rhapsody of the Seas

Royal Caribbean International

Venice

-

Kotor

-

Corfu

-

Athens (Piraeus)

-

Mykonos

-

Argostoli

-

Venice

Tampa & Caribbean Rhapsody

Tampa

-

Key West

-

Cozumel

-

Belize

-

Costa Maya

-

Tampa

Rhapsody of the Seas | 10 nights

27 Mar 19

FREE centrally located handpicked hotel stay
Flights Included
Free Deluxe Drinks Package on Balcony & Suite staterooms (excludes guaranteed cabins)

£

1079

View Deal

Caribbean

Rhapsody of the Seas

Royal Caribbean International

Tampa

-

Key West

-

Cozumel

-

Belize

-

Costa Maya

-

Tampa

Tampa & Caribbean Rhapsody

Tampa

-

Key West

-

Cozumel

-

Belize

-

Costa Maya

-

Tampa

Rhapsody of the Seas | 10 nights

27 Feb 19

FREE centrally located handpicked hotel stay
Flights Included
Free Deluxe Drinks Package on Balcony & Suite staterooms (excludes guaranteed cabins)

£

1099

View Deal

Caribbean

Rhapsody of the Seas

Royal Caribbean International

Tampa

-

Key West

-

Cozumel

-

Belize

-

Costa Maya

-

Tampa

Tampa 3nts Stay & 7nts Western Caribbean

Tampa

-

Puerto Costa Maya

-

Belize

-

Roatan, Bay Islands

-

Cozumel

-

Tampa

Rhapsody of the Seas | 10 nights

20 Mar 19

FREE centrally located handpicked hotel stay
Flights Included
Free Deluxe Drinks Package on Balcony & Suite staterooms (excludes guaranteed cabins)

£

1099

View Deal

Caribbean, Mexico

Rhapsody of the Seas

Royal Caribbean International

Tampa

-

Puerto Costa Maya

-

Belize

-

Roatan, Bay Islands

-

Cozumel

-

Tampa

Rome 2nts Stay + 9nts Greek Isles & Italy

Rome (Civitavecchia)

-

Messina

-

Malta (La Valletta)

-

Mykonos

-

Ephesus

-

Santorini Island

-

Athens (Piraeus)

-

Capri

-

Rome (Civitavecchia)

Explorer of the Seas | 12 nights

06 Sep 20

FREE centrally located handpicked hotel stay
Flights Included
Free Deluxe Drinks Package (excludes guaranteed cabins)

£

1099

View Deal

Europe, Mediterranean

Explorer of the Seas

Royal Caribbean International

Rome (Civitavecchia)

-

Messina

-

Malta (La Valletta)

-

Mykonos

-

Ephesus

-

Santorini Island

-

Athens (Piraeus)

-

Capri

-

Rome (Civitavecchia)

Tampa 3nts Stay & 7nts Western Caribbean

Tampa

-

Puerto Costa Maya

-

Belize

-

Roatan, Bay Islands

-

Cozumel

-

Tampa

Rhapsody of the Seas | 10 nights

06 Mar 19

FREE centrally located handpicked hotel stay
Flights Included
Free Deluxe Drinks Package on Balcony & Suite staterooms (excludes guaranteed cabins)

£

1099

View Deal

Caribbean, Mexico

Rhapsody of the Seas

Royal Caribbean International

Tampa

-

Puerto Costa Maya

-

Belize

-

Roatan, Bay Islands

-

Cozumel

-

Tampa

Venice Stay + 7nts Greece & Croatia

Venice

-

Dubrovnik

-

Kotor

-

Santorini Island

-

Katakolon

-

Venice

Rhapsody of the Seas | 8 nights

09 Aug 19

FREE centrally located handpicked hotel stay
Flights Included
Free Deluxe Drinks Package (excludes guaranteed cabins)

£

1099

View Deal

Europe, Mediterranean

Rhapsody of the Seas

Royal Caribbean International

Venice

-

Dubrovnik

-

Kotor

-

Santorini Island

-

Katakolon

-

Venice

Southern Caribbean Serenade

Fort Lauderdale

-

Labadee

-

San Juan, Puerto Rico

-

Charlotte Amalie

-

St John's, Antigua

-

Basseterre

-

Philipsburg, St Maarten

-

Fort Lauderdale

Serenade of the Seas | 11 nights

28 Nov 19

FREE centrally located handpicked hotel stay
Flights Included
Free Deluxe Drinks Package on Balcony & Suite staterooms (excludes guaranteed cabins)

£

1099

View Deal

Caribbean

Serenade of the Seas

Royal Caribbean International

Fort Lauderdale

-

Labadee

-

San Juan, Puerto Rico

-

Charlotte Amalie

-

St John's, Antigua

-

Basseterre

-

Philipsburg, St Maarten

-

Fort Lauderdale

Canary Islands

Southampton

-

Funchal

-

Tenerife

-

Gran Canaria

-

Lanzarote

-

Vigo

-

Southampton

Explorer of the Seas | 10 nights

14 May 19

No Fly Cruise
Free Deluxe Drinks Package (excludes guaranteed cabins)
Up to $400 onboard spend per stateroom (excludes guarantee cabins)

£

1105

View Deal

Canaries, Europe

Explorer of the Seas

Royal Caribbean International

Southampton

-

Funchal

-

Tenerife

-

Gran Canaria

-

Lanzarote

-

Vigo

-

Southampton

Venice Stay + 7nts Greece & Croatia

Venice

-

Dubrovnik

-

Kotor

-

Santorini Island

-

Katakolon

-

Venice

Rhapsody of the Seas | 8 nights

04 Oct 19

FREE centrally located handpicked hotel stay
Flights Included
Free Deluxe Drinks Package (excludes guaranteed cabins)

£

1119

View Deal

Europe, Mediterranean

Rhapsody of the Seas

Royal Caribbean International

Venice

-

Dubrovnik

-

Kotor

-

Santorini Island

-

Katakolon

-

Venice

Rome 2nts Stay + 9nts Greek Isles & Italy

Rome (Civitavecchia)

-

Messina

-

Malta (La Valletta)

-

Mykonos

-

Santorini Island

-

Athens (Piraeus)

-

Salerno

-

Rome (Civitavecchia)

Explorer of the Seas | 11 nights

14 Oct 20

FREE centrally located handpicked hotel stay
Flights Included
Free Deluxe Drinks Package (excludes guaranteed cabins)

£

1129

View Deal

Europe, Mediterranean

Explorer of the Seas

Royal Caribbean International

Rome (Civitavecchia)

-

Messina

-

Malta (La Valletta)

-

Mykonos

-

Santorini Island

-

Athens (Piraeus)

-

Salerno

-

Rome (Civitavecchia)

Orlando 5nt Stay & 7nt Eastern Caribbean

Port Canaveral

-

Nassau

-

Charlotte Amalie

-

Philipsburg, St Maarten

-

Port Canaveral

Oasis of the Seas | 12 nights

19 Mar 19

FREE centrally located handpicked hotel stay
Flights Included
$300 Onboard Spend Per Stateroom
Free Deluxe Drinks Package on Balcony & Suite staterooms (excludes guaranteed cabins)

£

1149

View Deal

Caribbean

Oasis of the Seas

Royal Caribbean International

Port Canaveral

-

Nassau

-

Charlotte Amalie

-

Philipsburg, St Maarten

-

Port Canaveral

Tampa 3nts Stay & 7nts Western Caribbean

Tampa

-

Puerto Costa Maya

-

Belize

-

Roatan, Bay Islands

-

Cozumel

-

Tampa

Rhapsody of the Seas | 10 nights

03 Apr 19

FREE centrally located handpicked hotel stay
Flights Included
Free Deluxe Drinks Package on Balcony & Suite staterooms (excludes guaranteed cabins)

£

1149

View Deal

Caribbean, Mexico

Rhapsody of the Seas

Royal Caribbean International

Tampa

-

Puerto Costa Maya

-

Belize

-

Roatan, Bay Islands

-

Cozumel

-

Tampa

Classic Caribbean

Fort Lauderdale

-

Ponce

-

Basseterre

-

Castries

-

St Georges, Grenada

-

Bridgetown

-

St John's, Antigua

-

Fort Lauderdale

Serenade of the Seas | 12 nights

17 Nov 19

FREE centrally located handpicked hotel stay
Flights Included
Free Deluxe Drinks Package on Balcony & Suite staterooms (excludes guaranteed cabins)

£

1149

View Deal

Caribbean

Serenade of the Seas

Royal Caribbean International

Fort Lauderdale

-

Ponce

-

Basseterre

-

Castries

-

St Georges, Grenada

-

Bridgetown

-

St John's, Antigua

-

Fort Lauderdale

Caribbean Cocktail

Fort Lauderdale

-

Puerto Limon

-

Colon, Panama

-

Cartagena, Colombia

-

Oranjestad, Aruba

-

Willemstad, Curacao

-

Fort Lauderdale

Serenade of the Seas | 12 nights

08 Dec 19

FREE centrally located handpicked hotel stay
Flights Included
Free Deluxe Drinks Package on Balcony & Suite staterooms (excludes guaranteed cabins)

£

1149

View Deal

Caribbean

Serenade of the Seas

Royal Caribbean International

Fort Lauderdale

-

Puerto Limon

-

Colon, Panama

-

Cartagena, Colombia

-

Oranjestad, Aruba

-

Willemstad, Curacao

-

Fort Lauderdale

Italian Mediterranean

Southampton

-

Gibraltar

-

Nice (Villefranche)

-

La Spezia

-

Rome (Civitavecchia)

-

Capri

-

Cagliari

-

Seville

-

Southampton

Independence of the Seas | 14 nights

15 Jun 19

No Fly Cruise
Free Deluxe Drinks Package (excludes guaranteed cabins)
Up to $400 onboard spend per stateroom (excludes guarantee cabins)

£

1157

View Deal

Europe, Mediterranean

Independence of the Seas

Royal Caribbean International

Southampton

-

Gibraltar

-

Nice (Villefranche)

-

La Spezia

-

Rome (Civitavecchia)

-

Capri

-

Cagliari

-

Seville

-

Southampton

Tampa & Caribbean Rhapsody

Tampa

-

Key West

-

Cozumel

-

Belize

-

Costa Maya

-

Tampa

Rhapsody of the Seas | 10 nights

13 Mar 19

FREE centrally located handpicked hotel stay
Flights Included
Free Deluxe Drinks Package on Balcony & Suite staterooms (excludes guaranteed cabins)

£

1159

View Deal

Caribbean

Rhapsody of the Seas

Royal Caribbean International

Tampa

-

Key West

-

Cozumel

-

Belize

-

Costa Maya

-

Tampa

Venice Stay + 7nts Greece & Croatia

Venice

-

Dubrovnik

-

Kotor

-

Santorini Island

-

Katakolon

-

Venice

Rhapsody of the Seas | 8 nights

20 Sep 19

FREE centrally located handpicked hotel stay
Flights Included
Free Deluxe Drinks Package (excludes guaranteed cabins)

£

1169

View Deal

Europe, Mediterranean

Rhapsody of the Seas

Royal Caribbean International

Venice

-

Dubrovnik

-

Kotor

-

Santorini Island

-

Katakolon

-

Venice

Rome 2nts Stay + 9nts Greek Isles & Italy

Rome (Civitavecchia)

-

Messina

-

Malta (La Valletta)

-

Mykonos

-

Santorini Island

-

Athens (Piraeus)

-

Salerno

-

Rome (Civitavecchia)

Explorer of the Seas | 11 nights

25 May 20

FREE centrally located handpicked hotel stay
Flights Included
Free Deluxe Drinks Package (excludes guaranteed cabins)

£

1169

View Deal

Europe, Mediterranean

Explorer of the Seas

Royal Caribbean International

Rome (Civitavecchia)

-

Messina

-

Malta (La Valletta)

-

Mykonos

-

Santorini Island

-

Athens (Piraeus)

-

Salerno

-

Rome (Civitavecchia)

Rome 2nts Stay + 9nts Greek Isles & Italy

Rome (Civitavecchia)

-

Messina

-

Malta (La Valletta)

-

Santorini Island

-

Mykonos

-

Athens (Piraeus)

-

Salerno

-

Rome (Civitavecchia)

Explorer of the Seas | 11 nights

25 Sep 20

FREE centrally located handpicked hotel stay
Flights Included
Free Deluxe Drinks Package (excludes guaranteed cabins)

£

1169

View Deal

Europe, Mediterranean

Explorer of the Seas

Royal Caribbean International

Rome (Civitavecchia)

-

Messina

-

Malta (La Valletta)

-

Santorini Island

-

Mykonos

-

Athens (Piraeus)

-

Salerno

-

Rome (Civitavecchia)

Southern Caribbean Serenade

Fort Lauderdale

-

Labadee

-

San Juan, Puerto Rico

-

Charlotte Amalie

-

St John's, Antigua

-

Basseterre

-

Philipsburg, St Maarten

-

Fort Lauderdale

Serenade of the Seas | 11 nights

09 Jan 20

FREE centrally located handpicked hotel stay
Flights Included
Free Deluxe Drinks Package on Balcony & Suite staterooms (excludes guaranteed cabins)

£

1179

View Deal

Caribbean

Serenade of the Seas

Royal Caribbean International

Fort Lauderdale

-

Labadee

-

San Juan, Puerto Rico

-

Charlotte Amalie

-

St John's, Antigua

-

Basseterre

-

Philipsburg, St Maarten

-

Fort Lauderdale

Venice Stay & 7nts Greek Isles

Venice

-

Kotor

-

Corfu

-

Athens (Piraeus)

-

Mykonos

-

Argostoli

-

Venice

Rhapsody of the Seas | 8 nights

07 Jun 19

FREE centrally located handpicked hotel stay
Flights Included
Free Deluxe Drinks Package (excludes guaranteed cabins)

£

1199

View Deal

Europe, Mediterranean

Rhapsody of the Seas

Royal Caribbean International

Venice

-

Kotor

-

Corfu

-

Athens (Piraeus)

-

Mykonos

-

Argostoli

-

Venice

Orlando Magic & Caribbean Oasis

Port Canaveral

-

Labadee

-

Falmouth,Jamaica

-

Cozumel

-

Port Canaveral

Oasis of the Seas | 12 nights

12 Mar 19

FREE centrally located handpicked hotel stay
Flights Included
Free Deluxe Drinks Package on Balcony & Suite staterooms (excludes guaranteed cabins)

£

1199

View Deal

Caribbean, Mexico

Oasis of the Seas

Royal Caribbean International

Port Canaveral

-

Labadee

-

Falmouth,Jamaica

-

Cozumel

-

Port Canaveral

Orlando 5nt Stay & 7nt Eastern Caribbean

Port Canaveral

-

Nassau

-

Charlotte Amalie

-

Philipsburg, St Maarten

-

Port Canaveral

Oasis of the Seas | 12 nights

05 Mar 19

FREE centrally located handpicked hotel stay
Flights Included
$300 Onboard Spend Per Stateroom
Free Deluxe Drinks Package on Balcony & Suite staterooms (excludes guaranteed cabins)

£

1199

View Deal

Caribbean

Oasis of the Seas

Royal Caribbean International

Port Canaveral

-

Nassau

-

Charlotte Amalie

-

Philipsburg, St Maarten

-

Port Canaveral

Tampa 3nts Stay & 7nts Western Caribbean

Tampa

-

Puerto Costa Maya

-

Belize

-

Roatan, Bay Islands

-

Cozumel

-

Tampa

Rhapsody of the Seas | 10 nights

17 Apr 19

FREE centrally located handpicked hotel stay
Flights Included
Free Deluxe Drinks Package on Balcony & Suite staterooms (excludes guaranteed cabins)

£

1199

View Deal

Caribbean, Mexico

Rhapsody of the Seas

Royal Caribbean International

Tampa

-

Puerto Costa Maya

-

Belize

-

Roatan, Bay Islands

-

Cozumel

-

Tampa

Rome 2nts Stay + 9nts Greek Isles & Italy

Rome (Civitavecchia)

-

Chania, Crete

-

Mykonos

-

Ephesus

-

Athens (Piraeus)

-

Santorini Island

-

Capri

-

Rome (Civitavecchia)

Explorer of the Seas | 11 nights

03 Jun 20

FREE centrally located handpicked hotel stay
Flights Included
Free Deluxe Drinks Package (excludes guaranteed cabins)

£

1199

View Deal

Europe, Mediterranean

Explorer of the Seas

Royal Caribbean International

Rome (Civitavecchia)

-

Chania, Crete

-

Mykonos

-

Ephesus

-

Athens (Piraeus)

-

Santorini Island

-

Capri

-

Rome (Civitavecchia)

Caribbean Transatlantic & Fort Lauderdale 2nt Stay

Southampton

-

Philipsburg, St Maarten

-

Charlotte Amalie

-

San Juan, Puerto Rico

-

Labadee

-

Fort Lauderdale

Independence of the Seas | 16 nights

26 Oct 19

FREE centrally located handpicked hotel stay
Flights Included

£

1199

View Deal

Caribbean, Transatlantic

Independence of the Seas

Royal Caribbean International

Southampton

-

Philipsburg, St Maarten

-

Charlotte Amalie

-

San Juan, Puerto Rico

-

Labadee

-

Fort Lauderdale

Venice Stay & 7nts Greek Isles

Venice

-

Kotor

-

Corfu

-

Athens (Piraeus)

-

Mykonos

-

Argostoli

-

Venice

Rhapsody of the Seas | 8 nights

11 Oct 19

FREE centrally located handpicked hotel stay
Flights Included
Free Deluxe Drinks Package (excludes guaranteed cabins)

£

1219

View Deal

Europe, Mediterranean

Rhapsody of the Seas

Royal Caribbean International

Venice

-

Kotor

-

Corfu

-

Athens (Piraeus)

-

Mykonos

-

Argostoli

-

Venice

Venice Stay + 7nts Greece & Croatia

Venice

-

Dubrovnik

-

Kotor

-

Santorini Island

-

Katakolon

-

Venice

Rhapsody of the Seas | 8 nights

31 May 19

FREE centrally located handpicked hotel stay
Flights Included
Free Deluxe Drinks Package (excludes guaranteed cabins)

£

1229

View Deal

Europe, Mediterranean

Rhapsody of the Seas

Royal Caribbean International

Venice

-

Dubrovnik

-

Kotor

-

Santorini Island

-

Katakolon

-

Venice

Venice Stay & 7nts Greek Isles

Venice

-

Kotor

-

Corfu

-

Athens (Piraeus)

-

Mykonos

-

Argostoli

-

Venice

Rhapsody of the Seas | 8 nights

16 Aug 19

FREE centrally located handpicked hotel stay
Flights Included
Free Deluxe Drinks Package (excludes guaranteed cabins)

£

1229

View Deal

Europe, Mediterranean

Rhapsody of the Seas

Royal Caribbean International

Venice

-

Kotor

-

Corfu

-

Athens (Piraeus)

-

Mykonos

-

Argostoli

-

Venice

Spain & Portugal

Southampton

-

Lisbon

-

Vigo

-

La Coruna

-

Bilbao

-

Southampton

Anthem of the Seas | 8 nights

20 Jun 20

Free Deluxe Drinks Package (excludes guaranteed cabins)

£

1247

View Deal

Europe, Mediterranean

Anthem of the Seas

Royal Caribbean International

Southampton

-

Lisbon

-

Vigo

-

La Coruna

-

Bilbao

-

Southampton

Caribbean Serenade

Fort Lauderdale

-

Charlotte Amalie

-

St John's, Antigua

-

Roseau

-

Basseterre

-

Philipsburg, St Maarten

-

Fort Lauderdale

Serenade of the Seas | 11 nights

30 Jan 20

FREE centrally located handpicked hotel stay
Flights Included
Free Deluxe Drinks Package on Balcony & Suite staterooms (excludes guaranteed cabins)

£

1249

View Deal

Caribbean

Serenade of the Seas

Royal Caribbean International

Fort Lauderdale

-

Charlotte Amalie

-

St John's, Antigua

-

Roseau

-

Basseterre

-

Philipsburg, St Maarten

-

Fort Lauderdale

Classic Caribbean

Fort Lauderdale

-

Ponce

-

Basseterre

-

Castries

-

St Georges, Grenada

-

Bridgetown

-

St John's, Antigua

-

Fort Lauderdale

Serenade of the Seas | 12 nights

29 Dec 19

FREE centrally located handpicked hotel stay
Flights Included
Free Deluxe Drinks Package on Balcony & Suite staterooms (excludes guaranteed cabins)

£

1249

View Deal

Caribbean

Serenade of the Seas

Royal Caribbean International

Fort Lauderdale

-

Ponce

-

Basseterre

-

Castries

-

St Georges, Grenada

-

Bridgetown

-

St John's, Antigua

-

Fort Lauderdale

Mediterranean Tour

Southampton

-

Gibraltar

-

Alicante

-

Ibiza

-

Barcelona

-

Marseille

-

Lisbon

-

Cherbourg

-

Southampton

Explorer of the Seas | 13 nights

18 Aug 19

No Fly Cruise
Free Deluxe Drinks Package (excludes guaranteed cabins)
Up to $400 onboard spend per stateroom (excludes guarantee cabins)

£

1251

View Deal

Europe, Mediterranean

Explorer of the Seas

Royal Caribbean International

Southampton

-

Gibraltar

-

Alicante

-

Ibiza

-

Barcelona

-

Marseille

-

Lisbon

-

Cherbourg

-

Southampton

Italian Mediterranean

Southampton

-

Gibraltar

-

Nice (Villefranche)

-

La Spezia

-

Rome (Civitavecchia)

-

Capri

-

Cagliari

-

Seville

-

Southampton

Explorer of the Seas | 14 nights

09 Jun 19

No Fly Cruise
Free Deluxe Drinks Package (excludes guaranteed cabins)
Up to $400 onboard spend per stateroom (excludes guarantee cabins)

£

1251

View Deal

Europe, Mediterranean

Explorer of the Seas

Royal Caribbean International

Southampton

-

Gibraltar

-

Nice (Villefranche)

-

La Spezia

-

Rome (Civitavecchia)

-

Capri

-

Cagliari

-

Seville

-

Southampton

Venice Stay + 7nts Greece & Croatia

Venice

-

Dubrovnik

-

Kotor

-

Santorini Island

-

Katakolon

-

Venice

Rhapsody of the Seas | 8 nights

23 Aug 19

FREE centrally located handpicked hotel stay
Flights Included
Free Deluxe Drinks Package (excludes guaranteed cabins)

£

1269

View Deal

Europe, Mediterranean

Rhapsody of the Seas

Royal Caribbean International

Venice

-

Dubrovnik

-

Kotor

-

Santorini Island

-

Katakolon

-

Venice

Venice Stay & 7nts Greek Isles

Venice

-

Kotor

-

Corfu

-

Athens (Piraeus)

-

Mykonos

-

Argostoli

-

Venice

Rhapsody of the Seas | 8 nights

27 Sep 19

FREE centrally located handpicked hotel stay
Flights Included
Free Deluxe Drinks Package (excludes guaranteed cabins)

£

1269

View Deal

Europe, Mediterranean

Rhapsody of the Seas

Royal Caribbean International

Venice

-

Kotor

-

Corfu

-

Athens (Piraeus)

-

Mykonos

-

Argostoli

-

Venice

Southern Caribbean Serenade

Fort Lauderdale

-

Labadee

-

San Juan, Puerto Rico

-

Charlotte Amalie

-

St John's, Antigua

-

Basseterre

-

Philipsburg, St Maarten

-

Fort Lauderdale

Serenade of the Seas | 11 nights

20 Feb 20

FREE centrally located handpicked hotel stay
Flights Included
Free Deluxe Drinks Package on Balcony & Suite staterooms (excludes guaranteed cabins)

£

1279

View Deal

Caribbean

Serenade of the Seas

Royal Caribbean International

Fort Lauderdale

-

Labadee

-

San Juan, Puerto Rico

-

Charlotte Amalie

-

St John's, Antigua

-

Basseterre

-

Philipsburg, St Maarten

-

Fort Lauderdale

Orlando 5nt Stay & 7nt Eastern Caribbean

Port Canaveral

-

Nassau

-

Charlotte Amalie

-

Philipsburg, St Maarten

-

Port Canaveral

Oasis of the Seas | 12 nights

02 Apr 19

FREE centrally located handpicked hotel stay
Flights Included
$300 Onboard Spend Per Stateroom
Free Deluxe Drinks Package on Balcony & Suite staterooms (excludes guaranteed cabins)

£

1299

View Deal

Caribbean

Oasis of the Seas

Royal Caribbean International

Port Canaveral

-

Nassau

-

Charlotte Amalie

-

Philipsburg, St Maarten

-

Port Canaveral

Caribbean Serenade

Fort Lauderdale

-

Charlotte Amalie

-

St John's, Antigua

-

Roseau

-

Basseterre

-

Philipsburg, St Maarten

-

Fort Lauderdale

Serenade of the Seas | 11 nights

12 Mar 20

FREE centrally located handpicked hotel stay
Flights Included
Free Deluxe Drinks Package on Balcony & Suite staterooms (excludes guaranteed cabins)

£

1299

View Deal

Caribbean

Serenade of the Seas

Royal Caribbean International

Fort Lauderdale

-

Charlotte Amalie

-

St John's, Antigua

-

Roseau

-

Basseterre

-

Philipsburg, St Maarten

-

Fort Lauderdale

Venice Stay & 7nts Greek Isles

Venice

-

Kotor

-

Corfu

-

Athens (Piraeus)

-

Mykonos

-

Argostoli

-

Venice

Rhapsody of the Seas | 8 nights

02 Aug 19

FREE centrally located handpicked hotel stay
Flights Included
Free Deluxe Drinks Package (excludes guaranteed cabins)

£

1319

View Deal

Europe, Mediterranean

Rhapsody of the Seas

Royal Caribbean International

Venice

-

Kotor

-

Corfu

-

Athens (Piraeus)

-

Mykonos

-

Argostoli

-

Venice

Mediterranean Adventure

Southampton

-

Gibraltar

-

Cartagena, Spain

-

Barcelona

-

Palma De Mallorca

-

Valencia

-

Malaga

-

Seville

-

Lisbon

-

Southampton

Explorer of the Seas | 14 nights

21 Jul 19

No Fly Cruise
Free Deluxe Drinks Package (excludes guaranteed cabins)
Up to $400 onboard spend per stateroom (excludes guarantee cabins)

£

1348

View Deal

Europe, Mediterranean

Explorer of the Seas

Royal Caribbean International

Southampton

-

Gibraltar

-

Cartagena, Spain

-

Barcelona

-

Palma De Mallorca

-

Valencia

-

Malaga

-

Seville

-

Lisbon

-

Southampton

Venice Stay & 7nts Greek Isles

Venice

-

Kotor

-

Corfu

-

Athens (Piraeus)

-

Mykonos

-

Argostoli

-

Venice

Rhapsody of the Seas | 8 nights

24 May 19

FREE centrally located handpicked hotel stay
Flights Included
Free Deluxe Drinks Package (excludes guaranteed cabins)

£

1349

View Deal

Europe, Mediterranean

Rhapsody of the Seas

Royal Caribbean International

Venice

-

Kotor

-

Corfu

-

Athens (Piraeus)

-

Mykonos

-

Argostoli

-

Venice

Caribbean Cocktail

Fort Lauderdale

-

Puerto Limon

-

Colon, Panama

-

Cartagena, Colombia

-

Oranjestad, Aruba

-

Willemstad, Curacao

-

Fort Lauderdale

Serenade of the Seas | 12 nights

19 Jan 20

FREE centrally located handpicked hotel stay
Flights Included
Free Deluxe Drinks Package on Balcony & Suite staterooms (excludes guaranteed cabins)

£

1349

View Deal

Caribbean

Serenade of the Seas

Royal Caribbean International

Fort Lauderdale

-

Puerto Limon

-

Colon, Panama

-

Cartagena, Colombia

-

Oranjestad, Aruba

-

Willemstad, Curacao

-

Fort Lauderdale

Scandinavia & Russia

Southampton

-

Oslo

-

Copenhagen

-

Tallinn

-

St Petersburg, Russia

-

Helsinki

-

Stockholm

-

Skagen

-

Stavanger

-

Southampton

Explorer of the Seas | 14 nights

04 Aug 19

No Fly Cruise
Up to $400 Onboard Spend Per Stateroom
Free Deluxe Drinks Package (excludes guaranteed cabins)

£

1350

View Deal

Scandinavia, Russia

Explorer of the Seas

Royal Caribbean International

Southampton

-

Oslo

-

Copenhagen

-

Tallinn

-

St Petersburg, Russia

-

Helsinki

-

Stockholm

-

Skagen

-

Stavanger

-

Southampton

Tampa & Caribbean Rhapsody

Tampa

-

Key West

-

Cozumel

-

Belize

-

Costa Maya

-

Tampa

Rhapsody of the Seas | 10 nights

10 Apr 19

FREE centrally located handpicked hotel stay
Flights Included
Free Deluxe Drinks Package on Balcony & Suite staterooms (excludes guaranteed cabins)

£

1379

View Deal

Caribbean

Rhapsody of the Seas

Royal Caribbean International

Tampa

-

Key West

-

Cozumel

-

Belize

-

Costa Maya

-

Tampa

Venice Stay & 7nts Greek Isles

Venice

-

Kotor

-

Corfu

-

Athens (Piraeus)

-

Mykonos

-

Argostoli

-

Venice

Rhapsody of the Seas | 8 nights

21 Jun 19

FREE centrally located handpicked hotel stay
Flights Included
Free Deluxe Drinks Package (excludes guaranteed cabins)

£

1399

View Deal

Europe, Mediterranean

Rhapsody of the Seas

Royal Caribbean International

Venice

-

Kotor

-

Corfu

-

Athens (Piraeus)

-

Mykonos

-

Argostoli

-

Venice

Barcelona, Canaries, CocoCay & Tampa

Barcelona

-

Lanzarote

-

Gran Canaria

-

La Palma, Canary Islands

-

CocoCay

-

Tampa

Rhapsody of the Seas | 17 nights

08 Nov 19

FREE centrally located handpicked hotel stay
Flights Included
Free Deluxe Drinks Package (excludes guaranteed cabins)

£

1399

View Deal

Canaries, Transatlantic, Bahamas

Rhapsody of the Seas

Royal Caribbean International

Barcelona

-

Lanzarote

-

Gran Canaria

-

La Palma, Canary Islands

-

CocoCay

-

Tampa

Venice Stay + 7nts Greece & Croatia

Venice

-

Dubrovnik

-

Kotor

-

Santorini Island

-

Katakolon

-

Venice

Rhapsody of the Seas | 8 nights

14 Jun 19

FREE centrally located handpicked hotel stay
Flights Included
Free Deluxe Drinks Package (excludes guaranteed cabins)

£

1419

View Deal

Europe, Mediterranean

Rhapsody of the Seas

Royal Caribbean International

Venice

-

Dubrovnik

-

Kotor

-

Santorini Island

-

Katakolon

-

Venice

Caribbean Cocktail

Fort Lauderdale

-

Puerto Limon

-

Colon, Panama

-

Cartagena, Colombia

-

Oranjestad, Aruba

-

Willemstad, Curacao

-

Fort Lauderdale

Serenade of the Seas | 12 nights

01 Mar 20

FREE centrally located handpicked hotel stay
Flights Included
Free Deluxe Drinks Package on Balcony & Suite staterooms (excludes guaranteed cabins)

£

1429

View Deal

Caribbean

Serenade of the Seas

Royal Caribbean International

Fort Lauderdale

-

Puerto Limon

-

Colon, Panama

-

Cartagena, Colombia

-

Oranjestad, Aruba

-

Willemstad, Curacao

-

Fort Lauderdale

3nt Tampa & 7nt Caribbean Cruise

Tampa

-

Puerto Costa Maya

-

Belize

-

Roatan, Bay Islands

-

Cozumel

-

Tampa

Rhapsody of the Seas | 10 nights

11 Dec 19

FREE centrally located handpicked hotel stay
Flights Included
Free Deluxe Drinks Package on Balcony & Suite staterooms (excludes guaranteed cabins)

£

1429

View Deal

Caribbean

Rhapsody of the Seas

Royal Caribbean International

Tampa

-

Puerto Costa Maya

-

Belize

-

Roatan, Bay Islands

-

Cozumel

-

Tampa

Canaries Adventure

Southampton

-

Vigo

-

Lisbon

-

Seville

-

Lanzarote

-

Gran Canaria

-

Tenerife

-

La Palma, Canary Islands

-

Funchal

-

La Coruna

-

Southampton

Independence of the Seas | 14 nights

29 Jun 19

No Fly Cruise
Free Deluxe Drinks Package (excludes guaranteed cabins)
Up to $400 onboard spend per stateroom (excludes guarantee cabins)

£

1442

View Deal

Canaries, Europe

Independence of the Seas

Royal Caribbean International

Southampton

-

Vigo

-

Lisbon

-

Seville

-

Lanzarote

-

Gran Canaria

-

Tenerife

-

La Palma, Canary Islands

-

Funchal

-

La Coruna

-

Southampton

Scandinavia & Russia

Southampton

-

Oslo

-

Copenhagen

-

Helsinki

-

St Petersburg, Russia

-

Tallinn

-

Stockholm

-

Skagen

-

Stavanger

-

Southampton

Explorer of the Seas | 14 nights

23 Jun 19

No Fly Cruise
Free Deluxe Drinks Package (excludes guaranteed cabins)
Up to $400 onboard spend per stateroom (excludes guarantee cabins)

£

1446

View Deal

Scandinavia, Russia

Explorer of the Seas

Royal Caribbean International

Southampton

-

Oslo

-

Copenhagen

-

Helsinki

-

St Petersburg, Russia

-

Tallinn

-

Stockholm

-

Skagen

-

Stavanger

-

Southampton

Barcelona to Venice

Barcelona

-

Cannes

-

Rome (Civitavecchia)

-

Catania, Sicily

-

Zadar, Croatia

-

Venice

Rhapsody of the Seas | 8 nights

10 May 19

FREE centrally located handpicked hotel stay
Flights Included
Up to $500 on board spend Per Stateroom
Free Deluxe Drinks Package (excludes guaranteed cabins)

£

1449

View Deal

Europe, Mediterranean

Rhapsody of the Seas

Royal Caribbean International

Barcelona

-

Cannes

-

Rome (Civitavecchia)

-

Catania, Sicily

-

Zadar, Croatia

-

Venice

Classic Caribbean

Fort Lauderdale

-

Ponce

-

Basseterre

-

Castries

-

St Georges, Grenada

-

Bridgetown

-

St John's, Antigua

-

Fort Lauderdale

Serenade of the Seas | 12 nights

09 Feb 20

FREE centrally located handpicked hotel stay
Flights Included
Free Deluxe Drinks Package on Balcony & Suite staterooms (excludes guaranteed cabins)

£

1449

View Deal

Caribbean

Serenade of the Seas

Royal Caribbean International

Fort Lauderdale

-

Ponce

-

Basseterre

-

Castries

-

St Georges, Grenada

-

Bridgetown

-

St John's, Antigua

-

Fort Lauderdale

Classic Caribbean

Fort Lauderdale

-

Ponce

-

Basseterre

-

Castries

-

St Georges, Grenada

-

Bridgetown

-

St John's, Antigua

-

Fort Lauderdale

Serenade of the Seas | 12 nights

22 Mar 20

FREE centrally located handpicked hotel stay
Flights Included
Free Deluxe Drinks Package on Balcony & Suite staterooms (excludes guaranteed cabins)

£

1449

View Deal

Caribbean

Serenade of the Seas

Royal Caribbean International

Fort Lauderdale

-

Ponce

-

Basseterre

-

Castries

-

St Georges, Grenada

-

Bridgetown

-

St John's, Antigua

-

Fort Lauderdale

Caribbean Serenade

Fort Lauderdale

-

Charlotte Amalie

-

St John's, Antigua

-

Roseau

-

Basseterre

-

Philipsburg, St Maarten

-

Fort Lauderdale

Serenade of the Seas | 11 nights

23 Apr 20

FREE centrally located handpicked hotel stay
Flights Included
Free Deluxe Drinks Package on Balcony & Suite staterooms (excludes guaranteed cabins)

£

1449

View Deal

Caribbean

Serenade of the Seas

Royal Caribbean International

Fort Lauderdale

-

Charlotte Amalie

-

St John's, Antigua

-

Roseau

-

Basseterre

-

Philipsburg, St Maarten

-

Fort Lauderdale

Rome 2nts Stay + 12nts Greek Isles & Italy

Rome (Civitavecchia)

-

Limassol

-

Ashdod

-

Haifa

-

Ephesus

-

Athens (Piraeus)

-

Salerno

-

Rome (Civitavecchia)

Explorer of the Seas | 14 nights

23 Oct 20

FREE centrally located handpicked hotel stay
Flights Included
Free Deluxe Drinks Package (excludes guaranteed cabins)

£

1449

View Deal

Europe, Mediterranean

Explorer of the Seas

Royal Caribbean International

Rome (Civitavecchia)

-

Limassol

-

Ashdod

-

Haifa

-

Ephesus

-

Athens (Piraeus)

-

Salerno

-

Rome (Civitavecchia)

7nts Japan, Philippines & Hong Kong

Hong Kong Kai Tak

-

Okinawa

-

Ishigaki Island

-

Subic

-

Hong Kong Kai Tak

Voyager of the Seas | 11 nights

13 Aug 19

FREE centrally located handpicked hotel stay
Flights Included
Free Deluxe Drinks Package (excludes guaranteed cabins)

£

1449

View Deal

Asia & Indian Ocean

Voyager of the Seas

Royal Caribbean International

Hong Kong Kai Tak

-

Okinawa

-

Ishigaki Island

-

Subic

-

Hong Kong Kai Tak

Orlando Magic & Caribbean Oasis

Port Canaveral

-

Labadee

-

Falmouth,Jamaica

-

Cozumel

-

Port Canaveral

Oasis of the Seas | 12 nights

09 Apr 19

FREE centrally located handpicked hotel stay
Flights Included
Free Deluxe Drinks Package on Balcony & Suite staterooms (excludes guaranteed cabins)

£

1499

View Deal

Caribbean, Mexico

Oasis of the Seas

Royal Caribbean International

Port Canaveral

-

Labadee

-

Falmouth,Jamaica

-

Cozumel

-

Port Canaveral

Florida to The Med with Free Drinks!

Tampa

-

Key West

-

La Palma, Canary Islands

-

Tenerife

-

Malaga

-

Barcelona

Rhapsody of the Seas | 18 nights

24 Apr 19

FREE centrally located handpicked hotel stay
Flights Included
Free Deluxe Drinks Package (excludes guaranteed cabins)

£

1499

View Deal

Canaries, Mediterranean, Transatlantic

Rhapsody of the Seas

Royal Caribbean International

Tampa

-

Key West

-

La Palma, Canary Islands

-

Tenerife

-

Malaga

-

Barcelona

Caribbean Serenade

Fort Lauderdale

-

Charlotte Amalie

-

St John's, Antigua

-

Roseau

-

Basseterre

-

Philipsburg, St Maarten

-

Fort Lauderdale

Serenade of the Seas | 11 nights

19 Dec 19

FREE centrally located handpicked hotel stay
Flights Included
Free Deluxe Drinks Package on Balcony & Suite staterooms (excludes guaranteed cabins)

£

1499

View Deal

Caribbean

Serenade of the Seas

Royal Caribbean International

Fort Lauderdale

-

Charlotte Amalie

-

St John's, Antigua

-

Roseau

-

Basseterre

-

Philipsburg, St Maarten

-

Fort Lauderdale

Dubai to Barcelona All Inclusive!!

Dubai

-

Athens (Piraeus)

-

Malta (La Valletta)

-

Barcelona

Explorer of the Seas | 17 nights

20 Apr 19

FREE centrally located handpicked hotel stay
Flights Included
Up to $200 On Board Spend Per Stateroom
Free Deluxe Drinks Package (excludes guaranteed cabins)

£

1499

View Deal

Europe, Mediterranean, Dubai & Emirates

Explorer of the Seas

Royal Caribbean International

Dubai

-

Athens (Piraeus)

-

Malta (La Valletta)

-

Barcelona

Barcelona to Venice

Barcelona

-

Cannes

-

Rome (Civitavecchia)

-

Catania, Sicily

-

Zadar, Croatia

-

Venice

Rhapsody of the Seas | 10 nights

10 May 19

FREE centrally located handpicked hotel stay
Flights Included
Free Deluxe Drinks Package (excludes guaranteed cabins)

£

1519

View Deal

Europe, Mediterranean

Rhapsody of the Seas

Royal Caribbean International

Barcelona

-

Cannes

-

Rome (Civitavecchia)

-

Catania, Sicily

-

Zadar, Croatia

-

Venice

Caribbean Cocktail

Fort Lauderdale

-

Puerto Limon

-

Colon, Panama

-

Cartagena, Colombia

-

Oranjestad, Aruba

-

Willemstad, Curacao

-

Fort Lauderdale

Serenade of the Seas | 12 nights

12 Apr 20

FREE centrally located handpicked hotel stay
Flights Included
Free Deluxe Drinks Package on Balcony & Suite staterooms (excludes guaranteed cabins)

£

1519

View Deal

Caribbean

Serenade of the Seas

Royal Caribbean International

Fort Lauderdale

-

Puerto Limon

-

Colon, Panama

-

Cartagena, Colombia

-

Oranjestad, Aruba

-

Willemstad, Curacao

-

Fort Lauderdale

Southern Caribbean Serenade

Fort Lauderdale

-

Labadee

-

San Juan, Puerto Rico

-

Charlotte Amalie

-

St John's, Antigua

-

Basseterre

-

Philipsburg, St Maarten

-

Fort Lauderdale

Serenade of the Seas | 11 nights

02 Apr 20

FREE centrally located handpicked hotel stay
Flights Included
Free Deluxe Drinks Package on Balcony & Suite staterooms (excludes guaranteed cabins)

£

1529

View Deal

Caribbean

Serenade of the Seas

Royal Caribbean International

Fort Lauderdale

-

Labadee

-

San Juan, Puerto Rico

-

Charlotte Amalie

-

St John's, Antigua

-

Basseterre

-

Philipsburg, St Maarten

-

Fort Lauderdale

Mediterranean Beaches

Southampton

-

Gibraltar

-

Cartagena, Colombia

-

Valencia

-

Barcelona

-

Nice (Villefranche)

-

Ajaccio

-

Malaga

-

Seville

-

Southampton

Independence of the Seas | 14 nights

27 Jul 19

No Fly Cruise
Free Deluxe Drinks Package (excludes guaranteed cabins)
Up to $400 onboard spend per stateroom (excludes guarantee cabins)

£

1537

View Deal

Europe, Mediterranean

Independence of the Seas

Royal Caribbean International

Southampton

-

Gibraltar

-

Cartagena, Colombia

-

Valencia

-

Barcelona

-

Nice (Villefranche)

-

Ajaccio

-

Malaga

-

Seville

-

Southampton

Venice Stay + 7nts Greece & Croatia

Venice

-

Dubrovnik

-

Kotor

-

Santorini Island

-

Katakolon

-

Venice

Rhapsody of the Seas | 8 nights

26 Jul 19

FREE centrally located handpicked hotel stay
Flights Included
Free Deluxe Drinks Package (excludes guaranteed cabins)

£

1549

View Deal

Europe, Mediterranean

Rhapsody of the Seas

Royal Caribbean International

Venice

-

Dubrovnik

-

Kotor

-

Santorini Island

-

Katakolon

-

Venice

Spanish Mediterranean

Southampton

-

Vigo

-

Lisbon

-

Ibiza

-

Palma De Mallorca

-

Barcelona

-

Valencia

-

Malaga

-

Gibraltar

-

Southampton

Independence of the Seas | 14 nights

10 Aug 19

No Fly Cruise
Free Deluxe Drinks Package (excludes guaranteed cabins)
Up to $400 onboard spend per stateroom (excludes guarantee cabins)

£

1585

View Deal

Europe, Mediterranean

Independence of the Seas

Royal Caribbean International

Southampton

-

Vigo

-

Lisbon

-

Ibiza

-

Palma De Mallorca

-

Barcelona

-

Valencia

-

Malaga

-

Gibraltar

-

Southampton

The Spice Route for Easter

Singapore

-

Penang

-

Cochin

-

Mumbai

-

Dubai

Explorer of the Seas | 16 nights

10 Apr 19

FREE centrally located handpicked hotel stay
Flights Included
Up to $200 On Board Spend Per Stateroom
Free Deluxe Drinks Package (excludes guaranteed cabins)

£

1599

View Deal

Asia & Indian Ocean, Dubai & Emirates

Explorer of the Seas

Royal Caribbean International

Singapore

-

Penang

-

Cochin

-

Mumbai

-

Dubai

Dubai to Barcelona Explorer

Dubai

-

Athens (Piraeus)

-

Malta (La Valletta)

-

Barcelona

Explorer of the Seas | 19 nights

20 Apr 19

FREE centrally located handpicked hotel stay
Flights Included
Free Deluxe Drinks Package (excludes guaranteed cabins)

£

1599

View Deal

Europe, Mediterranean, Dubai & Emirates

Explorer of the Seas

Royal Caribbean International

Dubai

-

Athens (Piraeus)

-

Malta (La Valletta)

-

Barcelona

Venice Stay + 7nts Greece & Croatia

Venice

-

Dubrovnik

-

Kotor

-

Santorini Island

-

Katakolon

-

Venice

Rhapsody of the Seas | 8 nights

17 May 19

FREE centrally located handpicked hotel stay
Flights Included
Free Deluxe Drinks Package (excludes guaranteed cabins)
Free Upgrade to Oceanview Cabin

£

1619

View Deal

Europe, Mediterranean

Rhapsody of the Seas

Royal Caribbean International

Venice

-

Dubrovnik

-

Kotor

-

Santorini Island

-

Katakolon

-

Venice

Rome 2nt Stay + 14nt Rome to Miami + Miami Stay

Rome (Civitavecchia)

-

Valencia

-

Malaga

-

Seville

-

Nassau

-

Miami

Explorer of the Seas | 14 nights

04 Nov 20

FREE centrally located handpicked hotel stay
Flights Included
Free Deluxe Drinks Package (excludes guaranteed cabins)

£

1629

View Deal

Europe, Mediterranean

Explorer of the Seas

Royal Caribbean International

Rome (Civitavecchia)

-

Valencia

-

Malaga

-

Seville

-

Nassau

-

Miami

Hong Kong & Land of the Rising Sun

Hong Kong Kai Tak

-

Okinawa (Nagagusuku), Japan

-

Osaka

-

Kobe

-

Kochi, Japan

-

Hong Kong Kai Tak

Voyager of the Seas | 13 nights

08 Jul 19

FREE centrally located handpicked hotel stay
Flights Included
Free Deluxe Drinks Package (excludes guaranteed cabins)

£

1649

View Deal

Asia & Indian Ocean, China

Voyager of the Seas

Royal Caribbean International

Hong Kong Kai Tak

-

Okinawa (Nagagusuku), Japan

-

Osaka

-

Kobe

-

Kochi, Japan

-

Hong Kong Kai Tak

Italian Mediterranean

Southampton

-

Gibraltar

-

Nice (Villefranche)

-

La Spezia

-

Rome (Civitavecchia)

-

Capri

-

Cagliari

-

Seville

-

Southampton

Independence of the Seas | 14 nights

13 Jul 19

No Fly Cruise
Free Deluxe Drinks Package (excludes guaranteed cabins)
Up to $400 onboard spend per stateroom (excludes guarantee cabins)

£

1677

View Deal

Europe, Mediterranean

Independence of the Seas

Royal Caribbean International

Southampton

-

Gibraltar

-

Nice (Villefranche)

-

La Spezia

-

Rome (Civitavecchia)

-

Capri

-

Cagliari

-

Seville

-

Southampton

New York & Quebec - Fall Foliage Northbound

Cape Liberty, New Jersey

-

Bar Harbor

-

Portland, Maine

-

St John, New Brunswick

-

Halifax

-

Charlottetown

-

Quebec

Adventure of the Seas | 12 nights

25 Sep 19

FREE centrally located handpicked hotel stay
Flights Included
Free Deluxe Drinks Package (excludes guaranteed cabins)

£

1699

View Deal

North America

Adventure of the Seas

Royal Caribbean International

Cape Liberty, New Jersey

-

Bar Harbor

-

Portland, Maine

-

St John, New Brunswick

-

Halifax

-

Charlottetown

-

Quebec

Scandinavia & Russia

Southampton

-

Oslo

-

Copenhagen

-

Tallinn

-

St Petersburg, Russia

-

Helsinki

-

Stockholm

-

Skagen

-

Stavanger

-

Southampton

Explorer of the Seas | 14 nights

07 Jul 19

No Fly Cruise
Free Deluxe Drinks Package (excludes guaranteed cabins)
Up to $400 onboard spend per stateroom (excludes guarantee cabins)

£

1730

View Deal

Scandinavia, Russia

Explorer of the Seas

Royal Caribbean International

Southampton

-

Oslo

-

Copenhagen

-

Tallinn

-

St Petersburg, Russia

-

Helsinki

-

Stockholm

-

Skagen

-

Stavanger

-

Southampton

Japanese Explorer & Hong Kong Stay

Hong Kong Kai Tak

-

Okinawa

-

Fukuoka

-

Nagasaki

-

Kagoshima

-

Hong Kong Kai Tak

Voyager of the Seas | 13 nights

30 Jul 19

FREE centrally located handpicked hotel stay
Flights Included
Free Deluxe Drinks Package (excludes guaranteed cabins)

£

1799

View Deal

Asia & Indian Ocean, China

Voyager of the Seas

Royal Caribbean International

Hong Kong Kai Tak

-

Okinawa

-

Fukuoka

-

Nagasaki

-

Kagoshima

-

Hong Kong Kai Tak

Tampa 3nt Stay & 7nt Key West & Caribbean

Tampa

-

Key West

-

George Town, Cayman Islands

-

Cozumel

-

Puerto Costa Maya

-

Tampa

Rhapsody of the Seas | 10 nights

18 Dec 19

FREE centrally located handpicked hotel stay
Flights Included
Free Deluxe Drinks Package on Balcony & Suite staterooms (excludes guaranteed cabins)
Free Upgrade to Oceanview Cabin

£

1799

View Deal

Caribbean, Mexico

Rhapsody of the Seas

Royal Caribbean International

Tampa

-

Key West

-

George Town, Cayman Islands

-

Cozumel

-

Puerto Costa Maya

-

Tampa

3nt Tampa & 7nt Caribbean Cruise

Tampa

-

Puerto Costa Maya

-

Belize

-

Roatan, Bay Islands

-

Cozumel

-

Tampa

Rhapsody of the Seas | 10 nights

25 Dec 19

FREE centrally located handpicked hotel stay
Flights Included
Free Deluxe Drinks Package on Balcony & Suite staterooms (excludes guaranteed cabins)

£

1799

View Deal

Caribbean

Rhapsody of the Seas

Royal Caribbean International

Tampa

-

Puerto Costa Maya

-

Belize

-

Roatan, Bay Islands

-

Cozumel

-

Tampa

All Inclusive Great Wall Expedition & Japan

Baoshan (Shanghai)

-

Osaka

-

Kobe

-

Tokyo

-

Baoshan (Shanghai)

Spectrum of the Seas | 12 nights

02 Jun 19

FREE centrally located handpicked hotel stay
Flights Included
Free All Inclusive

£

1849

View Deal

Asia & Indian Ocean

Spectrum of the Seas

Royal Caribbean International

Baoshan (Shanghai)

-

Osaka

-

Kobe

-

Tokyo

-

Baoshan (Shanghai)

Sydney, Fiji & South Pacific

Sydney, Australia

-

Lifou Island

-

Suva

-

Lautoka

-

Mystery Island

-

Noumea

-

Sydney, Australia

Explorer of the Seas | 18 nights

11 Mar 19

FREE centrally located handpicked hotel stay
Flights Included
Free Deluxe Drinks Package (excludes guaranteed cabins)

£

1899

View Deal

Australasia, Pacific, Fiji

Explorer of the Seas

Royal Caribbean International

Sydney, Australia

-

Lifou Island

-

Suva

-

Lautoka

-

Mystery Island

-

Noumea

-

Sydney, Australia

Sydney Stay & New Zealand Explorer

Sydney, Australia

-

Bay of Islands

-

Auckland

-

Tauranga

-

Wellington

-

Dunedin, New Zealand

-

Dusky Sound

-

Doubtful Sound

-

Milford Sound

-

Sydney, Australia

Ovation of the Seas | 17 nights

29 Nov 19

FREE centrally located handpicked hotel stay
Flights Included
Free Deluxe Drinks Package (excludes guaranteed cabins)

£

2199

View Deal

Australasia, Pacific

Ovation of the Seas

Royal Caribbean International

Sydney, Australia

-

Bay of Islands

-

Auckland

-

Tauranga

-

Wellington

-

Dunedin, New Zealand

-

Dusky Sound

-

Doubtful Sound

-

Milford Sound

-

Sydney, Australia

Sydney Stay & New Zealand Explorer

Sydney, Australia

-

Bay of Islands

-

Auckland

-

Tauranga

-

Wellington

-

Dunedin, New Zealand

-

Dusky Sound

-

Doubtful Sound

-

Milford Sound

-

Sydney, Australia

Ovation of the Seas | 17 nights

24 Oct 19

FREE centrally located handpicked hotel stay
Flights Included
Free Deluxe Drinks Package (excludes guaranteed cabins)

£

2199

View Deal

Australasia, Pacific

Ovation of the Seas

Royal Caribbean International

Sydney, Australia

-

Bay of Islands

-

Auckland

-

Tauranga

-

Wellington

-

Dunedin, New Zealand

-

Dusky Sound

-

Doubtful Sound

-

Milford Sound

-

Sydney, Australia

16nt China Express with Russia & Japan

Baoshan (Shanghai)

-

Vladivostok

-

Maizuru

-

Fukuoka

-

Baoshan (Shanghai)

Spectrum of the Seas | 16 nights

29 Aug 19

FREE centrally located handpicked hotel stay
Flights Included
All Inclusive Cruise!
Up to $200 On Board Spend Per Stateroom
Free Deluxe Drinks Package (excludes guaranteed cabins)

£

2249

View Deal

Asia & Indian Ocean

Spectrum of the Seas

Royal Caribbean International

Baoshan (Shanghai)

-

Vladivostok

-

Maizuru

-

Fukuoka

-

Baoshan (Shanghai)