DISCOUNTED DRINKS ON ANTHEM OF THE SEAS!
Make the most of Royal Caribbean's latest offer - Discounted drinks on Anthem of the Seas!
Until the Monday 2nd November 2020, drinks are available to add to your Anthem of the Seas sailing from just £35pp per day!
So don't miss out! Book with Cruise Nation TODAY and get this fantastic offer!
Click here for more!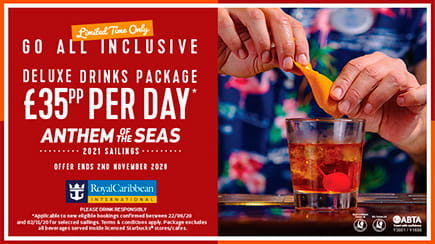 Latest Promotions
Perfect Day
Royal Caribbean have revolutionised their private island - Cococay and turned it into a resort style paradise full of thrills and chills!
Key attractions of Cococay include Thrill waterpark, the Oasis lagoon, the Zip line, a 450-feet helium balloon ride and Captain Jack's dining.
Open for Adventure​!
Prepare for a world of new adventures. Our 2021/2022 sailings to Northeastern America, Canada, and Bermuda are now available to book. You can bask in the natural beauty of Canada. You can sail to Perfect Day at CocoCay from Cape Liberty and experience the jewels of the Southern Caribbean onboard Oasis of the Seas and Anthem of the Seas. And you can go bolder than ever before in Bermuda, with overnight stays in King's Wharf, Hamilton and St. George on select sailings onboard Empress of the Seas and the newly improved Freedom of the Seas. So don't hold back. Book a holiday everyone will love today.
Allure of the Seas​
The most awarded ship in the world is stealing the spotlight again with all new ways to play and stay in the Mediterranean. With endless onboard adventures sailing the best shores of Europe, the boldest way to make a continent's worth of memories is on the newly Amplified Allure of the Seas®.
WHY CHOOSE Royal Caribbean
From the blog...
We're just checking with our authors to see what the latest is...
Let our cruise experts keep you up to date about the latest cruise industry news, the most luxurious new ships, and the hottest deals.
Visit the blog