THE Royal Caribbean FLEET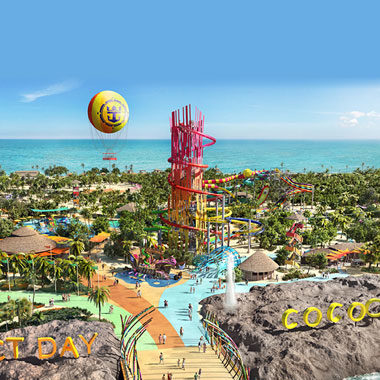 Perfect Day at CocoCay
Discover a brand new experience at sea with Royal Caribbean's Perfect Day at CocoCay! This incredible new resort will give all visitors to CocoCay an amazing experience. Helium balloon rides, huge waterslides, an exclusive beach club experience....Your Perfect Day is waiting for you!
WHY CHOOSE Royal Caribbean
Cruise Deals departing in
Price information
Prices shown here are cached, which means the price was the last available known price when last searched. Our price is always based on 2 adults sharing the lowest available room grade, unless otherwise stated. When you view a deal from the list below, we search the latest live price that is available from our hotel, flight, and cruise providers. Prices are subject to change without notice and might be lower (or higher) than currently shown on this page. E&OE.
For the latest and most up to date availability & pricing, please click View Deal or call our team on 0800 408 0757
Departure
What's Included?
Price (From)

2nt New York & 11nt Southern Caribbean

Cape Liberty, New Jersey

-

San Juan, Puerto Rico

-

Philipsburg, St Maarten

-

St John's, Antigua

-

Castries

-

Basseterre

-

Cape Liberty, New Jersey

Anthem of the Seas | 13 nights

05 Dec 20

FREE centrally located handpicked hotel stay
Flights Included

£

CALL

View Deal

Caribbean

Anthem of the Seas

Royal Caribbean International

Cape Liberty, New Jersey

-

San Juan, Puerto Rico

-

Philipsburg, St Maarten

-

St John's, Antigua

-

Castries

-

Basseterre

-

Cape Liberty, New Jersey

Western Europe

Barcelona

-

Valencia

-

Cartagena, Spain

-

Gibraltar

-

Gijon

-

Southampton

Explorer of the Seas | 7 nights

07 May 19

£

437

View Deal

Europe

Explorer of the Seas

Royal Caribbean International

Barcelona

-

Valencia

-

Cartagena, Spain

-

Gibraltar

-

Gijon

-

Southampton

Royal Sampler

Southampton

-

Cork, Ireland

-

Southampton

Independence of the Seas | 4 nights

24 May 20

£

500

View Deal

United Kingdom

Independence of the Seas

Royal Caribbean International

Southampton

-

Cork, Ireland

-

Southampton

Half Term Family Getaway

Southampton

-

Rotterdam

-

Brugge

-

Le Havre

-

Southampton

Independence of the Seas | 4 nights

24 Oct 20

£

517

View Deal

Europe

Independence of the Seas

Royal Caribbean International

Southampton

-

Rotterdam

-

Brugge

-

Le Havre

-

Southampton

Half Term Paris & Bruges

Southampton

-

Brugge

-

Le Havre

-

Southampton

Independence of the Seas | 3 nights

28 May 20

£

534

View Deal

Europe

Independence of the Seas

Royal Caribbean International

Southampton

-

Brugge

-

Le Havre

-

Southampton

Half Term Paris

Southampton

-

Le Havre

-

Southampton

Independence of the Seas | 3 nights

28 Oct 20

£

537

View Deal

Europe

Independence of the Seas

Royal Caribbean International

Southampton

-

Le Havre

-

Southampton

France, Spain & Portugal

Southampton

-

Le Havre

-

Vigo

-

Lisbon

-

Southampton

Independence of the Seas | 7 nights

19 Oct 19

£

579

View Deal

Europe

Independence of the Seas

Royal Caribbean International

Southampton

-

Le Havre

-

Vigo

-

Lisbon

-

Southampton

Dutch & French Adventure

Southampton

-

Hamburg

-

Rotterdam

-

Amsterdam

-

Le Havre

-

Southampton

Explorer of the Seas | 7 nights

18 Oct 19

£

582

View Deal

Europe

Explorer of the Seas

Royal Caribbean International

Southampton

-

Hamburg

-

Rotterdam

-

Amsterdam

-

Le Havre

-

Southampton

France & Spain

Southampton

-

Vigo

-

Gijon

-

Le Havre

-

Southampton

Explorer of the Seas | 6 nights

05 Oct 19

£

649

View Deal

Europe

Explorer of the Seas

Royal Caribbean International

Southampton

-

Vigo

-

Gijon

-

Le Havre

-

Southampton

1nt Venice Stay & 6nt Greek Isles Cruise

Venice

-

Split

-

Athens (Piraeus)

-

Katakolon

-

Venice

Rhapsody of the Seas | 7 nights

10 Jul 20

FREE centrally located handpicked hotel stay
Flights Included

£

669

View Deal

Europe, Mediterranean

Rhapsody of the Seas

Royal Caribbean International

Venice

-

Split

-

Athens (Piraeus)

-

Katakolon

-

Venice

France, Spain & Portugal

Southampton

-

Le Havre

-

Vigo

-

Lisbon

-

Southampton

Explorer of the Seas | 7 nights

24 May 19

£

675

View Deal

Europe

Explorer of the Seas

Royal Caribbean International

Southampton

-

Le Havre

-

Vigo

-

Lisbon

-

Southampton

Venice, Dubrovnik & Santorini

Venice

-

Dubrovnik

-

Kotor

-

Santorini Island

-

Katakolon

-

Venice

Rhapsody of the Seas | 8 nights

05 Jun 20

FREE centrally located handpicked hotel stay
Flights Included

£

699

View Deal

Europe, Mediterranean

Rhapsody of the Seas

Royal Caribbean International

Venice

-

Dubrovnik

-

Kotor

-

Santorini Island

-

Katakolon

-

Venice

Venice, Dubrovnik & Santorini

Venice

-

Dubrovnik

-

Kotor

-

Santorini Island

-

Katakolon

-

Venice

Rhapsody of the Seas | 8 nights

09 Oct 20

FREE centrally located handpicked hotel stay
Flights Included

£

699

View Deal

Europe, Mediterranean

Rhapsody of the Seas

Royal Caribbean International

Venice

-

Dubrovnik

-

Kotor

-

Santorini Island

-

Katakolon

-

Venice

August in France & Spain

Southampton

-

Le Havre

-

La Coruna

-

Bilbao

-

Southampton

Independence of the Seas | 6 nights

24 Aug 19

£

699

View Deal

Europe, Mediterranean

Independence of the Seas

Royal Caribbean International

Southampton

-

Le Havre

-

La Coruna

-

Bilbao

-

Southampton

Venice & Greek Rhapsody

Venice

-

Split

-

Athens (Piraeus)

-

Katakolon

-

Venice

Rhapsody of the Seas | 8 nights

09 Jul 20

FREE centrally located handpicked hotel stay
Flights Included

£

699

View Deal

Europe, Mediterranean

Rhapsody of the Seas

Royal Caribbean International

Venice

-

Split

-

Athens (Piraeus)

-

Katakolon

-

Venice

Venice, Dubrovnik & Santorini

Venice

-

Dubrovnik

-

Kotor

-

Santorini Island

-

Katakolon

-

Venice

Rhapsody of the Seas | 8 nights

25 Sep 20

FREE centrally located handpicked hotel stay
Flights Included

£

699

View Deal

Europe, Mediterranean

Rhapsody of the Seas

Royal Caribbean International

Venice

-

Dubrovnik

-

Kotor

-

Santorini Island

-

Katakolon

-

Venice

Adriatic Gems & Santorini

Venice

-

Kotor

-

Dubrovnik

-

Santorini Island

-

Katakolon

-

Venice

Rhapsody of the Seas | 8 nights

08 May 20

FREE centrally located handpicked hotel stay
Flights Included

£

699

View Deal

Europe, Mediterranean

Rhapsody of the Seas

Royal Caribbean International

Venice

-

Kotor

-

Dubrovnik

-

Santorini Island

-

Katakolon

-

Venice

Venice, Kotor & Greek Islands

Venice

-

Kotor

-

Corfu

-

Athens (Piraeus)

-

Mykonos

-

Argostoli

-

Venice

Rhapsody of the Seas | 8 nights

02 Oct 20

FREE centrally located handpicked hotel stay
Flights Included

£

699

View Deal

Europe, Mediterranean

Rhapsody of the Seas

Royal Caribbean International

Venice

-

Kotor

-

Corfu

-

Athens (Piraeus)

-

Mykonos

-

Argostoli

-

Venice

4nts Salou & 7nts Mediterranean Bloom

Brilliance of the Seas | 11 nights

09 Oct 19

Pre-Cruise Flight Included

Pre-Cruise Hotel 4night(s) Included

Post-Cruise Flight Included

£

699

View Deal

Mediterranean

Brilliance of the Seas

Royal Caribbean International

Barcelona

-

Nice (Villefranche)

-

Portofino

-

La Spezia

-

Rome (Civitavecchia)

-

Amalfi

-

Barcelona

2nts Barcelona & 7nts Brilliance of the Mediterranean

Brilliance of the Seas | 9 nights

11 Oct 19

Pre-Cruise Flight Included

Pre-Cruise Hotel 2night(s) Included

Post-Cruise Flight Included

£

719

View Deal

Mediterranean

Brilliance of the Seas

Royal Caribbean International

Barcelona

-

Nice (Villefranche)

-

Portofino

-

La Spezia

-

Rome (Civitavecchia)

-

Amalfi

-

Barcelona

4nts Costa Brava & 7nts Mediterranean Bloom

Brilliance of the Seas | 11 nights

09 Oct 19

Pre-Cruise Flight Included

Pre-Cruise Hotel 4night(s) Included

£

719

View Deal

Mediterranean

Brilliance of the Seas

Royal Caribbean International

Barcelona

-

Nice (Villefranche)

-

Portofino

-

La Spezia

-

Rome (Civitavecchia)

-

Amalfi

-

Barcelona

Norwegian Fjords

Southampton

-

Bergen, Norway

-

Flam

-

Geiranger

-

Alesund

-

Stavanger, Norway

-

Southampton

Explorer of the Seas | 8 nights

13 Sep 19

£

724

View Deal

Scandinavia

Explorer of the Seas

Royal Caribbean International

Southampton

-

Bergen, Norway

-

Flam

-

Geiranger

-

Alesund

-

Stavanger, Norway

-

Southampton

Barcelona Stay & Spanish Sunsets

Barcelona

-

Valencia

-

Cartagena, Spain

-

Gibraltar

-

Gijon

-

Southampton

Explorer of the Seas | 9 nights

05 May 19

FREE centrally located handpicked hotel stay
Flights Included

£

729

View Deal

Europe, Mediterranean

Explorer of the Seas

Royal Caribbean International

Barcelona

-

Valencia

-

Cartagena, Spain

-

Gibraltar

-

Gijon

-

Southampton

7nts Mediterranean Odyssey & 2nts Barcelona

Brilliance of the Seas | 9 nights

13 Oct 19

Pre-Cruise Flight Included

Post-Cruise Hotel 2night(s) Included

£

729

View Deal

Mediterranean

Brilliance of the Seas

Royal Caribbean International

Barcelona

-

Nice (Villefranche)

-

Portofino

-

La Spezia

-

Rome (Civitavecchia)

-

Amalfi

-

Barcelona

Half Term Paris & Bilbao

Southampton

-

Le Havre

-

Bilbao

-

Southampton

Anthem of the Seas | 5 nights

27 Oct 20

£

739

View Deal

Europe

Anthem of the Seas

Royal Caribbean International

Southampton

-

Le Havre

-

Bilbao

-

Southampton

Venice, Dubrovnik & Santorini

Venice

-

Dubrovnik

-

Kotor

-

Santorini Island

-

Katakolon

-

Venice

Rhapsody of the Seas | 8 nights

22 May 20

FREE centrally located handpicked hotel stay
Flights Included

£

749

View Deal

Europe, Mediterranean

Rhapsody of the Seas

Royal Caribbean International

Venice

-

Dubrovnik

-

Kotor

-

Santorini Island

-

Katakolon

-

Venice

Venice, Dubrovnik & Santorini

Venice

-

Dubrovnik

-

Kotor

-

Santorini Island

-

Katakolon

-

Venice

Rhapsody of the Seas | 8 nights

28 Aug 20

FREE centrally located handpicked hotel stay
Flights Included

£

749

View Deal

Europe, Mediterranean

Rhapsody of the Seas

Royal Caribbean International

Venice

-

Dubrovnik

-

Kotor

-

Santorini Island

-

Katakolon

-

Venice

Venice, Kotor & Greek Islands

Venice

-

Kotor

-

Corfu

-

Athens (Piraeus)

-

Mykonos

-

Argostoli

-

Venice

Rhapsody of the Seas | 8 nights

12 Jun 20

FREE centrally located handpicked hotel stay
Flights Included

£

749

View Deal

Europe, Mediterranean

Rhapsody of the Seas

Royal Caribbean International

Venice

-

Kotor

-

Corfu

-

Athens (Piraeus)

-

Mykonos

-

Argostoli

-

Venice

Venice, Kotor & Greek Islands

Venice

-

Kotor

-

Corfu

-

Athens (Piraeus)

-

Mykonos

-

Argostoli

-

Venice

Rhapsody of the Seas | 8 nights

18 Sep 20

FREE centrally located handpicked hotel stay
Flights Included

£

749

View Deal

Europe, Mediterranean

Rhapsody of the Seas

Royal Caribbean International

Venice

-

Kotor

-

Corfu

-

Athens (Piraeus)

-

Mykonos

-

Argostoli

-

Venice

Venice, Kotor & Greek Islands

Venice

-

Kotor

-

Corfu

-

Athens (Piraeus)

-

Mykonos

-

Argostoli

-

Venice

Rhapsody of the Seas | 8 nights

16 Oct 20

FREE centrally located handpicked hotel stay
Flights Included

£

749

View Deal

Europe, Mediterranean

Rhapsody of the Seas

Royal Caribbean International

Venice

-

Kotor

-

Corfu

-

Athens (Piraeus)

-

Mykonos

-

Argostoli

-

Venice

1nt Venice Stay & 7nt Greek Isles Cruise

Venice

-

Split

-

Dubrovnik

-

Santorini Island

-

Katakolon

-

Venice

Rhapsody of the Seas | 8 nights

11 Sep 20

FREE centrally located handpicked hotel stay
Flights Included

£

749

View Deal

Europe, Mediterranean

Rhapsody of the Seas

Royal Caribbean International

Venice

-

Split

-

Dubrovnik

-

Santorini Island

-

Katakolon

-

Venice

Venice, Kotor & Greek Islands

Venice

-

Kotor

-

Corfu

-

Athens (Piraeus)

-

Mykonos

-

Argostoli

-

Venice

Rhapsody of the Seas | 8 nights

29 May 20

FREE centrally located handpicked hotel stay
Flights Included

£

749

View Deal

Europe, Mediterranean

Rhapsody of the Seas

Royal Caribbean International

Venice

-

Kotor

-

Corfu

-

Athens (Piraeus)

-

Mykonos

-

Argostoli

-

Venice

7nts Wonders of Western Med & 2nts Barcelona

Oasis of the Seas | 9 nights

01 Sep 19

Pre-Cruise Flight Included

Post-Cruise Hotel 2night(s) Included

£

759

View Deal

Europe, Mediterranean

Oasis of the Seas

Royal Caribbean International

Barcelona

-

Palma De Mallorca

-

Marseille

-

La Spezia

-

Rome (Civitavecchia)

-

Capri

-

Barcelona

1nt Venice Stay & 7nt Greek Isles Cruise

Venice

-

Kotor

-

Corfu

-

Athens (Piraeus)

-

Mykonos

-

Argostoli

-

Venice

Rhapsody of the Seas | 8 nights

15 May 20

FREE centrally located handpicked hotel stay
Flights Included

£

769

View Deal

Europe, Mediterranean

Rhapsody of the Seas

Royal Caribbean International

Venice

-

Kotor

-

Corfu

-

Athens (Piraeus)

-

Mykonos

-

Argostoli

-

Venice

Venice, Kotor & Greek Islands

Venice

-

Kotor

-

Corfu

-

Athens (Piraeus)

-

Mykonos

-

Argostoli

-

Venice

Rhapsody of the Seas | 8 nights

04 Sep 20

FREE centrally located handpicked hotel stay
Flights Included

£

769

View Deal

Europe, Mediterranean

Rhapsody of the Seas

Royal Caribbean International

Venice

-

Kotor

-

Corfu

-

Athens (Piraeus)

-

Mykonos

-

Argostoli

-

Venice

1nt Venice Stay & Greece & Croatia Cruise

Venice

-

Split

-

Kotor

-

Santorini Island

-

Katakolon

-

Venice

Rhapsody of the Seas | 8 nights

19 Jun 20

FREE centrally located handpicked hotel stay
Flights Included

£

769

View Deal

Europe, Mediterranean

Rhapsody of the Seas

Royal Caribbean International

Venice

-

Split

-

Kotor

-

Santorini Island

-

Katakolon

-

Venice

1nt Barcelona & 7nt Mediterranean Jewels

Barcelona

-

Nice (Villefranche)

-

Portofino

-

La Spezia

-

Rome (Civitavecchia)

-

Capri

-

Barcelona

Jewel of the Seas | 8 nights

18 Apr 20

FREE centrally located handpicked hotel stay
Flights Included

£

779

View Deal

Europe

Jewel of the Seas

Royal Caribbean International

Barcelona

-

Nice (Villefranche)

-

Portofino

-

La Spezia

-

Rome (Civitavecchia)

-

Capri

-

Barcelona

Venice, Dubrovnik & Santorini

Venice

-

Dubrovnik

-

Kotor

-

Santorini Island

-

Katakolon

-

Venice

Rhapsody of the Seas | 8 nights

03 Jul 20

FREE centrally located handpicked hotel stay
Flights Included

£

779

View Deal

Europe, Mediterranean

Rhapsody of the Seas

Royal Caribbean International

Venice

-

Dubrovnik

-

Kotor

-

Santorini Island

-

Katakolon

-

Venice

Venice, Kotor & Greek Islands

Venice

-

Kotor

-

Corfu

-

Athens (Piraeus)

-

Mykonos

-

Argostoli

-

Venice

Rhapsody of the Seas | 8 nights

26 Jun 20

FREE centrally located handpicked hotel stay
Flights Included

£

779

View Deal

Europe, Mediterranean

Rhapsody of the Seas

Royal Caribbean International

Venice

-

Kotor

-

Corfu

-

Athens (Piraeus)

-

Mykonos

-

Argostoli

-

Venice

Adriatic Gems & Santorini

Venice

-

Kotor

-

Dubrovnik

-

Santorini Island

-

Katakolon

-

Venice

Rhapsody of the Seas | 8 nights

14 Aug 20

FREE centrally located handpicked hotel stay
Flights Included

£

779

View Deal

Europe, Mediterranean

Rhapsody of the Seas

Royal Caribbean International

Venice

-

Kotor

-

Dubrovnik

-

Santorini Island

-

Katakolon

-

Venice

Venice, Dubrovnik & Santorini

Venice

-

Dubrovnik

-

Kotor

-

Santorini Island

-

Katakolon

-

Venice

Rhapsody of the Seas | 8 nights

31 Jul 20

FREE centrally located handpicked hotel stay
Flights Included

£

799

View Deal

Europe, Mediterranean

Rhapsody of the Seas

Royal Caribbean International

Venice

-

Dubrovnik

-

Kotor

-

Santorini Island

-

Katakolon

-

Venice

Venice, Kotor & Greek Islands

Venice

-

Kotor

-

Corfu

-

Athens (Piraeus)

-

Mykonos

-

Argostoli

-

Venice

Rhapsody of the Seas | 8 nights

07 Aug 20

FREE centrally located handpicked hotel stay
Flights Included

£

799

View Deal

Europe, Mediterranean

Rhapsody of the Seas

Royal Caribbean International

Venice

-

Kotor

-

Corfu

-

Athens (Piraeus)

-

Mykonos

-

Argostoli

-

Venice

Barcelona & Allure of the Med

Barcelona

-

Palma De Mallorca

-

Marseille

-

La Spezia

-

Rome (Civitavecchia)

-

Capri

-

Barcelona

Allure of the Seas | 9 nights

09 Oct 20

FREE centrally located handpicked hotel stay
Flights Included

£

799

View Deal

Europe, Mediterranean

Allure of the Seas

Royal Caribbean International

Barcelona

-

Palma De Mallorca

-

Marseille

-

La Spezia

-

Rome (Civitavecchia)

-

Capri

-

Barcelona

Venice, Kotor & Greek Islands

Venice

-

Kotor

-

Corfu

-

Athens (Piraeus)

-

Mykonos

-

Argostoli

-

Venice

Rhapsody of the Seas | 8 nights

21 Aug 20

FREE centrally located handpicked hotel stay
Flights Included

£

799

View Deal

Europe, Mediterranean

Rhapsody of the Seas

Royal Caribbean International

Venice

-

Kotor

-

Corfu

-

Athens (Piraeus)

-

Mykonos

-

Argostoli

-

Venice

10nt Orlando & Caribbean Happiness

Port Canaveral

-

Nassau

-

CocoCay

-

Port Canaveral

Mariner of the Seas | 10 nights

31 Jan 20

FREE centrally located handpicked hotel stay
Flights Included
FREE Upgrade from Outside to Balcony

£

799

View Deal

Bahamas

Mariner of the Seas

Royal Caribbean International

Port Canaveral

-

Nassau

-

CocoCay

-

Port Canaveral

2nts Barcelona & 7nts Western Med Oasis

Oasis of the Seas | 9 nights

30 Aug 19

Pre-Cruise Flight Included

Pre-Cruise Hotel 2night(s) Included

Post-Cruise Flight Included

£

829

View Deal

Europe, Mediterranean

Oasis of the Seas

Royal Caribbean International

Barcelona

-

Palma De Mallorca

-

Marseille

-

La Spezia

-

Rome (Civitavecchia)

-

Capri

-

Barcelona

Norwegian Fjords

Southampton

-

Stavanger, Norway

-

Geiranger

-

Alesund

-

Bergen, Norway

-

Southampton

Independence of the Seas | 7 nights

17 May 20

£

840

View Deal

Scandinavia

Independence of the Seas

Royal Caribbean International

Southampton

-

Stavanger, Norway

-

Geiranger

-

Alesund

-

Bergen, Norway

-

Southampton

France & Spain

Southampton

-

Gijon

-

Bilbao

-

La Coruna

-

Le Havre

-

Southampton

Anthem of the Seas | 8 nights

11 Jul 20

£

847

View Deal

Europe, Mediterranean

Anthem of the Seas

Royal Caribbean International

Southampton

-

Gijon

-

Bilbao

-

La Coruna

-

Le Havre

-

Southampton

11nt Orlando Magic & Perfect Day at Cococay

Orlando

-

CocoCay

-

Nassau

-

Orlando

Mariner of the Seas | 11 nights

06 Jan 20

FREE centrally located handpicked hotel stay
Flights Included
FREE Upgrade from Outside to Balcony

£

849

View Deal

Bahamas

Mariner of the Seas

Royal Caribbean International

Orlando

-

CocoCay

-

Nassau

-

Orlando

11nt Orlando Magic & Perfect Day at Cococay

Orlando

-

CocoCay

-

Nassau

-

Orlando

Mariner of the Seas | 11 nights

20 Jan 20

FREE centrally located handpicked hotel stay
Flights Included
FREE Upgrade from Outside to Balcony

£

849

View Deal

Bahamas

Mariner of the Seas

Royal Caribbean International

Orlando

-

CocoCay

-

Nassau

-

Orlando

1nt Stockholm & 7nt Northern Europe Jewels

Stockholm, Sweden

-

St Petersburg, Russia

-

Helsinki, Finland

-

Tallinn, Estonia

-

Visby, Sweden

-

Stockholm, Sweden

Jewel of the Seas | 7 nights

04 Jul 20

FREE centrally located handpicked hotel stay
Flights Included

£

849

View Deal

Scandinavia, Baltic, Russia

Jewel of the Seas

Royal Caribbean International

Stockholm, Sweden

-

St Petersburg, Russia

-

Helsinki, Finland

-

Tallinn, Estonia

-

Visby, Sweden

-

Stockholm, Sweden

7nts Oman & United Arab Emirates with Dubai

Dubai

-

Abu Dhabi

-

Sir Bani Yas Island (UAE)

-

Muscat

-

Dubai

Jewel of the Seas | 9 nights

14 Dec 19

FREE centrally located handpicked hotel stay
Flights Included

£

849

View Deal

Dubai & Emirates

Jewel of the Seas

Royal Caribbean International

Dubai

-

Abu Dhabi

-

Sir Bani Yas Island (UAE)

-

Muscat

-

Dubai

Venice, Kotor & Greek Islands

Venice

-

Kotor

-

Corfu

-

Athens (Piraeus)

-

Mykonos

-

Argostoli

-

Venice

Rhapsody of the Seas | 8 nights

24 Jul 20

FREE centrally located handpicked hotel stay
Flights Included

£

849

View Deal

Europe, Mediterranean

Rhapsody of the Seas

Royal Caribbean International

Venice

-

Kotor

-

Corfu

-

Athens (Piraeus)

-

Mykonos

-

Argostoli

-

Venice

7nt Mediterranean Cruise with Stays

Venice

-

Dubrovnik

-

Kotor

-

Capri

-

Rome (Civitavecchia)

-

Barcelona

Rhapsody of the Seas | 9 nights

30 Oct 20

FREE centrally located handpicked hotel stay
Flights Included

£

849

View Deal

Europe, Mediterranean

Rhapsody of the Seas

Royal Caribbean International

Venice

-

Dubrovnik

-

Kotor

-

Capri

-

Rome (Civitavecchia)

-

Barcelona

Jewels of the Persian Gulf

Dubai

-

Doha

-

Bahrain

-

Sir Bani Yas Island (UAE)

-

Abu Dhabi

-

Dubai

Jewel of the Seas | 9 nights

18 Jan 20

FREE centrally located handpicked hotel stay
Flights Included

£

849

View Deal

Dubai & Emirates

Jewel of the Seas

Royal Caribbean International

Dubai

-

Doha

-

Bahrain

-

Sir Bani Yas Island (UAE)

-

Abu Dhabi

-

Dubai

Rome 2nts Stay + 7nts Greek Isles & Italy

Rome (Civitavecchia)

-

Valencia

-

Palma De Mallorca

-

Barcelona

-

Nice (Villefranche)

-

La Spezia

-

Rome (Civitavecchia)

Explorer of the Seas | 9 nights

19 Jun 20

FREE centrally located handpicked hotel stay
Flights Included

£

869

View Deal

Europe, Mediterranean

Explorer of the Seas

Royal Caribbean International

Rome (Civitavecchia)

-

Valencia

-

Palma De Mallorca

-

Barcelona

-

Nice (Villefranche)

-

La Spezia

-

Rome (Civitavecchia)

Oman & United Arab Emirates with Dubai Stay

Dubai

-

Sir Bani Yas Island (UAE)

-

Khasab

-

Muscat

-

Abu Dhabi

-

Dubai

Jewel of the Seas | 9 nights

25 Jan 20

FREE centrally located handpicked hotel stay
Flights Included

£

869

View Deal

Dubai & Emirates

Jewel of the Seas

Royal Caribbean International

Dubai

-

Sir Bani Yas Island (UAE)

-

Khasab

-

Muscat

-

Abu Dhabi

-

Dubai

10nt Orlando & Caribbean Happiness

Port Canaveral

-

Nassau

-

CocoCay

-

Port Canaveral

Mariner of the Seas | 10 nights

21 Feb 20

FREE centrally located handpicked hotel stay
Flights Included
FREE Upgrade from Outside to Balcony

£

869

View Deal

Bahamas

Mariner of the Seas

Royal Caribbean International

Port Canaveral

-

Nassau

-

CocoCay

-

Port Canaveral

1nt Barcelona & 7nt Mediterranean & 1nt Venice

Barcelona

-

Cannes

-

Rome (Civitavecchia)

-

Capri

-

Catania, Sicily

-

Split

-

Venice

Rhapsody of the Seas | 9 nights

01 May 20

FREE centrally located handpicked hotel stay
Flights Included

£

869

View Deal

Europe, Mediterranean

Rhapsody of the Seas

Royal Caribbean International

Barcelona

-

Cannes

-

Rome (Civitavecchia)

-

Capri

-

Catania, Sicily

-

Split

-

Venice

Rome & Greek Explorer

Rome (Civitavecchia)

-

Chania, Crete

-

Mykonos

-

Ephesus

-

Santorini Island

-

Athens (Piraeus)

-

Capri

-

Rome (Civitavecchia)

Explorer of the Seas | 11 nights

28 Aug 20

FREE centrally located handpicked hotel stay
Flights Included

£

869

View Deal

Europe, Mediterranean

Explorer of the Seas

Royal Caribbean International

Rome (Civitavecchia)

-

Chania, Crete

-

Mykonos

-

Ephesus

-

Santorini Island

-

Athens (Piraeus)

-

Capri

-

Rome (Civitavecchia)

11nt Orlando Magic & Perfect Day at Cococay

Orlando

-

CocoCay

-

Nassau

-

Orlando

Mariner of the Seas | 11 nights

02 Dec 19

FREE centrally located handpicked hotel stay
Flights Included

£

879

View Deal

Bahamas

Mariner of the Seas

Royal Caribbean International

Orlando

-

CocoCay

-

Nassau

-

Orlando

11nt Orlando Magic & Perfect Day at Cococay

Orlando

-

CocoCay

-

Nassau

-

Orlando

Mariner of the Seas | 11 nights

09 Dec 19

FREE centrally located handpicked hotel stay
Flights Included

£

879

View Deal

Bahamas

Mariner of the Seas

Royal Caribbean International

Orlando

-

CocoCay

-

Nassau

-

Orlando

Rome 2nts Stay + 7nts Greek Isles & Italy

Rome (Civitavecchia)

-

Valencia

-

Palma De Mallorca

-

Barcelona

-

Nice (Villefranche)

-

La Spezia

-

Rome (Civitavecchia)

Explorer of the Seas | 9 nights

21 Aug 20

FREE centrally located handpicked hotel stay
Flights Included

£

879

View Deal

Europe, Mediterranean

Explorer of the Seas

Royal Caribbean International

Rome (Civitavecchia)

-

Valencia

-

Palma De Mallorca

-

Barcelona

-

Nice (Villefranche)

-

La Spezia

-

Rome (Civitavecchia)

11nt Orlando Magic & Perfect Day at Cococay

Orlando

-

CocoCay

-

Nassau

-

Orlando

Mariner of the Seas | 11 nights

25 Nov 19

FREE centrally located handpicked hotel stay
Flights Included

£

879

View Deal

Bahamas

Mariner of the Seas

Royal Caribbean International

Orlando

-

CocoCay

-

Nassau

-

Orlando

1nt Stockholm & 7nt Northern Europe Jewels

Stockholm, Sweden

-

St Petersburg, Russia

-

Helsinki, Finland

-

Tallinn, Estonia

-

Visby, Sweden

-

Stockholm, Sweden

Jewel of the Seas | 7 nights

27 Jun 20

FREE centrally located handpicked hotel stay
Flights Included

£

879

View Deal

Scandinavia, Baltic, Russia

Jewel of the Seas

Royal Caribbean International

Stockholm, Sweden

-

St Petersburg, Russia

-

Helsinki, Finland

-

Tallinn, Estonia

-

Visby, Sweden

-

Stockholm, Sweden

9nt Verona Opera & Greek Empires

Venice

-

Split

-

Athens (Piraeus)

-

Katakolon

-

Venice

Rhapsody of the Seas | 9 nights

10 Jul 19

FREE centrally located handpicked hotel stay
Flights Included
FREE Verona Opera Tickets

£

879

View Deal

Europe, Mediterranean

Rhapsody of the Seas

Royal Caribbean International

Venice

-

Split

-

Athens (Piraeus)

-

Katakolon

-

Venice

Rome 2nts Stay + 6nts Greek Isles & Italy

Rome (Civitavecchia)

-

Nice (Villefranche)

-

Barcelona

-

Valencia

-

Cartagena, Spain

-

Rome (Civitavecchia)

Explorer of the Seas | 8 nights

24 Jul 20

FREE centrally located handpicked hotel stay
Flights Included

£

879

View Deal

Europe, Mediterranean

Explorer of the Seas

Royal Caribbean International

Rome (Civitavecchia)

-

Nice (Villefranche)

-

Barcelona

-

Valencia

-

Cartagena, Spain

-

Rome (Civitavecchia)

France & Spain

Southampton

-

Bilbao

-

La Coruna

-

Vigo

-

Le Havre

-

Southampton

Anthem of the Seas | 7 nights

30 Aug 20

£

881

View Deal

Europe

Anthem of the Seas

Royal Caribbean International

Southampton

-

Bilbao

-

La Coruna

-

Vigo

-

Le Havre

-

Southampton

1nt Copenhagen & 7nt Mediterranean Jewels

Copenhagen, Denmark

-

Stockholm, Sweden

-

Tallinn, Estonia

-

St Petersburg, Russia

-

Helsinki, Finland

-

Copenhagen, Denmark

Jewel of the Seas | 8 nights

23 May 20

FREE centrally located handpicked hotel stay
Flights Included

£

899

View Deal

Scandinavia, Baltic, Russia

Jewel of the Seas

Royal Caribbean International

Copenhagen, Denmark

-

Stockholm, Sweden

-

Tallinn, Estonia

-

St Petersburg, Russia

-

Helsinki, Finland

-

Copenhagen, Denmark

1nt Copenhagen & 7nt Mediterranean Jewels

Copenhagen, Denmark

-

Geiranger

-

Bergen, Norway

-

Stavanger, Norway

-

Kristiansund

-

Copenhagen, Denmark

Jewel of the Seas | 8 nights

30 May 20

FREE centrally located handpicked hotel stay
Flights Included

£

899

View Deal

Scandinavia

Jewel of the Seas

Royal Caribbean International

Copenhagen, Denmark

-

Geiranger

-

Bergen, Norway

-

Stavanger, Norway

-

Kristiansund

-

Copenhagen, Denmark

1nt Copenhagen & 7nt Mediterranean Jewels

Copenhagen, Denmark

-

Geiranger

-

Bergen, Norway

-

Stavanger, Norway

-

Kristiansund

-

Copenhagen, Denmark

Jewel of the Seas | 8 nights

15 Aug 20

FREE centrally located handpicked hotel stay
Flights Included

£

899

View Deal

Scandinavia

Jewel of the Seas

Royal Caribbean International

Copenhagen, Denmark

-

Geiranger

-

Bergen, Norway

-

Stavanger, Norway

-

Kristiansund

-

Copenhagen, Denmark

1nt Stockholm & 7nt Northern Europe Jewels

Stockholm, Sweden

-

St Petersburg, Russia

-

Helsinki, Finland

-

Tallinn, Estonia

-

Visby, Sweden

-

Stockholm, Sweden

Jewel of the Seas | 7 nights

18 Jul 20

FREE centrally located handpicked hotel stay
Flights Included

£

899

View Deal

Scandinavia, Baltic, Russia

Jewel of the Seas

Royal Caribbean International

Stockholm, Sweden

-

St Petersburg, Russia

-

Helsinki, Finland

-

Tallinn, Estonia

-

Visby, Sweden

-

Stockholm, Sweden

10nt Orlando & Caribbean Happiness

Port Canaveral

-

Nassau

-

CocoCay

-

Port Canaveral

Mariner of the Seas | 10 nights

07 Feb 20

FREE centrally located handpicked hotel stay
Flights Included
FREE Upgrade from Outside to Balcony

£

899

View Deal

Bahamas

Mariner of the Seas

Royal Caribbean International

Port Canaveral

-

Nassau

-

CocoCay

-

Port Canaveral

10nt Orlando & Caribbean Happiness

Port Canaveral

-

Nassau

-

CocoCay

-

Port Canaveral

Mariner of the Seas | 10 nights

28 Feb 20

FREE centrally located handpicked hotel stay
Flights Included
FREE Upgrade from Outside to Balcony

£

899

View Deal

Bahamas

Mariner of the Seas

Royal Caribbean International

Port Canaveral

-

Nassau

-

CocoCay

-

Port Canaveral

Barcelona & Allure of the Med

Barcelona

-

Palma De Mallorca

-

Marseille

-

La Spezia

-

Rome (Civitavecchia)

-

Capri

-

Barcelona

Allure of the Seas | 9 nights

25 Sep 20

FREE centrally located handpicked hotel stay
Flights Included

£

899

View Deal

Europe, Mediterranean

Allure of the Seas

Royal Caribbean International

Barcelona

-

Palma De Mallorca

-

Marseille

-

La Spezia

-

Rome (Civitavecchia)

-

Capri

-

Barcelona

Barcelona & Allure of the Med

Barcelona

-

Palma De Mallorca

-

Marseille

-

La Spezia

-

Rome (Civitavecchia)

-

Capri

-

Barcelona

Allure of the Seas | 9 nights

02 Oct 20

FREE centrally located handpicked hotel stay
Flights Included

£

899

View Deal

Europe, Mediterranean

Allure of the Seas

Royal Caribbean International

Barcelona

-

Palma De Mallorca

-

Marseille

-

La Spezia

-

Rome (Civitavecchia)

-

Capri

-

Barcelona

Barcelona & Allure of the Med

Barcelona

-

Palma De Mallorca

-

Marseille

-

La Spezia

-

Rome (Civitavecchia)

-

Capri

-

Barcelona

Allure of the Seas | 9 nights

16 Oct 20

FREE centrally located handpicked hotel stay
Flights Included

£

899

View Deal

Europe, Mediterranean

Allure of the Seas

Royal Caribbean International

Barcelona

-

Palma De Mallorca

-

Marseille

-

La Spezia

-

Rome (Civitavecchia)

-

Capri

-

Barcelona

Italian Cities & Greek Favourites

Rome (Civitavecchia)

-

Messina

-

Mykonos

-

Santorini Island

-

Athens (Piraeus)

-

Salerno

-

Rome (Civitavecchia)

Explorer of the Seas | 10 nights

30 Jul 20

FREE centrally located handpicked hotel stay
Flights Included

£

899

View Deal

Europe, Mediterranean

Explorer of the Seas

Royal Caribbean International

Rome (Civitavecchia)

-

Messina

-

Mykonos

-

Santorini Island

-

Athens (Piraeus)

-

Salerno

-

Rome (Civitavecchia)

Jewels of the Persian Gulf

Dubai

-

Doha

-

Bahrain

-

Sir Bani Yas Island (UAE)

-

Abu Dhabi

-

Dubai

Jewel of the Seas | 9 nights

01 Feb 20

FREE centrally located handpicked hotel stay
Flights Included

£

899

View Deal

Dubai & Emirates

Jewel of the Seas

Royal Caribbean International

Dubai

-

Doha

-

Bahrain

-

Sir Bani Yas Island (UAE)

-

Abu Dhabi

-

Dubai

4nt Salou & 7nt Western Mediterranean Journey

Oasis of the Seas | 11 nights

28 Aug 19

Pre-Cruise Flight Included

Pre-Cruise Hotel 4night(s) Included

Post-Cruise Flight Included

£

899

View Deal

Europe, Mediterranean

Oasis of the Seas

Royal Caribbean International

Barcelona

-

Palma De Mallorca

-

Marseille

-

La Spezia

-

Rome (Civitavecchia)

-

Capri

-

Barcelona

Spain & Portugal

Southampton

-

Lisbon

-

Vigo

-

La Coruna

-

Bilbao

-

Southampton

Anthem of the Seas | 8 nights

20 Jun 20

£

914

View Deal

Europe, Mediterranean

Anthem of the Seas

Royal Caribbean International

Southampton

-

Lisbon

-

Vigo

-

La Coruna

-

Bilbao

-

Southampton

1nt Stockholm & 7nt Northern Europe Jewels

Stockholm, Sweden

-

St Petersburg, Russia

-

Helsinki, Finland

-

Tallinn, Estonia

-

Visby, Sweden

-

Stockholm, Sweden

Jewel of the Seas | 7 nights

11 Jul 20

FREE centrally located handpicked hotel stay
Flights Included

£

919

View Deal

Scandinavia, Baltic, Russia

Jewel of the Seas

Royal Caribbean International

Stockholm, Sweden

-

St Petersburg, Russia

-

Helsinki, Finland

-

Tallinn, Estonia

-

Visby, Sweden

-

Stockholm, Sweden

Rome 2nts Stay + 7nts Greek Isles & Italy

Rome (Civitavecchia)

-

Santorini Island

-

Mykonos

-

Athens (Piraeus)

-

Salerno

-

Rome (Civitavecchia)

Explorer of the Seas | 9 nights

14 Aug 20

FREE centrally located handpicked hotel stay
Flights Included

£

919

View Deal

Europe, Mediterranean

Explorer of the Seas

Royal Caribbean International

Rome (Civitavecchia)

-

Santorini Island

-

Mykonos

-

Athens (Piraeus)

-

Salerno

-

Rome (Civitavecchia)

2nts Rome & 7nts Jewels of the Med

Jewel of the Seas | 9 nights

09 Aug 19

Pre-Cruise Flight Included

Pre-Cruise Hotel 2night(s) Included

£

919

View Deal

Europe, Mediterranean

Jewel of the Seas

Royal Caribbean International

Rome (Civitavecchia)

-

Cartagena, Spain

-

Barcelona

-

Palma De Mallorca

-

Ajaccio

-

Portofino

-

Rome (Civitavecchia)

Spain & Portugal

Southampton

-

Lisbon

-

Vigo

-

La Coruna

-

Bilbao

-

Southampton

Anthem of the Seas | 8 nights

15 May 20

£

925

View Deal

Europe, Mediterranean

Anthem of the Seas

Royal Caribbean International

Southampton

-

Lisbon

-

Vigo

-

La Coruna

-

Bilbao

-

Southampton

Verona Opera and Greek Isles

Venice

-

Kotor

-

Corfu

-

Athens (Piraeus)

-

Mykonos

-

Argostoli

-

Venice

Rhapsody of the Seas | 10 nights

19 Jun 19

FREE centrally located handpicked hotel stay
Flights Included
FREE Verona Opera Tickets

£

929

View Deal

Europe, Mediterranean

Rhapsody of the Seas

Royal Caribbean International

Venice

-

Kotor

-

Corfu

-

Athens (Piraeus)

-

Mykonos

-

Argostoli

-

Venice

15nt Transatlantic Voyage from Barcelona to Tampa

Barcelona

-

Lanzarote

-

Gran Canaria

-

La Palma, Canary Islands

-

CocoCay

-

Tampa

Rhapsody of the Seas | 15 nights

08 Nov 19

FREE centrally located handpicked hotel stay
Flights Included

£

929

View Deal

Canaries, Transatlantic, Bahamas

Rhapsody of the Seas

Royal Caribbean International

Barcelona

-

Lanzarote

-

Gran Canaria

-

La Palma, Canary Islands

-

CocoCay

-

Tampa

2nt Houston & 7nt Western Caribbean

Galveston

-

Cozumel

-

George Town, Cayman Islands

-

Falmouth,Jamaica

-

Galveston

Liberty of the Seas | 9 nights

06 Sep 19

FREE centrally located handpicked hotel stay
Flights Included

£

929

View Deal

Caribbean

Liberty of the Seas

Royal Caribbean International

Galveston

-

Cozumel

-

George Town, Cayman Islands

-

Falmouth,Jamaica

-

Galveston

2nt Houston & 7nt Western Caribbean

Galveston

-

Cozumel

-

George Town, Cayman Islands

-

Falmouth,Jamaica

-

Galveston

Liberty of the Seas | 9 nights

01 Nov 19

FREE centrally located handpicked hotel stay
Flights Included

£

929

View Deal

Caribbean

Liberty of the Seas

Royal Caribbean International

Galveston

-

Cozumel

-

George Town, Cayman Islands

-

Falmouth,Jamaica

-

Galveston

2nt Houston & 7nt Western Caribbean

Galveston

-

Cozumel

-

George Town, Cayman Islands

-

Falmouth,Jamaica

-

Galveston

Liberty of the Seas | 9 nights

15 Nov 19

FREE centrally located handpicked hotel stay
Flights Included

£

929

View Deal

Caribbean

Liberty of the Seas

Royal Caribbean International

Galveston

-

Cozumel

-

George Town, Cayman Islands

-

Falmouth,Jamaica

-

Galveston

2nt Houston & 7nt Western Caribbean

Galveston

-

Cozumel

-

George Town, Cayman Islands

-

Falmouth,Jamaica

-

Galveston

Liberty of the Seas | 9 nights

29 Nov 19

FREE centrally located handpicked hotel stay
Flights Included

£

929

View Deal

Caribbean

Liberty of the Seas

Royal Caribbean International

Galveston

-

Cozumel

-

George Town, Cayman Islands

-

Falmouth,Jamaica

-

Galveston

2nt Houston & 7nt Western Caribbean

Galveston

-

Roatan, Bay Islands

-

Puerto Costa Maya

-

Cozumel

-

Galveston

Liberty of the Seas | 9 nights

08 Nov 19

FREE centrally located handpicked hotel stay
Flights Included

£

929

View Deal

Caribbean

Liberty of the Seas

Royal Caribbean International

Galveston

-

Roatan, Bay Islands

-

Puerto Costa Maya

-

Cozumel

-

Galveston

Rome 2nts Stay + 10nts Greek Isles & Italy

Rome (Civitavecchia)

-

Chania, Crete

-

Mykonos

-

Ephesus

-

Santorini Island

-

Athens (Piraeus)

-

Salerno

-

Rome (Civitavecchia)

Explorer of the Seas | 12 nights

04 Oct 20

FREE centrally located handpicked hotel stay
Flights Included

£

929

View Deal

Europe, Mediterranean

Explorer of the Seas

Royal Caribbean International

Rome (Civitavecchia)

-

Chania, Crete

-

Mykonos

-

Ephesus

-

Santorini Island

-

Athens (Piraeus)

-

Salerno

-

Rome (Civitavecchia)

1nt Venice Stay & 8nt Greek Isles Cruise

Venice

-

Split

-

Dubrovnik

-

Athens (Piraeus)

-

Santorini Island

-

Katakolon

-

Venice

Rhapsody of the Seas | 9 nights

16 Jul 20

FREE centrally located handpicked hotel stay
Flights Included

£

929

View Deal

Europe, Mediterranean

Rhapsody of the Seas

Royal Caribbean International

Venice

-

Split

-

Dubrovnik

-

Athens (Piraeus)

-

Santorini Island

-

Katakolon

-

Venice

7nts Oman & United Arab Emirates with Dubai

Dubai

-

Abu Dhabi

-

Sir Bani Yas Island (UAE)

-

Muscat

-

Dubai

Jewel of the Seas | 9 nights

11 Jan 20

FREE centrally located handpicked hotel stay
Flights Included

£

929

View Deal

Dubai & Emirates

Jewel of the Seas

Royal Caribbean International

Dubai

-

Abu Dhabi

-

Sir Bani Yas Island (UAE)

-

Muscat

-

Dubai

Verona Opera, Greece & Croatia

Venice

-

Dubrovnik

-

Kotor

-

Santorini Island

-

Katakolon

-

Venice

Rhapsody of the Seas | 10 nights

04 Sep 19

FREE centrally located handpicked hotel stay
Flights Included
FREE Verona Opera Tickets

£

949

View Deal

Europe, Mediterranean

Rhapsody of the Seas

Royal Caribbean International

Venice

-

Dubrovnik

-

Kotor

-

Santorini Island

-

Katakolon

-

Venice

3nt San Juan & 7nt Southern Caribbean

San Juan, Puerto Rico

-

Oranjestad, Aruba

-

Willemstad, Curacao

-

Kralendijk,Bonaire

-

Philipsburg, St Maarten

-

San Juan, Puerto Rico

Freedom of the Seas | 10 nights

28 Nov 19

FREE centrally located handpicked hotel stay
Flights Included

£

949

View Deal

Caribbean

Freedom of the Seas

Royal Caribbean International

San Juan, Puerto Rico

-

Oranjestad, Aruba

-

Willemstad, Curacao

-

Kralendijk,Bonaire

-

Philipsburg, St Maarten

-

San Juan, Puerto Rico

Oman & United Arab Emirates with Dubai Stay

Dubai

-

Khasab

-

Abu Dhabi

-

Sir Bani Yas Island (UAE)

-

Muscat

-

Dubai

Jewel of the Seas | 9 nights

08 Feb 20

FREE centrally located handpicked hotel stay
Flights Included

£

949

View Deal

Dubai & Emirates

Jewel of the Seas

Royal Caribbean International

Dubai

-

Khasab

-

Abu Dhabi

-

Sir Bani Yas Island (UAE)

-

Muscat

-

Dubai

2nt Houston & 7nt Western Caribbean

Galveston

-

Cozumel

-

George Town, Cayman Islands

-

Falmouth,Jamaica

-

Galveston

Liberty of the Seas | 9 nights

13 Sep 19

FREE centrally located handpicked hotel stay
Flights Included

£

949

View Deal

Caribbean

Liberty of the Seas

Royal Caribbean International

Galveston

-

Cozumel

-

George Town, Cayman Islands

-

Falmouth,Jamaica

-

Galveston

2nt Houston & 7nt Western Caribbean

Galveston

-

Cozumel

-

George Town, Cayman Islands

-

Falmouth,Jamaica

-

Galveston

Liberty of the Seas | 9 nights

20 Sep 19

FREE centrally located handpicked hotel stay
Flights Included

£

949

View Deal

Caribbean

Liberty of the Seas

Royal Caribbean International

Galveston

-

Cozumel

-

George Town, Cayman Islands

-

Falmouth,Jamaica

-

Galveston

2nt Houston & 7nt Western Caribbean

Galveston

-

Roatan, Bay Islands

-

Puerto Costa Maya

-

Cozumel

-

Galveston

Liberty of the Seas | 9 nights

30 Aug 19

FREE centrally located handpicked hotel stay
Flights Included

£

949

View Deal

Caribbean

Liberty of the Seas

Royal Caribbean International

Galveston

-

Roatan, Bay Islands

-

Puerto Costa Maya

-

Cozumel

-

Galveston

2nt Houston & 7nt Western Caribbean

Galveston

-

Roatan, Bay Islands

-

Puerto Costa Maya

-

Cozumel

-

Galveston

Liberty of the Seas | 9 nights

06 Dec 19

FREE centrally located handpicked hotel stay
Flights Included

£

949

View Deal

Caribbean

Liberty of the Seas

Royal Caribbean International

Galveston

-

Roatan, Bay Islands

-

Puerto Costa Maya

-

Cozumel

-

Galveston

Rome 2nts Stay + 7nts Greek Isles & Italy

Rome (Civitavecchia)

-

Santorini Island

-

Mykonos

-

Athens (Piraeus)

-

Salerno

-

Rome (Civitavecchia)

Explorer of the Seas | 9 nights

26 Jun 20

FREE centrally located handpicked hotel stay
Flights Included

£

949

View Deal

Europe, Mediterranean

Explorer of the Seas

Royal Caribbean International

Rome (Civitavecchia)

-

Santorini Island

-

Mykonos

-

Athens (Piraeus)

-

Salerno

-

Rome (Civitavecchia)

Rome 2nts Stay + 9nts Greek Isles & Italy

Rome (Civitavecchia)

-

Messina

-

Malta (La Valletta)

-

Mykonos

-

Ephesus

-

Santorini Island

-

Athens (Piraeus)

-

Capri

-

Rome (Civitavecchia)

Explorer of the Seas | 12 nights

06 Sep 20

FREE centrally located handpicked hotel stay
Flights Included

£

949

View Deal

Europe, Mediterranean

Explorer of the Seas

Royal Caribbean International

Rome (Civitavecchia)

-

Messina

-

Malta (La Valletta)

-

Mykonos

-

Ephesus

-

Santorini Island

-

Athens (Piraeus)

-

Capri

-

Rome (Civitavecchia)

Rome 2nts Stay + 9nts Greek Isles & Italy

Rome (Civitavecchia)

-

Messina

-

Malta (La Valletta)

-

Mykonos

-

Santorini Island

-

Athens (Piraeus)

-

Salerno

-

Rome (Civitavecchia)

Explorer of the Seas | 11 nights

14 Oct 20

FREE centrally located handpicked hotel stay
Flights Included

£

949

View Deal

Europe, Mediterranean

Explorer of the Seas

Royal Caribbean International

Rome (Civitavecchia)

-

Messina

-

Malta (La Valletta)

-

Mykonos

-

Santorini Island

-

Athens (Piraeus)

-

Salerno

-

Rome (Civitavecchia)

Barcelona & Allure of the Med

Barcelona

-

Palma De Mallorca

-

Marseille

-

La Spezia

-

Rome (Civitavecchia)

-

Capri

-

Barcelona

Allure of the Seas | 9 nights

29 May 20

FREE centrally located handpicked hotel stay
Flights Included

£

949

View Deal

Europe, Mediterranean

Allure of the Seas

Royal Caribbean International

Barcelona

-

Palma De Mallorca

-

Marseille

-

La Spezia

-

Rome (Civitavecchia)

-

Capri

-

Barcelona

Barcelona & Allure of the Med

Barcelona

-

Palma De Mallorca

-

Marseille

-

La Spezia

-

Rome (Civitavecchia)

-

Capri

-

Barcelona

Allure of the Seas | 9 nights

11 Sep 20

FREE centrally located handpicked hotel stay
Flights Included

£

949

View Deal

Europe, Mediterranean

Allure of the Seas

Royal Caribbean International

Barcelona

-

Palma De Mallorca

-

Marseille

-

La Spezia

-

Rome (Civitavecchia)

-

Capri

-

Barcelona

Barcelona & Allure of the Med

Barcelona

-

Palma De Mallorca

-

Marseille

-

La Spezia

-

Rome (Civitavecchia)

-

Capri

-

Barcelona

Allure of the Seas | 9 nights

18 Sep 20

FREE centrally located handpicked hotel stay
Flights Included

£

949

View Deal

Europe, Mediterranean

Allure of the Seas

Royal Caribbean International

Barcelona

-

Palma De Mallorca

-

Marseille

-

La Spezia

-

Rome (Civitavecchia)

-

Capri

-

Barcelona

Norwegian Fjords

Southampton

-

Bergen, Norway

-

Alesund

-

Geiranger

-

Stavanger, Norway

-

Oslo

-

Kristiansund

-

Southampton

Independence of the Seas | 9 nights

12 Jun 20

£

962

View Deal

Scandinavia

Independence of the Seas

Royal Caribbean International

Southampton

-

Bergen, Norway

-

Alesund

-

Geiranger

-

Stavanger, Norway

-

Oslo

-

Kristiansund

-

Southampton

Canaries Adventure

Southampton

-

La Coruna

-

Funchal

-

Tenerife

-

Gran Canaria

-

Lisbon

-

Vigo

-

Southampton

Independence of the Seas | 11 nights

08 Oct 19

£

964

View Deal

Europe

Independence of the Seas

Royal Caribbean International

Southampton

-

La Coruna

-

Funchal

-

Tenerife

-

Gran Canaria

-

Lisbon

-

Vigo

-

Southampton

7nts Oman & United Arab Emirates with Dubai

Dubai

-

Khasab

-

Muscat

-

Abu Dhabi

-

Sir Bani Yas Island (UAE)

-

Dubai

Jewel of the Seas | 9 nights

22 Feb 20

FREE centrally located handpicked hotel stay
Flights Included

£

969

View Deal

Dubai & Emirates

Jewel of the Seas

Royal Caribbean International

Dubai

-

Khasab

-

Muscat

-

Abu Dhabi

-

Sir Bani Yas Island (UAE)

-

Dubai

11nt Orlando Magic & Perfect Day at Cococay

Orlando

-

CocoCay

-

Nassau

-

Orlando

Mariner of the Seas | 11 nights

30 Dec 19

FREE centrally located handpicked hotel stay
Flights Included
FREE Upgrade from Outside to Balcony

£

969

View Deal

Bahamas

Mariner of the Seas

Royal Caribbean International

Orlando

-

CocoCay

-

Nassau

-

Orlando

Barcelona & Allure of the Med

Barcelona

-

Palma De Mallorca

-

Marseille

-

La Spezia

-

Rome (Civitavecchia)

-

Capri

-

Barcelona

Allure of the Seas | 9 nights

05 Jun 20

FREE centrally located handpicked hotel stay
Flights Included

£

969

View Deal

Europe, Mediterranean

Allure of the Seas

Royal Caribbean International

Barcelona

-

Palma De Mallorca

-

Marseille

-

La Spezia

-

Rome (Civitavecchia)

-

Capri

-

Barcelona

Barcelona & Allure of the Med

Barcelona

-

Palma De Mallorca

-

Marseille

-

La Spezia

-

Rome (Civitavecchia)

-

Capri

-

Barcelona

Allure of the Seas | 9 nights

23 Oct 20

FREE centrally located handpicked hotel stay
Flights Included

£

969

View Deal

Europe, Mediterranean

Allure of the Seas

Royal Caribbean International

Barcelona

-

Palma De Mallorca

-

Marseille

-

La Spezia

-

Rome (Civitavecchia)

-

Capri

-

Barcelona

Verona Opera, Greece & Croatia

Venice

-

Dubrovnik

-

Kotor

-

Santorini Island

-

Katakolon

-

Venice

Rhapsody of the Seas | 10 nights

07 Aug 19

FREE centrally located handpicked hotel stay
Flights Included
FREE Verona Opera Tickets

£

979

View Deal

Europe, Mediterranean

Rhapsody of the Seas

Royal Caribbean International

Venice

-

Dubrovnik

-

Kotor

-

Santorini Island

-

Katakolon

-

Venice

Jewels of the Persian Gulf

Dubai

-

Doha

-

Bahrain

-

Sir Bani Yas Island (UAE)

-

Abu Dhabi

-

Dubai

Jewel of the Seas | 9 nights

29 Feb 20

FREE centrally located handpicked hotel stay
Flights Included

£

979

View Deal

Dubai & Emirates

Jewel of the Seas

Royal Caribbean International

Dubai

-

Doha

-

Bahrain

-

Sir Bani Yas Island (UAE)

-

Abu Dhabi

-

Dubai

Rome 2nts Stay + 9nts Greek Isles & Italy

Rome (Civitavecchia)

-

Siracusa, Sicily

-

Malta (La Valletta)

-

Mykonos

-

Santorini Island

-

Athens (Piraeus)

-

Salerno

-

Rome (Civitavecchia)

Explorer of the Seas | 11 nights

16 Sep 20

FREE centrally located handpicked hotel stay
Flights Included

£

979

View Deal

Europe, Mediterranean

Explorer of the Seas

Royal Caribbean International

Rome (Civitavecchia)

-

Siracusa, Sicily

-

Malta (La Valletta)

-

Mykonos

-

Santorini Island

-

Athens (Piraeus)

-

Salerno

-

Rome (Civitavecchia)

Barcelona & Allure of the Med

Barcelona

-

Palma De Mallorca

-

Marseille

-

La Spezia

-

Rome (Civitavecchia)

-

Capri

-

Barcelona

Allure of the Seas | 9 nights

12 Jun 20

FREE centrally located handpicked hotel stay
Flights Included

£

979

View Deal

Europe, Mediterranean

Allure of the Seas

Royal Caribbean International

Barcelona

-

Palma De Mallorca

-

Marseille

-

La Spezia

-

Rome (Civitavecchia)

-

Capri

-

Barcelona

Fort Lauderdale and Caribbean Cruise

Fort Lauderdale

-

Key West

-

Belize

-

Costa Maya

-

Cozumel

-

Fort Lauderdale

Majesty of the Seas | 9 nights

25 Apr 19

FREE centrally located handpicked hotel stay
Flights Included

£

999

View Deal

Caribbean

Majesty of the Seas

Royal Caribbean International

Fort Lauderdale

-

Key West

-

Belize

-

Costa Maya

-

Cozumel

-

Fort Lauderdale

Tampa 3nt Stay & 7nt Key West & Caribbean

Tampa

-

Key West

-

George Town, Cayman Islands

-

Cozumel

-

Puerto Costa Maya

-

Tampa

Rhapsody of the Seas | 10 nights

20 Nov 19

FREE centrally located handpicked hotel stay
Flights Included

£

999

View Deal

Caribbean, Mexico

Rhapsody of the Seas

Royal Caribbean International

Tampa

-

Key West

-

George Town, Cayman Islands

-

Cozumel

-

Puerto Costa Maya

-

Tampa

Tampa 3nt Stay & 7nt Key West & Caribbean

Tampa

-

Key West

-

George Town, Cayman Islands

-

Cozumel

-

Puerto Costa Maya

-

Tampa

Rhapsody of the Seas | 10 nights

04 Dec 19

FREE centrally located handpicked hotel stay
Flights Included

£

999

View Deal

Caribbean, Mexico

Rhapsody of the Seas

Royal Caribbean International

Tampa

-

Key West

-

George Town, Cayman Islands

-

Cozumel

-

Puerto Costa Maya

-

Tampa

Singapore Spectrum

Singapore

-

Penang

-

Singapore

Spectrum of the Seas | 9 nights

16 May 19

FREE centrally located handpicked hotel stay
Flights Included
Brand New Ship!
All Inclusive Cruise!
Free Upgrade to Oceanview Cabin

£

999

View Deal

Asia & Indian Ocean

Spectrum of the Seas

Royal Caribbean International

Singapore

-

Penang

-

Singapore

Verona Opera and Greek Isles

Venice

-

Kotor

-

Corfu

-

Athens (Piraeus)

-

Mykonos

-

Argostoli

-

Venice

Rhapsody of the Seas | 10 nights

28 Aug 19

FREE centrally located handpicked hotel stay
Flights Included
FREE Verona Opera Tickets

£

999

View Deal

Europe, Mediterranean

Rhapsody of the Seas

Royal Caribbean International

Venice

-

Kotor

-

Corfu

-

Athens (Piraeus)

-

Mykonos

-

Argostoli

-

Venice

Verona Opera, Greece & Croatia

Venice

-

Dubrovnik

-

Kotor

-

Santorini Island

-

Katakolon

-

Venice

Rhapsody of the Seas | 10 nights

21 Aug 19

FREE centrally located handpicked hotel stay
Flights Included
FREE Verona Opera Tickets

£

999

View Deal

Europe, Mediterranean

Rhapsody of the Seas

Royal Caribbean International

Venice

-

Dubrovnik

-

Kotor

-

Santorini Island

-

Katakolon

-

Venice

Jewels of the Persian Gulf

Dubai

-

Doha

-

Bahrain

-

Sir Bani Yas Island (UAE)

-

Abu Dhabi

-

Dubai

Jewel of the Seas | 9 nights

14 Mar 20

FREE centrally located handpicked hotel stay
Flights Included

£

999

View Deal

Dubai & Emirates

Jewel of the Seas

Royal Caribbean International

Dubai

-

Doha

-

Bahrain

-

Sir Bani Yas Island (UAE)

-

Abu Dhabi

-

Dubai

1nt Copenhagen & 8nt Northern Europe

Copenhagen, Denmark

-

Stockholm, Sweden

-

Tallinn, Estonia

-

St Petersburg, Russia

-

Helsinki, Finland

-

Copenhagen, Denmark

Jewel of the Seas | 9 nights

07 Aug 20

FREE centrally located handpicked hotel stay
Flights Included

£

999

View Deal

Scandinavia, Baltic, Russia

Jewel of the Seas

Royal Caribbean International

Copenhagen, Denmark

-

Stockholm, Sweden

-

Tallinn, Estonia

-

St Petersburg, Russia

-

Helsinki, Finland

-

Copenhagen, Denmark

Miami & Caribbean Sunsets

Miami

-

Philipsburg, St Maarten

-

San Juan, Puerto Rico

-

Labadee

-

Miami

Oasis of the Seas | 9 nights

06 Dec 19

FREE centrally located handpicked hotel stay
Flights Included

£

999

View Deal

Caribbean

Oasis of the Seas

Royal Caribbean International

Miami

-

Philipsburg, St Maarten

-

San Juan, Puerto Rico

-

Labadee

-

Miami

3nt San Juan & 7nt Southern Caribbean

San Juan, Puerto Rico

-

Philipsburg, St Maarten

-

Basseterre

-

St John's, Antigua

-

Castries

-

Bridgetown

-

San Juan, Puerto Rico

Freedom of the Seas | 10 nights

05 Dec 19

FREE centrally located handpicked hotel stay
Flights Included
Free Upgrade to Oceanview Cabin

£

999

View Deal

Caribbean

Freedom of the Seas

Royal Caribbean International

San Juan, Puerto Rico

-

Philipsburg, St Maarten

-

Basseterre

-

St John's, Antigua

-

Castries

-

Bridgetown

-

San Juan, Puerto Rico

Miami & Caribbean Explorer

Miami

-

Labadee

-

Kralendijk,Bonaire

-

Oranjestad, Aruba

-

Willemstad, Curacao

-

Miami

Explorer of the Seas | 11 nights

11 Dec 19

FREE centrally located handpicked hotel stay
Flights Included

£

999

View Deal

Caribbean

Explorer of the Seas

Royal Caribbean International

Miami

-

Labadee

-

Kralendijk,Bonaire

-

Oranjestad, Aruba

-

Willemstad, Curacao

-

Miami

2nt Houston & 7nt Western Caribbean

Galveston

-

Cozumel

-

George Town, Cayman Islands

-

Falmouth,Jamaica

-

Galveston

Liberty of the Seas | 9 nights

18 Oct 19

FREE centrally located handpicked hotel stay
Flights Included

£

999

View Deal

Caribbean

Liberty of the Seas

Royal Caribbean International

Galveston

-

Cozumel

-

George Town, Cayman Islands

-

Falmouth,Jamaica

-

Galveston

2nt Houston & 7nt Western Caribbean

Galveston

-

Cozumel

-

George Town, Cayman Islands

-

Falmouth,Jamaica

-

Galveston

Liberty of the Seas | 9 nights

13 Dec 19

FREE centrally located handpicked hotel stay
Flights Included

£

999

View Deal

Caribbean

Liberty of the Seas

Royal Caribbean International

Galveston

-

Cozumel

-

George Town, Cayman Islands

-

Falmouth,Jamaica

-

Galveston

2nt Houston & 7nt Western Caribbean

Galveston

-

Roatan, Bay Islands

-

Puerto Costa Maya

-

Cozumel

-

Galveston

Liberty of the Seas | 9 nights

25 Oct 19

FREE centrally located handpicked hotel stay
Flights Included

£

999

View Deal

Caribbean

Liberty of the Seas

Royal Caribbean International

Galveston

-

Roatan, Bay Islands

-

Puerto Costa Maya

-

Cozumel

-

Galveston

10nt Orlando & Caribbean Happiness

Port Canaveral

-

Nassau

-

CocoCay

-

Port Canaveral

Mariner of the Seas | 10 nights

14 Feb 20

FREE centrally located handpicked hotel stay
Flights Included
FREE Upgrade from Outside to Balcony

£

999

View Deal

Bahamas

Mariner of the Seas

Royal Caribbean International

Port Canaveral

-

Nassau

-

CocoCay

-

Port Canaveral

Rome 2nts Stay + 9nts Greek Isles & Italy

Rome (Civitavecchia)

-

Messina

-

Malta (La Valletta)

-

Santorini Island

-

Mykonos

-

Athens (Piraeus)

-

Salerno

-

Rome (Civitavecchia)

Explorer of the Seas | 11 nights

25 Sep 20

FREE centrally located handpicked hotel stay
Flights Included

£

999

View Deal

Europe, Mediterranean

Explorer of the Seas

Royal Caribbean International

Rome (Civitavecchia)

-

Messina

-

Malta (La Valletta)

-

Santorini Island

-

Mykonos

-

Athens (Piraeus)

-

Salerno

-

Rome (Civitavecchia)

7nts Oman & United Arab Emirates with Dubai

Dubai

-

Abu Dhabi

-

Sir Bani Yas Island (UAE)

-

Muscat

-

Dubai

Jewel of the Seas | 9 nights

07 Mar 20

FREE centrally located handpicked hotel stay
Flights Included

£

999

View Deal

Dubai & Emirates

Jewel of the Seas

Royal Caribbean International

Dubai

-

Abu Dhabi

-

Sir Bani Yas Island (UAE)

-

Muscat

-

Dubai

Barcelona & Allure of the Med

Barcelona

-

Palma De Mallorca

-

Marseille

-

La Spezia

-

Rome (Civitavecchia)

-

Capri

-

Barcelona

Allure of the Seas | 9 nights

19 Jun 20

FREE centrally located handpicked hotel stay
Flights Included

£

999

View Deal

Europe, Mediterranean

Allure of the Seas

Royal Caribbean International

Barcelona

-

Palma De Mallorca

-

Marseille

-

La Spezia

-

Rome (Civitavecchia)

-

Capri

-

Barcelona

Singapore Stay & Far East Gems

Singapore

-

Malacca

-

Penang

-

Phuket

-

Singapore

Voyager of the Seas | 10 nights

06 Nov 19

FREE centrally located handpicked hotel stay
Flights Included

£

999

View Deal

Asia & Indian Ocean

Voyager of the Seas

Royal Caribbean International

Singapore

-

Malacca

-

Penang

-

Phuket

-

Singapore

Singapore Stay & Spice Of Southeast Asia

Singapore

-

Port Klang

-

Penang

-

Phuket

-

Singapore

Quantum of the Seas | 9 nights

09 Mar 20

FREE centrally located handpicked hotel stay
Flights Included

£

999

View Deal

Asia & Indian Ocean

Quantum of the Seas

Royal Caribbean International

Singapore

-

Port Klang

-

Penang

-

Phuket

-

Singapore

4nt Costa Brava & 7nt Western Med Haven

Oasis of the Seas | 11 nights

28 Aug 19

Pre-Cruise Flight Included

Pre-Cruise Hotel 4night(s) Included

£

999

View Deal

Europe, Mediterranean

Oasis of the Seas

Royal Caribbean International

Barcelona

-

Palma De Mallorca

-

Marseille

-

La Spezia

-

Rome (Civitavecchia)

-

Capri

-

Barcelona

Northern Europe Cities

Southampton

-

Zeebrugge

-

Oslo

-

Hamburg

-

Le Havre

-

Southampton

Anthem of the Seas | 8 nights

29 May 20

£

1016

View Deal

Europe, Mediterranean

Anthem of the Seas

Royal Caribbean International

Southampton

-

Zeebrugge

-

Oslo

-

Hamburg

-

Le Havre

-

Southampton

2nt Houston & 7nt Western Caribbean

Galveston

-

Cozumel

-

George Town, Cayman Islands

-

Falmouth,Jamaica

-

Galveston

Liberty of the Seas | 9 nights

11 Oct 19

FREE centrally located handpicked hotel stay
Flights Included

£

1019

View Deal

Caribbean

Liberty of the Seas

Royal Caribbean International

Galveston

-

Cozumel

-

George Town, Cayman Islands

-

Falmouth,Jamaica

-

Galveston

Rome 2nts Stay + 9nts Greek Isles & Italy

Rome (Civitavecchia)

-

Messina

-

Malta (La Valletta)

-

Mykonos

-

Santorini Island

-

Athens (Piraeus)

-

Salerno

-

Rome (Civitavecchia)

Explorer of the Seas | 11 nights

25 May 20

FREE centrally located handpicked hotel stay
Flights Included

£

1019

View Deal

Europe, Mediterranean

Explorer of the Seas

Royal Caribbean International

Rome (Civitavecchia)

-

Messina

-

Malta (La Valletta)

-

Mykonos

-

Santorini Island

-

Athens (Piraeus)

-

Salerno

-

Rome (Civitavecchia)

Barcelona & Allure of the Med

Barcelona

-

Palma De Mallorca

-

Marseille

-

La Spezia

-

Rome (Civitavecchia)

-

Capri

-

Barcelona

Allure of the Seas | 9 nights

04 Sep 20

FREE centrally located handpicked hotel stay
Flights Included

£

1019

View Deal

Europe, Mediterranean

Allure of the Seas

Royal Caribbean International

Barcelona

-

Palma De Mallorca

-

Marseille

-

La Spezia

-

Rome (Civitavecchia)

-

Capri

-

Barcelona

2nts Venice & 7nts Mediterranean Rhapsody

Rhapsody of the Seas | 9 nights

08 Aug 19

Pre-Cruise Flight Included

Pre-Cruise Hotel 2night(s) Included

£

1019

View Deal

Europe, Mediterranean

Rhapsody of the Seas

Royal Caribbean International

Venice

-

Kotor

-

Dubrovnik

-

Santorini Island

-

Nice (Villefranche)

-

Venice

2nt Tampa Stay & 7nt Western Caribbean

Tampa

-

Key West

-

Belize

-

Puerto Costa Maya

-

Cozumel

-

Tampa

Brilliance of the Seas | 9 nights

16 Nov 19

FREE centrally located handpicked hotel stay
Flights Included

£

1029

View Deal

Caribbean

Brilliance of the Seas

Royal Caribbean International

Tampa

-

Key West

-

Belize

-

Puerto Costa Maya

-

Cozumel

-

Tampa

3nt Tampa & 7nt Caribbean Cruise

Tampa

-

Puerto Costa Maya

-

Belize

-

Roatan, Bay Islands

-

Cozumel

-

Tampa

Rhapsody of the Seas | 10 nights

27 Nov 19

FREE centrally located handpicked hotel stay
Flights Included

£

1029

View Deal

Caribbean

Rhapsody of the Seas

Royal Caribbean International

Tampa

-

Puerto Costa Maya

-

Belize

-

Roatan, Bay Islands

-

Cozumel

-

Tampa

3nt San Juan & 7nt Southern Caribbean

San Juan, Puerto Rico

-

Philipsburg, St Maarten

-

Basseterre

-

St John's, Antigua

-

Castries

-

Bridgetown

-

San Juan, Puerto Rico

Freedom of the Seas | 10 nights

07 Nov 19

FREE centrally located handpicked hotel stay
Flights Included
Free Upgrade to Oceanview Cabin

£

1029

View Deal

Caribbean

Freedom of the Seas

Royal Caribbean International

San Juan, Puerto Rico

-

Philipsburg, St Maarten

-

Basseterre

-

St John's, Antigua

-

Castries

-

Bridgetown

-

San Juan, Puerto Rico

2nt Houston & 7nt Western Caribbean

Galveston

-

Roatan, Bay Islands

-

Puerto Costa Maya

-

Cozumel

-

Galveston

Liberty of the Seas | 9 nights

27 Sep 19

FREE centrally located handpicked hotel stay
Flights Included

£

1029

View Deal

Caribbean

Liberty of the Seas

Royal Caribbean International

Galveston

-

Roatan, Bay Islands

-

Puerto Costa Maya

-

Cozumel

-

Galveston

Rome 2nts Stay + 9nts Greek Isles & Italy

Rome (Civitavecchia)

-

Chania, Crete

-

Mykonos

-

Ephesus

-

Athens (Piraeus)

-

Santorini Island

-

Capri

-

Rome (Civitavecchia)

Explorer of the Seas | 11 nights

03 Jun 20

FREE centrally located handpicked hotel stay
Flights Included

£

1029

View Deal

Europe, Mediterranean

Explorer of the Seas

Royal Caribbean International

Rome (Civitavecchia)

-

Chania, Crete

-

Mykonos

-

Ephesus

-

Athens (Piraeus)

-

Santorini Island

-

Capri

-

Rome (Civitavecchia)

Barcelona & Allure of the Med

Barcelona

-

Palma De Mallorca

-

Marseille

-

La Spezia

-

Rome (Civitavecchia)

-

Capri

-

Barcelona

Allure of the Seas | 9 nights

26 Jun 20

FREE centrally located handpicked hotel stay
Flights Included

£

1029

View Deal

Europe, Mediterranean

Allure of the Seas

Royal Caribbean International

Barcelona

-

Palma De Mallorca

-

Marseille

-

La Spezia

-

Rome (Civitavecchia)

-

Capri

-

Barcelona

Singapore Stay & Spice Of Southeast Asia

Singapore

-

Port Klang

-

Penang

-

Phuket

-

Singapore

Quantum of the Seas | 9 nights

21 Nov 19

FREE centrally located handpicked hotel stay
Flights Included

£

1049

View Deal

Asia & Indian Ocean

Quantum of the Seas

Royal Caribbean International

Singapore

-

Port Klang

-

Penang

-

Phuket

-

Singapore

Miami & Caribbean Explorer

Miami

-

Labadee

-

Kralendijk,Bonaire

-

Oranjestad, Aruba

-

Willemstad, Curacao

-

Miami

Explorer of the Seas | 11 nights

27 Nov 19

FREE centrally located handpicked hotel stay
Flights Included

£

1049

View Deal

Caribbean

Explorer of the Seas

Royal Caribbean International

Miami

-

Labadee

-

Kralendijk,Bonaire

-

Oranjestad, Aruba

-

Willemstad, Curacao

-

Miami

Singapore Stay & Spice Of Southeast Asia

Singapore

-

Port Klang

-

Penang

-

Phuket

-

Singapore

Quantum of the Seas | 9 nights

12 Nov 19

FREE centrally located handpicked hotel stay
Flights Included

£

1049

View Deal

Asia & Indian Ocean

Quantum of the Seas

Royal Caribbean International

Singapore

-

Port Klang

-

Penang

-

Phuket

-

Singapore

Verona Opera and Greek Isles

Venice

-

Kotor

-

Corfu

-

Athens (Piraeus)

-

Mykonos

-

Argostoli

-

Venice

Rhapsody of the Seas | 10 nights

14 Aug 19

FREE centrally located handpicked hotel stay
Flights Included
FREE Verona Opera Tickets
Free Upgrade to Oceanview Cabin

£

1049

View Deal

Europe, Mediterranean

Rhapsody of the Seas

Royal Caribbean International

Venice

-

Kotor

-

Corfu

-

Athens (Piraeus)

-

Mykonos

-

Argostoli

-

Venice

3nt San Juan & 7nt Southern Caribbean

San Juan, Puerto Rico

-

Oranjestad, Aruba

-

Willemstad, Curacao

-

Kralendijk,Bonaire

-

Charlotte Amalie

-

San Juan, Puerto Rico

Freedom of the Seas | 10 nights

12 Dec 19

FREE centrally located handpicked hotel stay
Flights Included

£

1049

View Deal

Caribbean

Freedom of the Seas

Royal Caribbean International

San Juan, Puerto Rico

-

Oranjestad, Aruba

-

Willemstad, Curacao

-

Kralendijk,Bonaire

-

Charlotte Amalie

-

San Juan, Puerto Rico

3nt San Juan & 7nt Southern Caribbean

San Juan, Puerto Rico

-

Philipsburg, St Maarten

-

Basseterre

-

St John's, Antigua

-

Castries

-

Bridgetown

-

San Juan, Puerto Rico

Freedom of the Seas | 10 nights

31 Oct 19

FREE centrally located handpicked hotel stay
Flights Included
Free Upgrade to Oceanview Cabin

£

1049

View Deal

Caribbean

Freedom of the Seas

Royal Caribbean International

San Juan, Puerto Rico

-

Philipsburg, St Maarten

-

Basseterre

-

St John's, Antigua

-

Castries

-

Bridgetown

-

San Juan, Puerto Rico

Miami & Caribbean Explorer

Miami

-

Labadee

-

Kralendijk,Bonaire

-

Oranjestad, Aruba

-

Willemstad, Curacao

-

Miami

Explorer of the Seas | 11 nights

22 Jan 20

FREE centrally located handpicked hotel stay
Flights Included

£

1049

View Deal

Caribbean

Explorer of the Seas

Royal Caribbean International

Miami

-

Labadee

-

Kralendijk,Bonaire

-

Oranjestad, Aruba

-

Willemstad, Curacao

-

Miami

10nt Southern Caribbean with San Juan Stay

San Juan, Puerto Rico

-

Punta Cana, Domnican Republic

-

Charlotte Amalie

-

Fort de France

-

Castries

-

Bridgetown

-

San Juan, Puerto Rico

Vision of the Seas | 10 nights

29 Jan 20

FREE centrally located handpicked hotel stay
Flights Included

£

1049

View Deal

Caribbean

Vision of the Seas

Royal Caribbean International

San Juan, Puerto Rico

-

Punta Cana, Domnican Republic

-

Charlotte Amalie

-

Fort de France

-

Castries

-

Bridgetown

-

San Juan, Puerto Rico

2nt Houston & 7nt Western Caribbean

Galveston

-

Roatan, Bay Islands

-

Puerto Costa Maya

-

Cozumel

-

Galveston

Liberty of the Seas | 9 nights

10 May 19

FREE centrally located handpicked hotel stay
Flights Included

£

1049

View Deal

Caribbean

Liberty of the Seas

Royal Caribbean International

Galveston

-

Roatan, Bay Islands

-

Puerto Costa Maya

-

Cozumel

-

Galveston

10nt Orlando & Caribbean Happiness

Port Canaveral

-

Nassau

-

CocoCay

-

Port Canaveral

Mariner of the Seas | 10 nights

06 Mar 20

FREE centrally located handpicked hotel stay
Flights Included
FREE Upgrade from Outside to Balcony

£

1049

View Deal

Bahamas

Mariner of the Seas

Royal Caribbean International

Port Canaveral

-

Nassau

-

CocoCay

-

Port Canaveral

Barcelona & Allure of the Med

Barcelona

-

Palma De Mallorca

-

Marseille

-

La Spezia

-

Rome (Civitavecchia)

-

Capri

-

Barcelona

Allure of the Seas | 9 nights

03 Jul 20

FREE centrally located handpicked hotel stay
Flights Included

£

1049

View Deal

Europe, Mediterranean

Allure of the Seas

Royal Caribbean International

Barcelona

-

Palma De Mallorca

-

Marseille

-

La Spezia

-

Rome (Civitavecchia)

-

Capri

-

Barcelona

Barcelona & Allure of the Med

Barcelona

-

Palma De Mallorca

-

Marseille

-

La Spezia

-

Rome (Civitavecchia)

-

Capri

-

Barcelona

Allure of the Seas | 9 nights

28 Aug 20

FREE centrally located handpicked hotel stay
Flights Included

£

1049

View Deal

Europe, Mediterranean

Allure of the Seas

Royal Caribbean International

Barcelona

-

Palma De Mallorca

-

Marseille

-

La Spezia

-

Rome (Civitavecchia)

-

Capri

-

Barcelona

Big Apple, Bahamas & Perfect Day

Cape Liberty, New Jersey

-

Port Canaveral

-

CocoCay

-

Nassau

-

Cape Liberty, New Jersey

Anthem of the Seas | 10 nights

05 Feb 20

FREE centrally located handpicked hotel stay
Flights Included

£

1049

View Deal

North America, Bahamas

Anthem of the Seas

Royal Caribbean International

Cape Liberty, New Jersey

-

Port Canaveral

-

CocoCay

-

Nassau

-

Cape Liberty, New Jersey

Cosmopolitan Mediterranean Cities

Southampton

-

Malaga

-

Cannes

-

Barcelona

-

Palma De Mallorca

-

Lisbon

-

Vigo

-

Southampton

Independence of the Seas | 12 nights

26 Sep 19

£

1061

View Deal

Europe, Mediterranean

Independence of the Seas

Royal Caribbean International

Southampton

-

Malaga

-

Cannes

-

Barcelona

-

Palma De Mallorca

-

Lisbon

-

Vigo

-

Southampton

Italian Mediterranean

Southampton

-

Gibraltar

-

Nice (Villefranche)

-

Rome (Civitavecchia)

-

La Spezia

-

Genoa

-

Malaga

-

Lisbon

-

Southampton

Explorer of the Seas | 14 nights

21 Sep 19

£

1062

View Deal

Europe, Mediterranean

Explorer of the Seas

Royal Caribbean International

Southampton

-

Gibraltar

-

Nice (Villefranche)

-

Rome (Civitavecchia)

-

La Spezia

-

Genoa

-

Malaga

-

Lisbon

-

Southampton

19nt Barcelona, Canaries, CocoCay & Tampa

Barcelona

-

Lanzarote

-

Gran Canaria

-

La Palma, Canary Islands

-

CocoCay

-

Tampa

Rhapsody of the Seas | 19 nights

08 Nov 19

FREE centrally located handpicked hotel stay
Flights Included

£

1069

View Deal

Canaries, Transatlantic, Bahamas

Rhapsody of the Seas

Royal Caribbean International

Barcelona

-

Lanzarote

-

Gran Canaria

-

La Palma, Canary Islands

-

CocoCay

-

Tampa

Caribbean Serenade & Sunsets

Fort Lauderdale

-

Labadee

-

San Juan, Puerto Rico

-

Charlotte Amalie

-

St John's, Antigua

-

Basseterre

-

Philipsburg, St Maarten

-

Fort Lauderdale

Serenade of the Seas | 11 nights

28 Nov 19

FREE centrally located handpicked hotel stay
Flights Included

£

1069

View Deal

Caribbean

Serenade of the Seas

Royal Caribbean International

Fort Lauderdale

-

Labadee

-

San Juan, Puerto Rico

-

Charlotte Amalie

-

St John's, Antigua

-

Basseterre

-

Philipsburg, St Maarten

-

Fort Lauderdale

Barcelona, Canaries, CocoCay & Tampa

Barcelona

-

Lanzarote

-

Gran Canaria

-

La Palma, Canary Islands

-

CocoCay

-

Tampa

Rhapsody of the Seas | 17 nights

08 Nov 19

FREE centrally located handpicked hotel stay
Flights Included

£

1069

View Deal

Canaries, Transatlantic, Bahamas

Rhapsody of the Seas

Royal Caribbean International

Barcelona

-

Lanzarote

-

Gran Canaria

-

La Palma, Canary Islands

-

CocoCay

-

Tampa

Caribbean Calypso

Fort Lauderdale

-

Cozumel

-

George Town, Cayman Islands

-

Falmouth,Jamaica

-

Labadee

-

Fort Lauderdale

Independence of the Seas | 9 nights

07 Nov 19

FREE centrally located handpicked hotel stay
Flights Included

£

1069

View Deal

Caribbean, Mexico

Independence of the Seas

Royal Caribbean International

Fort Lauderdale

-

Cozumel

-

George Town, Cayman Islands

-

Falmouth,Jamaica

-

Labadee

-

Fort Lauderdale

10nt Orlando & Caribbean Happiness

Port Canaveral

-

Nassau

-

CocoCay

-

Port Canaveral

Mariner of the Seas | 10 nights

10 Apr 20

FREE centrally located handpicked hotel stay
Flights Included
FREE Upgrade from Outside to Balcony

£

1069

View Deal

Bahamas

Mariner of the Seas

Royal Caribbean International

Port Canaveral

-

Nassau

-

CocoCay

-

Port Canaveral

10nt Orlando & Caribbean Happiness

Port Canaveral

-

Nassau

-

CocoCay

-

Port Canaveral

Mariner of the Seas | 10 nights

17 Apr 20

FREE centrally located handpicked hotel stay
Flights Included
FREE Upgrade from Outside to Balcony

£

1069

View Deal

Bahamas

Mariner of the Seas

Royal Caribbean International

Port Canaveral

-

Nassau

-

CocoCay

-

Port Canaveral

1nt Rome, 11nt Rome to BCN & 1nt Barcelona

Rome (Civitavecchia)

-

La Spezia

-

Portofino

-

Marseille

-

Sete

-

Cartagena, Spain

-

Gibraltar

-

Malaga

-

Palma De Mallorca

-

Barcelona

Jewel of the Seas | 13 nights

07 Apr 20

FREE centrally located handpicked hotel stay
Flights Included

£

1079

View Deal

Mediterranean

Jewel of the Seas

Royal Caribbean International

Rome (Civitavecchia)

-

La Spezia

-

Portofino

-

Marseille

-

Sete

-

Cartagena, Spain

-

Gibraltar

-

Malaga

-

Palma De Mallorca

-

Barcelona

1nt Barcelona & 12nt Mediterranean Jewels

Barcelona

-

Nice (Villefranche)

-

La Spezia

-

Rome (Civitavecchia)

-

Malta (La Valletta)

-

Mykonos

-

Santorini Island

-

Athens (Piraeus)

-

Barcelona

Jewel of the Seas | 13 nights

10 Oct 20

FREE centrally located handpicked hotel stay
Flights Included

£

1079

View Deal

Europe, Mediterranean

Jewel of the Seas

Royal Caribbean International

Barcelona

-

Nice (Villefranche)

-

La Spezia

-

Rome (Civitavecchia)

-

Malta (La Valletta)

-

Mykonos

-

Santorini Island

-

Athens (Piraeus)

-

Barcelona

3nt San Juan & 7nt Southern Caribbean

San Juan, Puerto Rico

-

Philipsburg, St Maarten

-

Basseterre

-

St John's, Antigua

-

Castries

-

Bridgetown

-

San Juan, Puerto Rico

Freedom of the Seas | 10 nights

29 Aug 19

FREE centrally located handpicked hotel stay
Flights Included
Free Upgrade to Oceanview Cabin

£

1079

View Deal

Caribbean

Freedom of the Seas

Royal Caribbean International

San Juan, Puerto Rico

-

Philipsburg, St Maarten

-

Basseterre

-

St John's, Antigua

-

Castries

-

Bridgetown

-

San Juan, Puerto Rico

2nt Houston & 7nt Western Caribbean

Galveston

-

Cozumel

-

George Town, Cayman Islands

-

Falmouth,Jamaica

-

Galveston

Liberty of the Seas | 9 nights

04 Oct 19

FREE centrally located handpicked hotel stay
Flights Included

£

1079

View Deal

Caribbean

Liberty of the Seas

Royal Caribbean International

Galveston

-

Cozumel

-

George Town, Cayman Islands

-

Falmouth,Jamaica

-

Galveston

10nt Orlando & Caribbean Happiness

Port Canaveral

-

Nassau

-

CocoCay

-

Port Canaveral

Mariner of the Seas | 10 nights

13 Mar 20

FREE centrally located handpicked hotel stay
Flights Included
FREE Upgrade from Outside to Balcony

£

1079

View Deal

Bahamas

Mariner of the Seas

Royal Caribbean International

Port Canaveral

-

Nassau

-

CocoCay

-

Port Canaveral

Barcelona & Allure of the Med

Barcelona

-

Palma De Mallorca

-

Marseille

-

La Spezia

-

Rome (Civitavecchia)

-

Capri

-

Barcelona

Allure of the Seas | 9 nights

10 Jul 20

FREE centrally located handpicked hotel stay
Flights Included

£

1079

View Deal

Europe, Mediterranean

Allure of the Seas

Royal Caribbean International

Barcelona

-

Palma De Mallorca

-

Marseille

-

La Spezia

-

Rome (Civitavecchia)

-

Capri

-

Barcelona

4nts Verona & 7nts Mediterranean Rhapsody

Rhapsody of the Seas | 11 nights

06 Aug 19

Pre-Cruise Flight Included

Pre-Cruise Hotel 4night(s) Included

£

1079

View Deal

Europe, Mediterranean

Rhapsody of the Seas

Royal Caribbean International

Venice

-

Kotor

-

Dubrovnik

-

Santorini Island

-

Nice (Villefranche)

-

Venice

France & Spain

Southampton

-

Le Havre

-

Bilbao

-

Gijon

-

Southampton

Anthem of the Seas | 6 nights

23 May 20

£

1097

View Deal

Europe, Mediterranean

Anthem of the Seas

Royal Caribbean International

Southampton

-

Le Havre

-

Bilbao

-

Gijon

-

Southampton

3nt Tampa Stay & 7nt Western Caribbean

Tampa

-

Puerto Costa Maya

-

Belize

-

Cozumel

-

George Town, Cayman Islands

-

Tampa

Brilliance of the Seas | 10 nights

04 Dec 19

FREE centrally located handpicked hotel stay
Flights Included

£

1099

View Deal

Caribbean

Brilliance of the Seas

Royal Caribbean International

Tampa

-

Puerto Costa Maya

-

Belize

-

Cozumel

-

George Town, Cayman Islands

-

Tampa

Singapore & Spice of Southeast Asia

Singapore

-

Penang

-

Langkawi

-

Phuket

-

Singapore

Voyager of the Seas | 9 nights

20 Jun 19

FREE centrally located handpicked hotel stay
Flights Included

£

1099

View Deal

Asia & Indian Ocean

Voyager of the Seas

Royal Caribbean International

Singapore

-

Penang

-

Langkawi

-

Phuket

-

Singapore

10nt San Juan & Southern Caribbean Sunsets

San Juan, Puerto Rico

-

Bridgetown

-

St Georges, Grenada

-

Roseau

-

Philipsburg, St Maarten

-

Charlotte Amalie

-

San Juan, Puerto Rico

Vision of the Seas | 10 nights

05 Feb 20

FREE centrally located handpicked hotel stay
Flights Included

£

1099

View Deal

Caribbean

Vision of the Seas

Royal Caribbean International

San Juan, Puerto Rico

-

Bridgetown

-

St Georges, Grenada

-

Roseau

-

Philipsburg, St Maarten

-

Charlotte Amalie

-

San Juan, Puerto Rico

2nt Houston & 7nt Western Carribbean Wonders

Galveston

-

Roatan, Bay Islands

-

Belize

-

Cozumel

-

Galveston

Liberty of the Seas | 9 nights

26 Apr 19

FREE centrally located handpicked hotel stay
Flights Included

£

1099

View Deal

Caribbean

Liberty of the Seas

Royal Caribbean International

Galveston

-

Roatan, Bay Islands

-

Belize

-

Cozumel

-

Galveston

10nt Orlando & Caribbean Happiness

Port Canaveral

-

Nassau

-

CocoCay

-

Port Canaveral

Mariner of the Seas | 10 nights

20 Mar 20

FREE centrally located handpicked hotel stay
Flights Included
FREE Upgrade from Outside to Balcony

£

1099

View Deal

Bahamas

Mariner of the Seas

Royal Caribbean International

Port Canaveral

-

Nassau

-

CocoCay

-

Port Canaveral

10nt Orlando & Caribbean Happiness

Port Canaveral

-

Nassau

-

CocoCay

-

Port Canaveral

Mariner of the Seas | 10 nights

27 Mar 20

FREE centrally located handpicked hotel stay
Flights Included
FREE Upgrade from Outside to Balcony

£

1099

View Deal

Bahamas

Mariner of the Seas

Royal Caribbean International

Port Canaveral

-

Nassau

-

CocoCay

-

Port Canaveral

10nt Orlando & Caribbean Happiness

Port Canaveral

-

Nassau

-

CocoCay

-

Port Canaveral

Mariner of the Seas | 10 nights

03 Apr 20

FREE centrally located handpicked hotel stay
Flights Included
FREE Upgrade from Outside to Balcony

£

1099

View Deal

Bahamas

Mariner of the Seas

Royal Caribbean International

Port Canaveral

-

Nassau

-

CocoCay

-

Port Canaveral

4nt Cruise with Stays in Singapore and Hong Kong

Singapore

-

Penang

-

Phuket

-

Singapore

Voyager of the Seas | 10 nights

19 May 19

FREE centrally located handpicked hotel stay
Flights Included

£

1099

View Deal

Asia & Indian Ocean

Voyager of the Seas

Royal Caribbean International

Singapore

-

Penang

-

Phuket

-

Singapore

Barcelona & Allure of the Med

Barcelona

-

Palma De Mallorca

-

Marseille

-

La Spezia

-

Rome (Civitavecchia)

-

Capri

-

Barcelona

Allure of the Seas | 9 nights

22 May 20

FREE centrally located handpicked hotel stay
Flights Included

£

1099

View Deal

Europe, Mediterranean

Allure of the Seas

Royal Caribbean International

Barcelona

-

Palma De Mallorca

-

Marseille

-

La Spezia

-

Rome (Civitavecchia)

-

Capri

-

Barcelona

Barcelona & Allure of the Med

Barcelona

-

Palma De Mallorca

-

Marseille

-

La Spezia

-

Rome (Civitavecchia)

-

Capri

-

Barcelona

Allure of the Seas | 9 nights

07 Aug 20

FREE centrally located handpicked hotel stay
Flights Included

£

1099

View Deal

Europe, Mediterranean

Allure of the Seas

Royal Caribbean International

Barcelona

-

Palma De Mallorca

-

Marseille

-

La Spezia

-

Rome (Civitavecchia)

-

Capri

-

Barcelona

Orlando Magic & Caribbean Harmony

Port Canaveral

-

Philipsburg, St Maarten

-

San Juan, Puerto Rico

-

CocoCay

-

Port Canaveral

Harmony of the Seas | 11 nights

22 Jan 20

FREE centrally located handpicked hotel stay
Flights Included

£

1099

View Deal

Caribbean

Harmony of the Seas

Royal Caribbean International

Port Canaveral

-

Philipsburg, St Maarten

-

San Juan, Puerto Rico

-

CocoCay

-

Port Canaveral

Orlando Magic & Caribbean Harmony

Port Canaveral

-

Philipsburg, St Maarten

-

San Juan, Puerto Rico

-

CocoCay

-

Port Canaveral

Harmony of the Seas | 11 nights

27 Nov 19

FREE centrally located handpicked hotel stay
Flights Included

£

1099

View Deal

Caribbean

Harmony of the Seas

Royal Caribbean International

Port Canaveral

-

Philipsburg, St Maarten

-

San Juan, Puerto Rico

-

CocoCay

-

Port Canaveral

Jewels of the Persian Gulf

Dubai

-

Doha

-

Bahrain

-

Sir Bani Yas Island (UAE)

-

Abu Dhabi

-

Dubai

Jewel of the Seas | 9 nights

04 Jan 20

FREE centrally located handpicked hotel stay
Flights Included

£

1119

View Deal

Dubai & Emirates

Jewel of the Seas

Royal Caribbean International

Dubai

-

Doha

-

Bahrain

-

Sir Bani Yas Island (UAE)

-

Abu Dhabi

-

Dubai

2nt Houston & 7nt Western Caribbean

Galveston

-

Cozumel

-

George Town, Cayman Islands

-

Falmouth,Jamaica

-

Galveston

Liberty of the Seas | 9 nights

23 Aug 19

FREE centrally located handpicked hotel stay
Flights Included

£

1119

View Deal

Caribbean

Liberty of the Seas

Royal Caribbean International

Galveston

-

Cozumel

-

George Town, Cayman Islands

-

Falmouth,Jamaica

-

Galveston

Barcelona & Allure of the Med

Barcelona

-

Palma De Mallorca

-

Marseille

-

La Spezia

-

Rome (Civitavecchia)

-

Capri

-

Barcelona

Allure of the Seas | 9 nights

14 Aug 20

FREE centrally located handpicked hotel stay
Flights Included

£

1119

View Deal

Europe, Mediterranean

Allure of the Seas

Royal Caribbean International

Barcelona

-

Palma De Mallorca

-

Marseille

-

La Spezia

-

Rome (Civitavecchia)

-

Capri

-

Barcelona

Barcelona & Allure of the Med

Barcelona

-

Palma De Mallorca

-

Marseille

-

La Spezia

-

Rome (Civitavecchia)

-

Capri

-

Barcelona

Allure of the Seas | 9 nights

21 Aug 20

FREE centrally located handpicked hotel stay
Flights Included

£

1119

View Deal

Europe, Mediterranean

Allure of the Seas

Royal Caribbean International

Barcelona

-

Palma De Mallorca

-

Marseille

-

La Spezia

-

Rome (Civitavecchia)

-

Capri

-

Barcelona

3nt San Juan & 7nt Southern Caribbean

San Juan, Puerto Rico

-

Oranjestad, Aruba

-

Willemstad, Curacao

-

Kralendijk,Bonaire

-

Philipsburg, St Maarten

-

San Juan, Puerto Rico

Freedom of the Seas | 10 nights

02 May 19

FREE centrally located handpicked hotel stay
Flights Included

£

1129

View Deal

Caribbean

Freedom of the Seas

Royal Caribbean International

San Juan, Puerto Rico

-

Oranjestad, Aruba

-

Willemstad, Curacao

-

Kralendijk,Bonaire

-

Philipsburg, St Maarten

-

San Juan, Puerto Rico

Qatar, Bahrain & UAE Holiday with Dubai

Dubai

-

Abu Dhabi

-

Sir Bani Yas Island (UAE)

-

Muscat

-

Dubai

Jewel of the Seas | 9 nights

28 Dec 19

FREE centrally located handpicked hotel stay
Flights Included

£

1129

View Deal

Dubai & Emirates

Jewel of the Seas

Royal Caribbean International

Dubai

-

Abu Dhabi

-

Sir Bani Yas Island (UAE)

-

Muscat

-

Dubai

Qatar, Bahrain & UAE with Dubai Stay

Dubai

-

Sir Bani Yas Island (UAE)

-

Doha

-

Bahrain

-

Abu Dhabi

-

Dubai

Jewel of the Seas | 9 nights

15 Feb 20

FREE centrally located handpicked hotel stay
Flights Included

£

1129

View Deal

Dubai & Emirates

Jewel of the Seas

Royal Caribbean International

Dubai

-

Sir Bani Yas Island (UAE)

-

Doha

-

Bahrain

-

Abu Dhabi

-

Dubai

1nt Copenhagen & 11nt Mediterranean Jewels

Copenhagen, Denmark

-

Riga

-

Tallinn, Estonia

-

St Petersburg, Russia

-

Helsinki, Finland

-

Stockholm, Sweden

-

Klaipeda

-

Copenhagen, Denmark

Jewel of the Seas | 12 nights

12 May 20

FREE centrally located handpicked hotel stay
Flights Included

£

1129

View Deal

Scandinavia, Baltic, Russia

Jewel of the Seas

Royal Caribbean International

Copenhagen, Denmark

-

Riga

-

Tallinn, Estonia

-

St Petersburg, Russia

-

Helsinki, Finland

-

Stockholm, Sweden

-

Klaipeda

-

Copenhagen, Denmark

Miami & Caribbean Calypso

Miami

-

Charlotte Amalie

-

San Juan, Puerto Rico

-

Labadee

-

Miami

Oasis of the Seas | 9 nights

22 Nov 19

FREE centrally located handpicked hotel stay
Flights Included
$300 Onboard Spend Per Stateroom

£

1129

View Deal

Caribbean

Oasis of the Seas

Royal Caribbean International

Miami

-

Charlotte Amalie

-

San Juan, Puerto Rico

-

Labadee

-

Miami

3nt San Juan & 7nt Southern Caribbean

San Juan, Puerto Rico

-

Oranjestad, Aruba

-

Willemstad, Curacao

-

Kralendijk,Bonaire

-

Philipsburg, St Maarten

-

San Juan, Puerto Rico

Freedom of the Seas | 10 nights

19 Sep 19

FREE centrally located handpicked hotel stay
Flights Included
Free Upgrade to Oceanview Cabin

£

1129

View Deal

Caribbean

Freedom of the Seas

Royal Caribbean International

San Juan, Puerto Rico

-

Oranjestad, Aruba

-

Willemstad, Curacao

-

Kralendijk,Bonaire

-

Philipsburg, St Maarten

-

San Juan, Puerto Rico

10nt San Juan & Southern Caribbean Sunsets

San Juan, Puerto Rico

-

Bridgetown

-

St Georges, Grenada

-

Roseau

-

Philipsburg, St Maarten

-

Charlotte Amalie

-

San Juan, Puerto Rico

Vision of the Seas | 10 nights

22 Jan 20

FREE centrally located handpicked hotel stay
Flights Included

£

1129

View Deal

Caribbean

Vision of the Seas

Royal Caribbean International

San Juan, Puerto Rico

-

Bridgetown

-

St Georges, Grenada

-

Roseau

-

Philipsburg, St Maarten

-

Charlotte Amalie

-

San Juan, Puerto Rico

2nt Houston & 7nt Western Caribbean

Galveston

-

Cozumel

-

George Town, Cayman Islands

-

Falmouth,Jamaica

-

Galveston

Liberty of the Seas | 9 nights

24 May 19

FREE centrally located handpicked hotel stay
Flights Included

£

1129

View Deal

Caribbean

Liberty of the Seas

Royal Caribbean International

Galveston

-

Cozumel

-

George Town, Cayman Islands

-

Falmouth,Jamaica

-

Galveston

4nt Cruise with Stays in Singapore and Hong Kong

Singapore

-

Penang

-

Phuket

-

Singapore

Voyager of the Seas | 10 nights

26 May 19

FREE centrally located handpicked hotel stay
Flights Included

£

1129

View Deal

Asia & Indian Ocean

Voyager of the Seas

Royal Caribbean International

Singapore

-

Penang

-

Phuket

-

Singapore

4nt Cruise with Stays in Singapore and Hong Kong

Singapore

-

Penang

-

Phuket

-

Singapore

Voyager of the Seas | 10 nights

09 Jun 19

FREE centrally located handpicked hotel stay
Flights Included

£

1129

View Deal

Asia & Indian Ocean

Voyager of the Seas

Royal Caribbean International

Singapore

-

Penang

-

Phuket

-

Singapore

Norwegian Fjords

Southampton

-

Bergen, Norway

-

Olden

-

Alesund

-

Flam

-

Stavanger, Norway

-

Southampton

Independence of the Seas | 8 nights

17 Jul 20

£

1145

View Deal

Scandinavia

Independence of the Seas

Royal Caribbean International

Southampton

-

Bergen, Norway

-

Olden

-

Alesund

-

Flam

-

Stavanger, Norway

-

Southampton

3nt San Juan & 7nt Southern Caribbean

San Juan, Puerto Rico

-

Philipsburg, St Maarten

-

Basseterre

-

St John's, Antigua

-

Castries

-

Bridgetown

-

San Juan, Puerto Rico

Freedom of the Seas | 10 nights

26 Sep 19

FREE centrally located handpicked hotel stay
Flights Included

£

1149

View Deal

Caribbean

Freedom of the Seas

Royal Caribbean International

San Juan, Puerto Rico

-

Philipsburg, St Maarten

-

Basseterre

-

St John's, Antigua

-

Castries

-

Bridgetown

-

San Juan, Puerto Rico

Southern Caribbean Explorer

Southampton

-

Castries

-

Bridgetown

-

Roseau

-

St John's, Antigua

-

Miami

Explorer of the Seas | 15 nights

05 Nov 19

FREE centrally located handpicked hotel stay
Flights Included

£

1149

View Deal

Caribbean, Transatlantic

Explorer of the Seas

Royal Caribbean International

Southampton

-

Castries

-

Bridgetown

-

Roseau

-

St John's, Antigua

-

Miami

1nt Barcelona & 12nt Mediterranean Jewels

Barcelona

-

Nice (Villefranche)

-

Livorno

-

Rome (Civitavecchia)

-

Capri

-

Venice

-

Split

-

Kotor

-

Barcelona

Jewel of the Seas | 13 nights

28 Sep 20

FREE centrally located handpicked hotel stay
Flights Included

£

1149

View Deal

Europe, Mediterranean

Jewel of the Seas

Royal Caribbean International

Barcelona

-

Nice (Villefranche)

-

Livorno

-

Rome (Civitavecchia)

-

Capri

-

Venice

-

Split

-

Kotor

-

Barcelona

1nt Barcelona & 12nt Mediterranean Jewels

Barcelona

-

Nice (Villefranche)

-

La Spezia

-

Rome (Civitavecchia)

-

Malta (La Valletta)

-

Mykonos

-

Santorini Island

-

Athens (Piraeus)

-

Barcelona

Jewel of the Seas | 13 nights

16 Sep 20

FREE centrally located handpicked hotel stay
Flights Included

£

1149

View Deal

Europe, Mediterranean

Jewel of the Seas

Royal Caribbean International

Barcelona

-

Nice (Villefranche)

-

La Spezia

-

Rome (Civitavecchia)

-

Malta (La Valletta)

-

Mykonos

-

Santorini Island

-

Athens (Piraeus)

-

Barcelona

12nt Barcelona to Rome with Stays

Barcelona

-

Valencia

-

Palma De Mallorca

-

Sete

-

Marseille

-

Nice (Villefranche)

-

Ajaccio

-

Livorno

-

Capri

-

Rome (Civitavecchia)

Jewel of the Seas | 12 nights

22 Oct 20

FREE centrally located handpicked hotel stay
Flights Included

£

1149

View Deal

Europe, Mediterranean

Jewel of the Seas

Royal Caribbean International

Barcelona

-

Valencia

-

Palma De Mallorca

-

Sete

-

Marseille

-

Nice (Villefranche)

-

Ajaccio

-

Livorno

-

Capri

-

Rome (Civitavecchia)

Christmas in The Emirates

Dubai

-

Doha

-

Bahrain

-

Sir Bani Yas Island (UAE)

-

Abu Dhabi

-

Dubai

Jewel of the Seas | 9 nights

21 Dec 19

FREE centrally located handpicked hotel stay
Flights Included

£

1149

View Deal

Dubai & Emirates

Jewel of the Seas

Royal Caribbean International

Dubai

-

Doha

-

Bahrain

-

Sir Bani Yas Island (UAE)

-

Abu Dhabi

-

Dubai

15nt Spain & Azores Transatlantic with Stays

Barcelona

-

Cartagena, Spain

-

Malaga

-

Seville

-

Lisbon

-

Ponta Delgada, Azores

-

Tampa

Brilliance of the Seas | 18 nights

02 Nov 19

FREE centrally located handpicked hotel stay
Flights Included

£

1149

View Deal

Canaries, Mediterranean

Brilliance of the Seas

Royal Caribbean International

Barcelona

-

Cartagena, Spain

-

Malaga

-

Seville

-

Lisbon

-

Ponta Delgada, Azores

-

Tampa

2nt Houston & 7nt Western Caribbean

Galveston

-

Cozumel

-

George Town, Cayman Islands

-

Falmouth,Jamaica

-

Galveston

Liberty of the Seas | 9 nights

03 May 19

FREE centrally located handpicked hotel stay
Flights Included

£

1149

View Deal

Caribbean

Liberty of the Seas

Royal Caribbean International

Galveston

-

Cozumel

-

George Town, Cayman Islands

-

Falmouth,Jamaica

-

Galveston

4nt Cruise with Stays in Singapore and Hong Kong

Singapore

-

Penang

-

Phuket

-

Singapore

Voyager of the Seas | 10 nights

05 May 19

FREE centrally located handpicked hotel stay
Flights Included

£

1149

View Deal

Asia & Indian Ocean

Voyager of the Seas

Royal Caribbean International

Singapore

-

Penang

-

Phuket

-

Singapore

4nt Cruise with Stays in Singapore and Hong Kong

Singapore

-

Penang

-

Phuket

-

Singapore

Voyager of the Seas | 10 nights

16 Jun 19

FREE centrally located handpicked hotel stay
Flights Included

£

1149

View Deal

Asia & Indian Ocean

Voyager of the Seas

Royal Caribbean International

Singapore

-

Penang

-

Phuket

-

Singapore

Barcelona & Allure of the Med

Barcelona

-

Palma De Mallorca

-

Marseille

-

La Spezia

-

Rome (Civitavecchia)

-

Capri

-

Barcelona

Allure of the Seas | 9 nights

24 Jul 20

FREE centrally located handpicked hotel stay
Flights Included

£

1149

View Deal

Europe, Mediterranean

Allure of the Seas

Royal Caribbean International

Barcelona

-

Palma De Mallorca

-

Marseille

-

La Spezia

-

Rome (Civitavecchia)

-

Capri

-

Barcelona

Barcelona & Allure of the Med

Barcelona

-

Palma De Mallorca

-

Marseille

-

La Spezia

-

Rome (Civitavecchia)

-

Capri

-

Barcelona

Allure of the Seas | 9 nights

31 Jul 20

FREE centrally located handpicked hotel stay
Flights Included

£

1149

View Deal

Europe, Mediterranean

Allure of the Seas

Royal Caribbean International

Barcelona

-

Palma De Mallorca

-

Marseille

-

La Spezia

-

Rome (Civitavecchia)

-

Capri

-

Barcelona

Far East Gems & Bali Bliss

Singapore

-

Malacca

-

Penang

-

Phuket

-

Singapore

Voyager of the Seas | 15 nights

06 Nov 19

FREE centrally located handpicked hotel stay
Flights Included

£

1149

View Deal

Asia & Indian Ocean

Voyager of the Seas

Royal Caribbean International

Singapore

-

Malacca

-

Penang

-

Phuket

-

Singapore

Caribbean Cocktail

Fort Lauderdale

-

Puerto Limon

-

Colon, Panama

-

Cartagena, Colombia

-

Oranjestad, Aruba

-

Willemstad, Curacao

-

Fort Lauderdale

Serenade of the Seas | 12 nights

08 Dec 19

FREE centrally located handpicked hotel stay
Flights Included

£

1149

View Deal

Caribbean

Serenade of the Seas

Royal Caribbean International

Fort Lauderdale

-

Puerto Limon

-

Colon, Panama

-

Cartagena, Colombia

-

Oranjestad, Aruba

-

Willemstad, Curacao

-

Fort Lauderdale

2nts Shanghai & 7nts Best Of Japan

Baoshan (Shanghai)

-

Osaka

-

Kobe

-

Tokyo

-

Baoshan (Shanghai)

Spectrum of the Seas | 10 nights

21 Nov 19

FREE centrally located handpicked hotel stay
Flights Included
Brand New Ship!

£

1149

View Deal

Asia & Indian Ocean

Spectrum of the Seas

Royal Caribbean International

Baoshan (Shanghai)

-

Osaka

-

Kobe

-

Tokyo

-

Baoshan (Shanghai)

Spanish Mediterranean

Southampton

-

Vigo

-

Lisbon

-

Ibiza

-

Palma De Mallorca

-

Barcelona

-

Cartagena, Spain

-

Seville

-

Southampton

Independence of the Seas | 12 nights

02 Sep 19

£

1156

View Deal

Europe, Mediterranean

Independence of the Seas

Royal Caribbean International

Southampton

-

Vigo

-

Lisbon

-

Ibiza

-

Palma De Mallorca

-

Barcelona

-

Cartagena, Spain

-

Seville

-

Southampton

1nt Barcelona & 12nt Mediterranean Jewels

Barcelona

-

Nice (Villefranche)

-

Livorno

-

Rome (Civitavecchia)

-

Capri

-

Venice

-

Split

-

Kotor

-

Barcelona

Jewel of the Seas | 13 nights

04 Sep 20

FREE centrally located handpicked hotel stay
Flights Included

£

1169

View Deal

Europe, Mediterranean

Jewel of the Seas

Royal Caribbean International

Barcelona

-

Nice (Villefranche)

-

Livorno

-

Rome (Civitavecchia)

-

Capri

-

Venice

-

Split

-

Kotor

-

Barcelona

1nt Rome & 12nt Mediterranean Jewels

Rome (Civitavecchia)

-

Messina

-

Jerusalem

-

Haifa

-

Limassol

-

Rhodes

-

Ephesus

-

Athens (Piraeus)

-

Capri

-

Rome (Civitavecchia)

Jewel of the Seas | 13 nights

01 Nov 20

FREE centrally located handpicked hotel stay
Flights Included

£

1169

View Deal

Europe

Jewel of the Seas

Royal Caribbean International

Rome (Civitavecchia)

-

Messina

-

Jerusalem

-

Haifa

-

Limassol

-

Rhodes

-

Ephesus

-

Athens (Piraeus)

-

Capri

-

Rome (Civitavecchia)

10nt Southern Caribbean Adventure from San Juan

San Juan, Puerto Rico

-

Charlotte Amalie

-

Basseterre

-

St John's, Antigua

-

Castries

-

Bridgetown

-

San Juan, Puerto Rico

Freedom of the Seas | 10 nights

10 Oct 19

FREE centrally located handpicked hotel stay
Flights Included
Free Upgrade to Oceanview Cabin

£

1169

View Deal

Caribbean

Freedom of the Seas

Royal Caribbean International

San Juan, Puerto Rico

-

Charlotte Amalie

-

Basseterre

-

St John's, Antigua

-

Castries

-

Bridgetown

-

San Juan, Puerto Rico

10nt Southern Caribbean with San Juan Stay

San Juan, Puerto Rico

-

Punta Cana, Domnican Republic

-

Charlotte Amalie

-

Fort de France

-

Castries

-

Bridgetown

-

San Juan, Puerto Rico

Vision of the Seas | 10 nights

01 Jan 20

FREE centrally located handpicked hotel stay
Flights Included

£

1169

View Deal

Caribbean

Vision of the Seas

Royal Caribbean International

San Juan, Puerto Rico

-

Punta Cana, Domnican Republic

-

Charlotte Amalie

-

Fort de France

-

Castries

-

Bridgetown

-

San Juan, Puerto Rico

Spain, Portugal & Canaries

Southampton

-

Ponta Delgada, Azores

-

Funchal

-

Tenerife

-

Gran Canaria

-

Lanzarote

-

Lisbon

-

Vigo

-

Southampton

Independence of the Seas | 14 nights

10 Oct 20

£

1179

View Deal

Canaries, Europe

Independence of the Seas

Royal Caribbean International

Southampton

-

Ponta Delgada, Azores

-

Funchal

-

Tenerife

-

Gran Canaria

-

Lanzarote

-

Lisbon

-

Vigo

-

Southampton

3nt San Juan & 7nt Southern Caribbean

San Juan, Puerto Rico

-

Philipsburg, St Maarten

-

Basseterre

-

St John's, Antigua

-

Castries

-

Bridgetown

-

San Juan, Puerto Rico

Freedom of the Seas | 10 nights

21 Nov 19

FREE centrally located handpicked hotel stay
Flights Included
Free Upgrade to Oceanview Cabin

£

1179

View Deal

Caribbean

Freedom of the Seas

Royal Caribbean International

San Juan, Puerto Rico

-

Philipsburg, St Maarten

-

Basseterre

-

St John's, Antigua

-

Castries

-

Bridgetown

-

San Juan, Puerto Rico

Miami & Caribbean Calypso

Miami

-

Charlotte Amalie

-

San Juan, Puerto Rico

-

Labadee

-

Miami

Oasis of the Seas | 9 nights

17 Jan 20

FREE centrally located handpicked hotel stay
Flights Included

£

1179

View Deal

Caribbean

Oasis of the Seas

Royal Caribbean International

Miami

-

Charlotte Amalie

-

San Juan, Puerto Rico

-

Labadee

-

Miami

Caribbean Serenade

Fort Lauderdale

-

Charlotte Amalie

-

St John's, Antigua

-

Roseau

-

Basseterre

-

Philipsburg, St Maarten

-

Fort Lauderdale

Serenade of the Seas | 11 nights

30 Jan 20

FREE centrally located handpicked hotel stay
Flights Included

£

1179

View Deal

Caribbean

Serenade of the Seas

Royal Caribbean International

Fort Lauderdale

-

Charlotte Amalie

-

St John's, Antigua

-

Roseau

-

Basseterre

-

Philipsburg, St Maarten

-

Fort Lauderdale

Barcelona & Allure of the Med

Barcelona

-

Palma De Mallorca

-

Marseille

-

La Spezia

-

Rome (Civitavecchia)

-

Capri

-

Barcelona

Allure of the Seas | 9 nights

17 Jul 20

FREE centrally located handpicked hotel stay
Flights Included

£

1179

View Deal

Europe, Mediterranean

Allure of the Seas

Royal Caribbean International

Barcelona

-

Palma De Mallorca

-

Marseille

-

La Spezia

-

Rome (Civitavecchia)

-

Capri

-

Barcelona

2nt Fort Lauderdale & 8nt Caribbean Adventure

Fort Lauderdale

-

Labadee

-

San Juan, Puerto Rico

-

Charlotte Amalie

-

Philipsburg, St Maarten

-

Fort Lauderdale

Adventure of the Seas | 10 nights

13 Feb 20

FREE centrally located handpicked hotel stay
Flights Included

£

1199

View Deal

Caribbean

Adventure of the Seas

Royal Caribbean International

Fort Lauderdale

-

Labadee

-

San Juan, Puerto Rico

-

Charlotte Amalie

-

Philipsburg, St Maarten

-

Fort Lauderdale

3nt San Juan & 7nt Southern Caribbean

San Juan, Puerto Rico

-

Philipsburg, St Maarten

-

Basseterre

-

St John's, Antigua

-

Castries

-

Bridgetown

-

San Juan, Puerto Rico

Freedom of the Seas | 10 nights

24 Oct 19

FREE centrally located handpicked hotel stay
Flights Included

£

1199

View Deal

Caribbean

Freedom of the Seas

Royal Caribbean International

San Juan, Puerto Rico

-

Philipsburg, St Maarten

-

Basseterre

-

St John's, Antigua

-

Castries

-

Bridgetown

-

San Juan, Puerto Rico

Verona Opera, Greece & Croatia

Venice

-

Dubrovnik

-

Kotor

-

Santorini Island

-

Katakolon

-

Venice

Rhapsody of the Seas | 10 nights

24 Jul 19

FREE centrally located handpicked hotel stay
Flights Included
FREE Verona Opera Tickets

£

1199

View Deal

Europe, Mediterranean

Rhapsody of the Seas

Royal Caribbean International

Venice

-

Dubrovnik

-

Kotor

-

Santorini Island

-

Katakolon

-

Venice

Miami & Caribbean Oasis

Miami

-

Labadee

-

Falmouth,Jamaica

-

Cozumel

-

Miami

Oasis of the Seas | 9 nights

29 Nov 19

FREE centrally located handpicked hotel stay
Flights Included
$300 Onboard Spend Per Stateroom

£

1199

View Deal

Caribbean

Oasis of the Seas

Royal Caribbean International

Miami

-

Labadee

-

Falmouth,Jamaica

-

Cozumel

-

Miami

Orlando & Harmony on a Perfect Day

Port Canaveral

-

CocoCay

-

Puerto Costa Maya

-

Roatan, Bay Islands

-

Cozumel

-

Port Canaveral

Harmony of the Seas | 11 nights

15 Jan 20

FREE centrally located handpicked hotel stay
Flights Included

£

1199

View Deal

Caribbean

Harmony of the Seas

Royal Caribbean International

Port Canaveral

-

CocoCay

-

Puerto Costa Maya

-

Roatan, Bay Islands

-

Cozumel

-

Port Canaveral

Caribbean Serenade

Fort Lauderdale

-

Charlotte Amalie

-

St John's, Antigua

-

Roseau

-

Basseterre

-

Philipsburg, St Maarten

-

Fort Lauderdale

Serenade of the Seas | 11 nights

12 Mar 20

FREE centrally located handpicked hotel stay
Flights Included

£

1199

View Deal

Caribbean

Serenade of the Seas

Royal Caribbean International

Fort Lauderdale

-

Charlotte Amalie

-

St John's, Antigua

-

Roseau

-

Basseterre

-

Philipsburg, St Maarten

-

Fort Lauderdale

Classic Caribbean

Fort Lauderdale

-

Ponce

-

Basseterre

-

Castries

-

St Georges, Grenada

-

Bridgetown

-

St John's, Antigua

-

Fort Lauderdale

Serenade of the Seas | 12 nights

17 Nov 19

FREE centrally located handpicked hotel stay
Flights Included

£

1199

View Deal

Caribbean

Serenade of the Seas

Royal Caribbean International

Fort Lauderdale

-

Ponce

-

Basseterre

-

Castries

-

St Georges, Grenada

-

Bridgetown

-

St John's, Antigua

-

Fort Lauderdale

Southern Caribbean Explorer

Southampton

-

Castries

-

Bridgetown

-

Roseau

-

St John's, Antigua

-

Miami

Explorer of the Seas | 16 nights

05 Nov 19

FREE centrally located handpicked hotel stay
Flights Included

£

1199

View Deal

Caribbean, Transatlantic

Explorer of the Seas

Royal Caribbean International

Southampton

-

Castries

-

Bridgetown

-

Roseau

-

St John's, Antigua

-

Miami

Singapore & Far East Spices

Singapore

-

Laem Chabang

-

Phu My

-

Singapore

Quantum of the Seas | 11 nights

05 Jan 20

FREE centrally located handpicked hotel stay
Flights Included

£

1199

View Deal

Asia & Indian Ocean

Quantum of the Seas

Royal Caribbean International

Singapore

-

Laem Chabang

-

Phu My

-

Singapore

10nt San Juan & Southern Caribbean Sunsets

San Juan, Puerto Rico

-

Tortola

-

St John's, Antigua

-

Castries

-

Bridgetown

-

Punta Cana, Domnican Republic

-

San Juan, Puerto Rico

Vision of the Seas | 10 nights

15 Jan 20

FREE centrally located handpicked hotel stay
Flights Included

£

1199

View Deal

Caribbean

Vision of the Seas

Royal Caribbean International

San Juan, Puerto Rico

-

Tortola

-

St John's, Antigua

-

Castries

-

Bridgetown

-

Punta Cana, Domnican Republic

-

San Juan, Puerto Rico

Singapore,Spice Of Asia & Bali

Singapore

-

Port Klang

-

Penang

-

Phuket

-

Singapore

Quantum of the Seas | 14 nights

21 Nov 19

FREE centrally located handpicked hotel stay
Flights Included

£

1199

View Deal

Asia & Indian Ocean

Quantum of the Seas

Royal Caribbean International

Singapore

-

Port Klang

-

Penang

-

Phuket

-

Singapore

2nt Houston & 7nt Western Caribbean

Galveston

-

Roatan, Bay Islands

-

Puerto Costa Maya

-

Cozumel

-

Galveston

Liberty of the Seas | 9 nights

07 Jun 19

FREE centrally located handpicked hotel stay
Flights Included

£

1199

View Deal

Caribbean

Liberty of the Seas

Royal Caribbean International

Galveston

-

Roatan, Bay Islands

-

Puerto Costa Maya

-

Cozumel

-

Galveston

Caribbean Serenade & Sunsets

Fort Lauderdale

-

Labadee

-

San Juan, Puerto Rico

-

Charlotte Amalie

-

St John's, Antigua

-

Basseterre

-

Philipsburg, St Maarten

-

Fort Lauderdale

Serenade of the Seas | 11 nights

20 Feb 20

FREE centrally located handpicked hotel stay
Flights Included
Free Upgrade to Oceanview Cabin

£

1199

View Deal

Caribbean

Serenade of the Seas

Royal Caribbean International

Fort Lauderdale

-

Labadee

-

San Juan, Puerto Rico

-

Charlotte Amalie

-

St John's, Antigua

-

Basseterre

-

Philipsburg, St Maarten

-

Fort Lauderdale

Caribbean Serenade & Sunsets

Fort Lauderdale

-

Labadee

-

San Juan, Puerto Rico

-

Charlotte Amalie

-

St John's, Antigua

-

Basseterre

-

Philipsburg, St Maarten

-

Fort Lauderdale

Serenade of the Seas | 11 nights

09 Jan 20

FREE centrally located handpicked hotel stay
Flights Included
Free Upgrade to Oceanview Cabin

£

1199

View Deal

Caribbean

Serenade of the Seas

Royal Caribbean International

Fort Lauderdale

-

Labadee

-

San Juan, Puerto Rico

-

Charlotte Amalie

-

St John's, Antigua

-

Basseterre

-

Philipsburg, St Maarten

-

Fort Lauderdale

Big Apple for Easter

Cape Liberty, New Jersey

-

Halifax

-

Ponta Delgada, Azores

-

Cork, Ireland

-

Le Havre

-

Southampton

Anthem of the Seas | 14 nights

10 Apr 20

FREE centrally located handpicked hotel stay
Flights Included

£

1199

View Deal

North America, Transatlantic, United Kingdom

Anthem of the Seas

Royal Caribbean International

Cape Liberty, New Jersey

-

Halifax

-

Ponta Delgada, Azores

-

Cork, Ireland

-

Le Havre

-

Southampton

Orlando Magic & Caribbean Harmony

Port Canaveral

-

Philipsburg, St Maarten

-

San Juan, Puerto Rico

-

CocoCay

-

Port Canaveral

Harmony of the Seas | 11 nights

04 Mar 20

FREE centrally located handpicked hotel stay
Flights Included

£

1199

View Deal

Caribbean

Harmony of the Seas

Royal Caribbean International

Port Canaveral

-

Philipsburg, St Maarten

-

San Juan, Puerto Rico

-

CocoCay

-

Port Canaveral

4nts Lake Garda & 7nts Greek & Croatian Wonders

Rhapsody of the Seas | 11 nights

06 Aug 19

Pre-Cruise Flight Included

Pre-Cruise Hotel 4night(s) Included

Post-Cruise Flight Included

£

1199

View Deal

Europe, Mediterranean

Rhapsody of the Seas

Royal Caribbean International

Venice

-

Kotor

-

Dubrovnik

-

Santorini Island

-

Nice (Villefranche)

-

Venice

Mediterranean Tour

Southampton

-

Gibraltar

-

Alicante

-

Ibiza

-

Barcelona

-

Marseille

-

Lisbon

-

Cherbourg

-

Southampton

Explorer of the Seas | 13 nights

18 Aug 19

£

1204

View Deal

Europe, Mediterranean

Explorer of the Seas

Royal Caribbean International

Southampton

-

Gibraltar

-

Alicante

-

Ibiza

-

Barcelona

-

Marseille

-

Lisbon

-

Cherbourg

-

Southampton

Mediterranean Adventure

Southampton

-

Gibraltar

-

Cartagena, Spain

-

Barcelona

-

Palma De Mallorca

-

Valencia

-

Malaga

-

Seville

-

Lisbon

-

Southampton

Explorer of the Seas | 14 nights

21 Jul 19

£

1205

View Deal

Europe, Mediterranean

Explorer of the Seas

Royal Caribbean International

Southampton

-

Gibraltar

-

Cartagena, Spain

-

Barcelona

-

Palma De Mallorca

-

Valencia

-

Malaga

-

Seville

-

Lisbon

-

Southampton

10nt Southern Caribbean Adventure from San Juan

San Juan, Puerto Rico

-

Charlotte Amalie

-

Basseterre

-

St John's, Antigua

-

Castries

-

Bridgetown

-

San Juan, Puerto Rico

Freedom of the Seas | 10 nights

23 May 19

FREE centrally located handpicked hotel stay
Flights Included

£

1219

View Deal

Caribbean

Freedom of the Seas

Royal Caribbean International

San Juan, Puerto Rico

-

Charlotte Amalie

-

Basseterre

-

St John's, Antigua

-

Castries

-

Bridgetown

-

San Juan, Puerto Rico

2nt Houston & 7nt Western Caribbean

Galveston

-

Cozumel

-

George Town, Cayman Islands

-

Falmouth,Jamaica

-

Galveston

Liberty of the Seas | 9 nights

31 May 19

FREE centrally located handpicked hotel stay
Flights Included

£

1219

View Deal

Caribbean

Liberty of the Seas

Royal Caribbean International

Galveston

-

Cozumel

-

George Town, Cayman Islands

-

Falmouth,Jamaica

-

Galveston

9nt Miami & Western Caribbean Twist

Fort Lauderdale

-

Labadee

-

Falmouth,Jamaica

-

Cozumel

-

Fort Lauderdale

Oasis of the Seas | 9 nights

06 Nov 20

FREE centrally located handpicked hotel stay
Flights Included

£

1219

View Deal

Caribbean

Oasis of the Seas

Royal Caribbean International

Fort Lauderdale

-

Labadee

-

Falmouth,Jamaica

-

Cozumel

-

Fort Lauderdale

9nt Miami & Western Caribbean Twist

Fort Lauderdale

-

Labadee

-

Falmouth,Jamaica

-

Cozumel

-

Fort Lauderdale

Oasis of the Seas | 9 nights

04 Dec 20

FREE centrally located handpicked hotel stay
Flights Included

£

1219

View Deal

Caribbean

Oasis of the Seas

Royal Caribbean International

Fort Lauderdale

-

Labadee

-

Falmouth,Jamaica

-

Cozumel

-

Fort Lauderdale

3nt San Juan & 7nt Southern Caribbean

San Juan, Puerto Rico

-

Philipsburg, St Maarten

-

Basseterre

-

St John's, Antigua

-

Castries

-

Bridgetown

-

San Juan, Puerto Rico

Freedom of the Seas | 10 nights

09 May 19

FREE centrally located handpicked hotel stay
Flights Included

£

1229

View Deal

Caribbean

Freedom of the Seas

Royal Caribbean International

San Juan, Puerto Rico

-

Philipsburg, St Maarten

-

Basseterre

-

St John's, Antigua

-

Castries

-

Bridgetown

-

San Juan, Puerto Rico

3nt San Juan & 7nt Southern Caribbean

San Juan, Puerto Rico

-

Kralendijk,Bonaire

-

Oranjestad, Aruba

-

Willemstad, Curacao

-

Philipsburg, St Maarten

-

San Juan, Puerto Rico

Freedom of the Seas | 10 nights

03 Oct 19

FREE centrally located handpicked hotel stay
Flights Included
Free Upgrade to Oceanview Cabin

£

1229

View Deal

Caribbean

Freedom of the Seas

Royal Caribbean International

San Juan, Puerto Rico

-

Kralendijk,Bonaire

-

Oranjestad, Aruba

-

Willemstad, Curacao

-

Philipsburg, St Maarten

-

San Juan, Puerto Rico

9nt Eastern Caribbean & Perfect Day

Fort Lauderdale

-

Basseterre

-

Charlotte Amalie

-

CocoCay

-

Fort Lauderdale

Oasis of the Seas | 9 nights

13 Nov 20

FREE centrally located handpicked hotel stay
Flights Included

£

1229

View Deal

Caribbean

Oasis of the Seas

Royal Caribbean International

Fort Lauderdale

-

Basseterre

-

Charlotte Amalie

-

CocoCay

-

Fort Lauderdale

9nt Miami & Eastern Caribbean Twist

Fort Lauderdale

-

Philipsburg, St Maarten

-

San Juan, Puerto Rico

-

Labadee

-

Fort Lauderdale

Oasis of the Seas | 9 nights

27 Nov 20

FREE centrally located handpicked hotel stay
Flights Included

£

1229

View Deal

Caribbean

Oasis of the Seas

Royal Caribbean International

Fort Lauderdale

-

Philipsburg, St Maarten

-

San Juan, Puerto Rico

-

Labadee

-

Fort Lauderdale

New York & Quebec - Fall Foliage Northbound

Cape Liberty, New Jersey

-

Bar Harbor

-

Portland, Maine

-

St John, New Brunswick

-

Halifax

-

Sydney, Canada

-

Charlottetown

-

Quebec

Adventure of the Seas | 12 nights

04 Sep 19

FREE centrally located handpicked hotel stay
Flights Included

£

1249

View Deal

North America

Adventure of the Seas

Royal Caribbean International

Cape Liberty, New Jersey

-

Bar Harbor

-

Portland, Maine

-

St John, New Brunswick

-

Halifax

-

Sydney, Canada

-

Charlottetown

-

Quebec

1nt Barcelona, 10nt BCN to CPH & 1nt Copenhagen

Barcelona

-

Cartagena, Spain

-

Gibraltar

-

Lisbon

-

Le Havre

-

Brugge

-

Amsterdam

-

Copenhagen, Denmark

Jewel of the Seas | 12 nights

02 May 20

FREE centrally located handpicked hotel stay
Flights Included

£

1249

View Deal

Europe

Jewel of the Seas

Royal Caribbean International

Barcelona

-

Cartagena, Spain

-

Gibraltar

-

Lisbon

-

Le Havre

-

Brugge

-

Amsterdam

-

Copenhagen, Denmark

1nt Rome & 12nt Mediterranean Jewels

Rome (Civitavecchia)

-

Messina

-

Jerusalem

-

Haifa

-

Limassol

-

Rhodes

-

Ephesus

-

Athens (Piraeus)

-

Capri

-

Rome (Civitavecchia)

Jewel of the Seas | 13 nights

13 Nov 20

FREE centrally located handpicked hotel stay
Flights Included

£

1249

View Deal

Europe

Jewel of the Seas

Royal Caribbean International

Rome (Civitavecchia)

-

Messina

-

Jerusalem

-

Haifa

-

Limassol

-

Rhodes

-

Ephesus

-

Athens (Piraeus)

-

Capri

-

Rome (Civitavecchia)

2nt Tampa & 14nt Transatlatic & 1nt Barcelona

Tampa

-

King's Wharf, Bermuda

-

Ponta Delgada, Azores

-

Malaga

-

Alicante

-

Barcelona

Rhapsody of the Seas | 17 nights

16 Apr 20

FREE centrally located handpicked hotel stay
Flights Included

£

1249

View Deal

Bermuda

Rhapsody of the Seas

Royal Caribbean International

Tampa

-

King's Wharf, Bermuda

-

Ponta Delgada, Azores

-

Malaga

-

Alicante

-

Barcelona

Singapore,Spice Of Asia & Bali

Singapore

-

Port Klang

-

Penang

-

Phuket

-

Singapore

Quantum of the Seas | 14 nights

09 Mar 20

FREE centrally located handpicked hotel stay
Flights Included

£

1249

View Deal

Asia & Indian Ocean

Quantum of the Seas

Royal Caribbean International

Singapore

-

Port Klang

-

Penang

-

Phuket

-

Singapore

Canaries Adventure

Southampton

-

Vigo

-

Lisbon

-

Lanzarote

-

Gran Canaria

-

Tenerife

-

Funchal

-

La Coruna

-

Southampton

Independence of the Seas | 12 nights

14 Sep 19

£

1250

View Deal

Canaries, Europe

Independence of the Seas

Royal Caribbean International

Southampton

-

Vigo

-

Lisbon

-

Lanzarote

-

Gran Canaria

-

Tenerife

-

Funchal

-

La Coruna

-

Southampton

Canaries & Azores

Southampton

-

Ponta Delgada, Azores

-

Funchal

-

Gran Canaria

-

Tenerife

-

Lanzarote

-

Lisbon

-

Southampton

Explorer of the Seas | 13 nights

31 Aug 19

£

1250

View Deal

Canaries, Europe

Explorer of the Seas

Royal Caribbean International

Southampton

-

Ponta Delgada, Azores

-

Funchal

-

Gran Canaria

-

Tenerife

-

Lanzarote

-

Lisbon

-

Southampton

Italian Mediterranean

Southampton

-

Gibraltar

-

Nice (Villefranche)

-

La Spezia

-

Rome (Civitavecchia)

-

Capri

-

Cagliari

-

Seville

-

Southampton

Explorer of the Seas | 14 nights

09 Jun 19

£

1251

View Deal

Europe, Mediterranean

Explorer of the Seas

Royal Caribbean International

Southampton

-

Gibraltar

-

Nice (Villefranche)

-

La Spezia

-

Rome (Civitavecchia)

-

Capri

-

Cagliari

-

Seville

-

Southampton

10nt Southern Caribbean Adventure from San Juan

San Juan, Puerto Rico

-

Charlotte Amalie

-

Basseterre

-

St John's, Antigua

-

Castries

-

Bridgetown

-

San Juan, Puerto Rico

Freedom of the Seas | 10 nights

12 Sep 19

FREE centrally located handpicked hotel stay
Flights Included

£

1269

View Deal

Caribbean

Freedom of the Seas

Royal Caribbean International

San Juan, Puerto Rico

-

Charlotte Amalie

-

Basseterre

-

St John's, Antigua

-

Castries

-

Bridgetown

-

San Juan, Puerto Rico

3nt San Juan & 7nt Southern Caribbean

San Juan, Puerto Rico

-

Oranjestad, Aruba

-

Willemstad, Curacao

-

Kralendijk,Bonaire

-

Philipsburg, St Maarten

-

San Juan, Puerto Rico

Freedom of the Seas | 10 nights

30 May 19

FREE centrally located handpicked hotel stay
Flights Included

£

1269

View Deal

Caribbean

Freedom of the Seas

Royal Caribbean International

San Juan, Puerto Rico

-

Oranjestad, Aruba

-

Willemstad, Curacao

-

Kralendijk,Bonaire

-

Philipsburg, St Maarten

-

San Juan, Puerto Rico

2nt New York & 7nt Bahamas & Perfect Day

Cape Liberty, New Jersey

-

Port Canaveral

-

CocoCay

-

Nassau

-

Cape Liberty, New Jersey

Anthem of the Seas | 9 nights

21 Feb 20

FREE centrally located handpicked hotel stay
Flights Included
FREE Shore Excursions

£

1269

View Deal

Bahamas

Anthem of the Seas

Royal Caribbean International

Cape Liberty, New Jersey

-

Port Canaveral

-

CocoCay

-

Nassau

-

Cape Liberty, New Jersey

2nt Fort Lauderdale & 8nt Caribbean Adventure

Fort Lauderdale

-

Willemstad, Curacao

-

Kralendijk,Bonaire

-

Oranjestad, Aruba

-

Fort Lauderdale

Adventure of the Seas | 10 nights

30 Jan 20

FREE centrally located handpicked hotel stay
Flights Included

£

1279

View Deal

Caribbean

Adventure of the Seas

Royal Caribbean International

Fort Lauderdale

-

Willemstad, Curacao

-

Kralendijk,Bonaire

-

Oranjestad, Aruba

-

Fort Lauderdale

2nt New York & 7nt Bahamas & Perfect Day

Cape Liberty, New Jersey

-

Port Canaveral

-

CocoCay

-

Nassau

-

Cape Liberty, New Jersey

Anthem of the Seas | 9 nights

28 Feb 20

FREE centrally located handpicked hotel stay
Flights Included

£

1279

View Deal

Bahamas

Anthem of the Seas

Royal Caribbean International

Cape Liberty, New Jersey

-

Port Canaveral

-

CocoCay

-

Nassau

-

Cape Liberty, New Jersey

3nt San Juan & 7nt Southern Caribbean

San Juan, Puerto Rico

-

Philipsburg, St Maarten

-

Basseterre

-

St John's, Antigua

-

Castries

-

Bridgetown

-

San Juan, Puerto Rico

Freedom of the Seas | 10 nights

06 Jun 19

FREE centrally located handpicked hotel stay
Flights Included

£

1279

View Deal

Caribbean

Freedom of the Seas

Royal Caribbean International

San Juan, Puerto Rico

-

Philipsburg, St Maarten

-

Basseterre

-

St John's, Antigua

-

Castries

-

Bridgetown

-

San Juan, Puerto Rico

3nt San Juan & 7nt Southern Caribbean

San Juan, Puerto Rico

-

Oranjestad, Aruba

-

Willemstad, Curacao

-

Kralendijk,Bonaire

-

Philipsburg, St Maarten

-

San Juan, Puerto Rico

Freedom of the Seas | 10 nights

17 Oct 19

FREE centrally located handpicked hotel stay
Flights Included

£

1279

View Deal

Caribbean

Freedom of the Seas

Royal Caribbean International

San Juan, Puerto Rico

-

Oranjestad, Aruba

-

Willemstad, Curacao

-

Kralendijk,Bonaire

-

Philipsburg, St Maarten

-

San Juan, Puerto Rico

8nt Southeast Coast & Bahamas with Stays

Baltimore

-

Port Canaveral

-

CocoCay

-

Nassau

-

Baltimore

Grandeur of the Seas | 12 nights

27 Oct 19

FREE centrally located handpicked hotel stay
Flights Included

£

1279

View Deal

North America, Bahamas

Grandeur of the Seas

Royal Caribbean International

Baltimore

-

Port Canaveral

-

CocoCay

-

Nassau

-

Baltimore

Classic Caribbean

Fort Lauderdale

-

Ponce

-

Basseterre

-

Castries

-

St Georges, Grenada

-

Bridgetown

-

St John's, Antigua

-

Fort Lauderdale

Serenade of the Seas | 12 nights

29 Dec 19

FREE centrally located handpicked hotel stay
Flights Included

£

1279

View Deal

Caribbean

Serenade of the Seas

Royal Caribbean International

Fort Lauderdale

-

Ponce

-

Basseterre

-

Castries

-

St Georges, Grenada

-

Bridgetown

-

St John's, Antigua

-

Fort Lauderdale

20nt Suez Canal with Rome and Dubai Stays

Rome (Civitavecchia)

-

Messina

-

Athens (Piraeus)

-

Santorini Island

-

Aqaba

-

Muscat

-

Khasab

-

Dubai

Jewel of the Seas | 20 nights

28 Nov 19

FREE centrally located handpicked hotel stay
Flights Included

£

1299

View Deal

Europe, Dubai & Emirates

Jewel of the Seas

Royal Caribbean International

Rome (Civitavecchia)

-

Messina

-

Athens (Piraeus)

-

Santorini Island

-

Aqaba

-

Muscat

-

Khasab

-

Dubai

Quebec to New York - Fall Foliage Southbound

Quebec

-

Charlottetown

-

Sydney, Canada

-

Halifax

-

St John, New Brunswick

-

Portland, Maine

-

Bar Harbor

-

Boston, USA

-

Cape Liberty, New Jersey

Adventure of the Seas | 13 nights

14 Sep 19

FREE centrally located handpicked hotel stay
Flights Included

£

1299

View Deal

North America

Adventure of the Seas

Royal Caribbean International

Quebec

-

Charlottetown

-

Sydney, Canada

-

Halifax

-

St John, New Brunswick

-

Portland, Maine

-

Bar Harbor

-

Boston, USA

-

Cape Liberty, New Jersey

2nt New York & 7nt Bahamas & Perfect Day

Cape Liberty, New Jersey

-

Port Canaveral

-

CocoCay

-

Nassau

-

Cape Liberty, New Jersey

Anthem of the Seas | 9 nights

20 Mar 20

FREE centrally located handpicked hotel stay
Flights Included

£

1299

View Deal

Bahamas

Anthem of the Seas

Royal Caribbean International

Cape Liberty, New Jersey

-

Port Canaveral

-

CocoCay

-

Nassau

-

Cape Liberty, New Jersey

1nt Copenhagen & 11nt Mediterranean Jewels

Copenhagen, Denmark

-

Stavanger, Norway

-

Tromso, Norway

-

Honningsvaag

-

Alesund

-

Flam

-

Geiranger

-

Copenhagen, Denmark

Jewel of the Seas | 12 nights

06 Jun 20

FREE centrally located handpicked hotel stay
Flights Included

£

1299

View Deal

Scandinavia

Jewel of the Seas

Royal Caribbean International

Copenhagen, Denmark

-

Stavanger, Norway

-

Tromso, Norway

-

Honningsvaag

-

Alesund

-

Flam

-

Geiranger

-

Copenhagen, Denmark

1nt Copenhagen, 10nt CPH to STO & 1nt Stockholm

Copenhagen, Denmark

-

Warnemunde

-

Tallinn, Estonia

-

St Petersburg, Russia

-

Helsinki, Finland

-

Visby, Sweden

-

Riga

-

Stockholm, Sweden

Jewel of the Seas | 12 nights

17 Jun 20

FREE centrally located handpicked hotel stay
Flights Included

£

1299

View Deal

Scandinavia, Baltic, Russia

Jewel of the Seas

Royal Caribbean International

Copenhagen, Denmark

-

Warnemunde

-

Tallinn, Estonia

-

St Petersburg, Russia

-

Helsinki, Finland

-

Visby, Sweden

-

Riga

-

Stockholm, Sweden

7nt Bahamas with New York & Baltimore Stays

Baltimore

-

Port Canaveral

-

CocoCay

-

Nassau

-

Baltimore

Grandeur of the Seas | 11 nights

12 Nov 19

FREE centrally located handpicked hotel stay
Flights Included

£

1299

View Deal

Bahamas

Grandeur of the Seas

Royal Caribbean International

Baltimore

-

Port Canaveral

-

CocoCay

-

Nassau

-

Baltimore

Caribbean Transatlantic & Fort Lauderdale 2nt Stay

Southampton

-

Philipsburg, St Maarten

-

Charlotte Amalie

-

San Juan, Puerto Rico

-

Labadee

-

Fort Lauderdale

Independence of the Seas | 16 nights

26 Oct 19

FREE centrally located handpicked hotel stay
Flights Included

£

1299

View Deal

Caribbean, Transatlantic

Independence of the Seas

Royal Caribbean International

Southampton

-

Philipsburg, St Maarten

-

Charlotte Amalie

-

San Juan, Puerto Rico

-

Labadee

-

Fort Lauderdale

2nt Houston & 7nt Western Caribbean

Galveston

-

Cozumel

-

George Town, Cayman Islands

-

Falmouth,Jamaica

-

Galveston

Liberty of the Seas | 9 nights

14 Jun 19

FREE centrally located handpicked hotel stay
Flights Included

£

1299

View Deal

Caribbean

Liberty of the Seas

Royal Caribbean International

Galveston

-

Cozumel

-

George Town, Cayman Islands

-

Falmouth,Jamaica

-

Galveston

2nt Houston & 7nt Western Caribbean

Galveston

-

Cozumel

-

George Town, Cayman Islands

-

Falmouth,Jamaica

-

Galveston

Liberty of the Seas | 9 nights

21 Jun 19

FREE centrally located handpicked hotel stay
Flights Included

£

1299

View Deal

Caribbean

Liberty of the Seas

Royal Caribbean International

Galveston

-

Cozumel

-

George Town, Cayman Islands

-

Falmouth,Jamaica

-

Galveston

9nt Western Caribbean & Perfect Day

Fort Lauderdale

-

Cozumel

-

Roatan, Bay Islands

-

Costa Maya

-

CocoCay

-

Fort Lauderdale

Oasis of the Seas | 9 nights

20 Nov 20

FREE centrally located handpicked hotel stay
Flights Included

£

1299

View Deal

Caribbean

Oasis of the Seas

Royal Caribbean International

Fort Lauderdale

-

Cozumel

-

Roatan, Bay Islands

-

Costa Maya

-

CocoCay

-

Fort Lauderdale

2nts Rome & 7nts Med Jewels

Jewel of the Seas | 9 nights

12 Jul 19

Pre-Cruise Flight Included

Pre-Cruise Hotel 2night(s) Included

Post-Cruise Flight Included

£

1299

View Deal

Mediterranean

Jewel of the Seas

Royal Caribbean International

Rome (Civitavecchia)

-

Cartagena, Spain

-

Barcelona

-

Palma De Mallorca

-

Ajaccio

-

Portofino

-

Rome (Civitavecchia)

Sunshine In The Canaries

Southampton

-

Funchal

-

Tenerife

-

Gran Canaria

-

Lanzarote

-

Vigo

-

Southampton

Anthem of the Seas | 10 nights

17 Oct 20

£

1312

View Deal

Canaries, Europe

Anthem of the Seas

Royal Caribbean International

Southampton

-

Funchal

-

Tenerife

-

Gran Canaria

-

Lanzarote

-

Vigo

-

Southampton

3nt San Juan & 7nt Southern Caribbean

San Juan, Puerto Rico

-

Oranjestad, Aruba

-

Willemstad, Curacao

-

Kralendijk,Bonaire

-

Philipsburg, St Maarten

-

San Juan, Puerto Rico

Freedom of the Seas | 10 nights

05 Sep 19

FREE centrally located handpicked hotel stay
Flights Included

£

1319

View Deal

Caribbean

Freedom of the Seas

Royal Caribbean International

San Juan, Puerto Rico

-

Oranjestad, Aruba

-

Willemstad, Curacao

-

Kralendijk,Bonaire

-

Philipsburg, St Maarten

-

San Juan, Puerto Rico

A Fusion of the Far East Hong Kong & Vietnam

Hong Kong Kai Tak

-

Hue/Danang (Chan May)

-

Nha Trang

-

Hong Kong Kai Tak

Voyager of the Seas | 11 nights

15 Jul 19

FREE centrally located handpicked hotel stay
Flights Included

£

1319

View Deal

Asia & Indian Ocean

Voyager of the Seas

Royal Caribbean International

Hong Kong Kai Tak

-

Hue/Danang (Chan May)

-

Nha Trang

-

Hong Kong Kai Tak

3nt San Juan & 7nt Southern Caribbean

San Juan, Puerto Rico

-

Oranjestad, Aruba

-

Willemstad, Curacao

-

Kralendijk,Bonaire

-

Philipsburg, St Maarten

-

San Juan, Puerto Rico

Freedom of the Seas | 10 nights

22 Aug 19

FREE centrally located handpicked hotel stay
Flights Included
Free Upgrade to Oceanview Cabin

£

1319

View Deal

Caribbean

Freedom of the Seas

Royal Caribbean International

San Juan, Puerto Rico

-

Oranjestad, Aruba

-

Willemstad, Curacao

-

Kralendijk,Bonaire

-

Philipsburg, St Maarten

-

San Juan, Puerto Rico

Mediterranean Tour

Southampton

-

Malaga

-

Nice (Villefranche)

-

Barcelona

-

Alicante

-

Gibraltar

-

Vigo

-

Southampton

Independence of the Seas | 12 nights

31 Aug 20

£

1327

View Deal

Europe, Mediterranean

Independence of the Seas

Royal Caribbean International

Southampton

-

Malaga

-

Nice (Villefranche)

-

Barcelona

-

Alicante

-

Gibraltar

-

Vigo

-

Southampton

Caribbean To The Big Apple

Fort Lauderdale

-

Oranjestad, Aruba

-

Willemstad, Curacao

-

Kralendijk,Bonaire

-

St John's, Antigua

-

Charlotte Amalie

-

Cape Liberty, New Jersey

Adventure of the Seas | 14 nights

03 May 19

FREE centrally located handpicked hotel stay
Flights Included

£

1329

View Deal

Caribbean, North America

Adventure of the Seas

Royal Caribbean International

Fort Lauderdale

-

Oranjestad, Aruba

-

Willemstad, Curacao

-

Kralendijk,Bonaire

-

St John's, Antigua

-

Charlotte Amalie

-

Cape Liberty, New Jersey

Miami & Caribbean Explorer

Miami

-

Labadee

-

Kralendijk,Bonaire

-

Oranjestad, Aruba

-

Willemstad, Curacao

-

Miami

Explorer of the Seas | 11 nights

19 Feb 20

FREE centrally located handpicked hotel stay
Flights Included

£

1329

View Deal

Caribbean

Explorer of the Seas

Royal Caribbean International

Miami

-

Labadee

-

Kralendijk,Bonaire

-

Oranjestad, Aruba

-

Willemstad, Curacao

-

Miami

2nt New York & 7nt Bahamas & Perfect Day

Cape Liberty, New Jersey

-

Port Canaveral

-

CocoCay

-

Nassau

-

Cape Liberty, New Jersey

Anthem of the Seas | 9 nights

13 Mar 20

FREE centrally located handpicked hotel stay
Flights Included

£

1329

View Deal

Bahamas

Anthem of the Seas

Royal Caribbean International

Cape Liberty, New Jersey

-

Port Canaveral

-

CocoCay

-

Nassau

-

Cape Liberty, New Jersey

Boston & Caribbean Beaches

Boston, USA

-

Philipsburg, St Maarten

-

St John's, Antigua

-

Bridgetown

-

Oranjestad, Aruba

-

Willemstad, Curacao

-

Fort Lauderdale

Serenade of the Seas | 14 nights

26 Oct 19

FREE centrally located handpicked hotel stay
Flights Included
Free Upgrade to Oceanview Cabin

£

1329

View Deal

Caribbean, North America

Serenade of the Seas

Royal Caribbean International

Boston, USA

-

Philipsburg, St Maarten

-

St John's, Antigua

-

Bridgetown

-

Oranjestad, Aruba

-

Willemstad, Curacao

-

Fort Lauderdale

2nt Houston & 7nt Western Caribbean

Galveston

-

Roatan, Bay Islands

-

Puerto Costa Maya

-

Cozumel

-

Galveston

Liberty of the Seas | 9 nights

05 Jul 19

FREE centrally located handpicked hotel stay
Flights Included

£

1329

View Deal

Caribbean

Liberty of the Seas

Royal Caribbean International

Galveston

-

Roatan, Bay Islands

-

Puerto Costa Maya

-

Cozumel

-

Galveston

Mediterranean Treasures

Southampton

-

Vigo

-

Gibraltar

-

Cannes

-

Barcelona

-

Alicante

-

Malaga

-

Southampton

Independence of the Seas | 12 nights

31 May 20

£

1345

View Deal

Europe, Mediterranean

Independence of the Seas

Royal Caribbean International

Southampton

-

Vigo

-

Gibraltar

-

Cannes

-

Barcelona

-

Alicante

-

Malaga

-

Southampton

Canary Islands

Southampton

-

Funchal

-

Tenerife

-

Gran Canaria

-

Lanzarote

-

Vigo

-

Southampton

Explorer of the Seas | 10 nights

14 May 19

£

1346

View Deal

Canaries, Europe

Explorer of the Seas

Royal Caribbean International

Southampton

-

Funchal

-

Tenerife

-

Gran Canaria

-

Lanzarote

-

Vigo

-

Southampton

Italian Mediterranean

Southampton

-

Gibraltar

-

Nice (Villefranche)

-

La Spezia

-

Rome (Civitavecchia)

-

Capri

-

Cagliari

-

Seville

-

Southampton

Independence of the Seas | 14 nights

13 Jul 19

£

1347

View Deal

Europe, Mediterranean

Independence of the Seas

Royal Caribbean International

Southampton

-

Gibraltar

-

Nice (Villefranche)

-

La Spezia

-

Rome (Civitavecchia)

-

Capri

-

Cagliari

-

Seville

-

Southampton

Canaries Adventure

Southampton

-

Vigo

-

Lisbon

-

Seville

-

Lanzarote

-

Gran Canaria

-

Tenerife

-

La Palma, Canary Islands

-

Funchal

-

La Coruna

-

Southampton

Independence of the Seas | 14 nights

29 Jun 19

£

1347

View Deal

Canaries, Europe

Independence of the Seas

Royal Caribbean International

Southampton

-

Vigo

-

Lisbon

-

Seville

-

Lanzarote

-

Gran Canaria

-

Tenerife

-

La Palma, Canary Islands

-

Funchal

-

La Coruna

-

Southampton

Spanish Mediterranean

Southampton

-

Vigo

-

Lisbon

-

Gibraltar

-

Palma De Mallorca

-

Barcelona

-

Ibiza

-

Valencia

-

Malaga

-

Seville

-

Southampton

Independence of the Seas | 14 nights

10 Aug 19

£

1348

View Deal

Europe, Mediterranean, Iberian Peninsula

Independence of the Seas

Royal Caribbean International

Southampton

-

Vigo

-

Lisbon

-

Gibraltar

-

Palma De Mallorca

-

Barcelona

-

Ibiza

-

Valencia

-

Malaga

-

Seville

-

Southampton

3nt San Juan & 7nt Southern Caribbean

San Juan, Puerto Rico

-

Oranjestad, Aruba

-

Willemstad, Curacao

-

Kralendijk,Bonaire

-

Philipsburg, St Maarten

-

San Juan, Puerto Rico

Freedom of the Seas | 10 nights

13 Jun 19

FREE centrally located handpicked hotel stay
Flights Included
Free Upgrade to Oceanview Cabin

£

1349

View Deal

Caribbean

Freedom of the Seas

Royal Caribbean International

San Juan, Puerto Rico

-

Oranjestad, Aruba

-

Willemstad, Curacao

-

Kralendijk,Bonaire

-

Philipsburg, St Maarten

-

San Juan, Puerto Rico

9nt Miami & Eastern Caribbean Twist

Fort Lauderdale

-

Philipsburg, St Maarten

-

San Juan, Puerto Rico

-

Labadee

-

Fort Lauderdale

Oasis of the Seas | 9 nights

22 Jan 21

FREE centrally located handpicked hotel stay
Flights Included

£

1349

View Deal

Caribbean

Oasis of the Seas

Royal Caribbean International

Fort Lauderdale

-

Philipsburg, St Maarten

-

San Juan, Puerto Rico

-

Labadee

-

Fort Lauderdale

France & Spain

Southampton

-

Le Havre

-

Gijon

-

Lisbon

-

Bilbao

-

Southampton

Independence of the Seas | 9 nights

22 Aug 20

£

1365

View Deal

Europe, Mediterranean

Independence of the Seas

Royal Caribbean International

Southampton

-

Le Havre

-

Gijon

-

Lisbon

-

Bilbao

-

Southampton

1nt Amsterdam,10nt Cruise & 2nts Barcelona

Amsterdam

-

Bilbao

-

La Coruna

-

Leixoes

-

Lisbon

-

Cartagena, Spain

-

Ibiza

-

Barcelona

Brilliance of the Seas | 13 nights

03 Sep 19

FREE centrally located handpicked hotel stay
Flights Included

£

1369

View Deal

Iberian Peninsula

Brilliance of the Seas

Royal Caribbean International

Amsterdam

-

Bilbao

-

La Coruna

-

Leixoes

-

Lisbon

-

Cartagena, Spain

-

Ibiza

-

Barcelona

Singapore & Far East Gems

Singapore

-

Port Klang

-

Malacca

-

Singapore

-

Penang

-

Langkawi

-

Phuket

-

Singapore

Voyager of the Seas | 12 nights

17 Jun 19

FREE centrally located handpicked hotel stay
Flights Included

£

1369

View Deal

Asia & Indian Ocean

Voyager of the Seas

Royal Caribbean International

Singapore

-

Port Klang

-

Malacca

-

Singapore

-

Penang

-

Langkawi

-

Phuket

-

Singapore

Canada New England with Boston & Big Apple

Cape Liberty, New Jersey

-

Bar Harbor

-

St John, New Brunswick

-

Halifax

-

Cape Liberty, New Jersey

Adventure of the Seas | 11 nights

26 Aug 19

FREE centrally located handpicked hotel stay
Flights Included

£

1369

View Deal

North America

Adventure of the Seas

Royal Caribbean International

Cape Liberty, New Jersey

-

Bar Harbor

-

St John, New Brunswick

-

Halifax

-

Cape Liberty, New Jersey

10nt Southern Caribbean Adventure from San Juan

San Juan, Puerto Rico

-

Charlotte Amalie

-

Basseterre

-

St John's, Antigua

-

Castries

-

Bridgetown

-

San Juan, Puerto Rico

Freedom of the Seas | 10 nights

20 Jun 19

FREE centrally located handpicked hotel stay
Flights Included

£

1369

View Deal

Caribbean

Freedom of the Seas

Royal Caribbean International

San Juan, Puerto Rico

-

Charlotte Amalie

-

Basseterre

-

St John's, Antigua

-

Castries

-

Bridgetown

-

San Juan, Puerto Rico

3nt San Juan & 7nt Southern Caribbean

San Juan, Puerto Rico

-

Oranjestad, Aruba

-

Willemstad, Curacao

-

Kralendijk,Bonaire

-

Philipsburg, St Maarten

-

San Juan, Puerto Rico

Freedom of the Seas | 10 nights

16 May 19

FREE centrally located handpicked hotel stay
Flights Included

£

1369

View Deal

Caribbean

Freedom of the Seas

Royal Caribbean International

San Juan, Puerto Rico

-

Oranjestad, Aruba

-

Willemstad, Curacao

-

Kralendijk,Bonaire

-

Philipsburg, St Maarten

-

San Juan, Puerto Rico

15nt Northern Europe with Copenhagen & Barcelona

Copenhagen, Denmark

-

Kristiansund

-

Oslo

-

Bergen, Norway

-

Le Havre

-

La Coruna

-

Vigo

-

Lisbon

-

Gibraltar

-

Barcelona

Jewel of the Seas | 15 nights

22 Aug 20

FREE centrally located handpicked hotel stay
Flights Included

£

1369

View Deal

Europe, Scandinavia

Jewel of the Seas

Royal Caribbean International

Copenhagen, Denmark

-

Kristiansund

-

Oslo

-

Bergen, Norway

-

Le Havre

-

La Coruna

-

Vigo

-

Lisbon

-

Gibraltar

-

Barcelona

2nt Houston & 7nt Western Carribbean Wonders

Galveston

-

Roatan, Bay Islands

-

Belize

-

Cozumel

-

Galveston

Liberty of the Seas | 9 nights

22 Nov 19

FREE centrally located handpicked hotel stay
Flights Included

£

1369

View Deal

Caribbean

Liberty of the Seas

Royal Caribbean International

Galveston

-

Roatan, Bay Islands

-

Belize

-

Cozumel

-

Galveston

9nt Eastern Caribbean & Perfect Day

Fort Lauderdale

-

Basseterre

-

Charlotte Amalie

-

CocoCay

-

Fort Lauderdale

Oasis of the Seas | 9 nights

11 Dec 20

FREE centrally located handpicked hotel stay
Flights Included

£

1369

View Deal

Caribbean

Oasis of the Seas

Royal Caribbean International

Fort Lauderdale

-

Basseterre

-

Charlotte Amalie

-

CocoCay

-

Fort Lauderdale

Mediterranean Cities

Southampton

-

Gibraltar

-

Cannes

-

Barcelona

-

Valencia

-

Malaga

-

Lisbon

-

Vigo

-

Southampton

Independence of the Seas | 14 nights

01 Jun 19

£

1379

View Deal

Europe, Mediterranean

Independence of the Seas

Royal Caribbean International

Southampton

-

Gibraltar

-

Cannes

-

Barcelona

-

Valencia

-

Malaga

-

Lisbon

-

Vigo

-

Southampton

2nt New York & 8nt Bahamas & Perfect Day

Cape Liberty, New Jersey

-

Port Canaveral

-

Nassau

-

CocoCay

-

Cape Liberty, New Jersey

Anthem of the Seas | 10 nights

13 Feb 20

£

1379

View Deal

Bahamas

Anthem of the Seas

Royal Caribbean International

Cape Liberty, New Jersey

-

Port Canaveral

-

Nassau

-

CocoCay

-

Cape Liberty, New Jersey

3nt San Juan & 7nt Southern Caribbean

San Juan, Puerto Rico

-

Oranjestad, Aruba

-

Willemstad, Curacao

-

Kralendijk,Bonaire

-

Philipsburg, St Maarten

-

San Juan, Puerto Rico

Freedom of the Seas | 10 nights

27 Jun 19

FREE centrally located handpicked hotel stay
Flights Included

£

1379

View Deal

Caribbean

Freedom of the Seas

Royal Caribbean International

San Juan, Puerto Rico

-

Oranjestad, Aruba

-

Willemstad, Curacao

-

Kralendijk,Bonaire

-

Philipsburg, St Maarten

-

San Juan, Puerto Rico

2nt Houston & 7nt Western Caribbean

Galveston

-

Cozumel

-

George Town, Cayman Islands

-

Falmouth,Jamaica

-

Galveston

Liberty of the Seas | 9 nights

28 Jun 19

FREE centrally located handpicked hotel stay
Flights Included

£

1379

View Deal

Caribbean

Liberty of the Seas

Royal Caribbean International

Galveston

-

Cozumel

-

George Town, Cayman Islands

-

Falmouth,Jamaica

-

Galveston

Rome 2nts Stay + 12nts Greek Isles & Italy

Rome (Civitavecchia)

-

Limassol

-

Ashdod

-

Haifa

-

Ephesus

-

Athens (Piraeus)

-

Salerno

-

Rome (Civitavecchia)

Explorer of the Seas | 14 nights

23 Oct 20

FREE centrally located handpicked hotel stay
Flights Included

£

1379

View Deal

Europe, Mediterranean

Explorer of the Seas

Royal Caribbean International

Rome (Civitavecchia)

-

Limassol

-

Ashdod

-

Haifa

-

Ephesus

-

Athens (Piraeus)

-

Salerno

-

Rome (Civitavecchia)

9nt Eastern Caribbean & Perfect Day

Fort Lauderdale

-

Basseterre

-

Charlotte Amalie

-

CocoCay

-

Fort Lauderdale

Oasis of the Seas | 9 nights

05 Feb 21

FREE centrally located handpicked hotel stay
Flights Included

£

1379

View Deal

Caribbean

Oasis of the Seas

Royal Caribbean International

Fort Lauderdale

-

Basseterre

-

Charlotte Amalie

-

CocoCay

-

Fort Lauderdale

Italian Mediterranean

Southampton

-

Malaga

-

Nice (Villefranche)

-

La Spezia

-

Rome (Civitavecchia)

-

Cagliari

-

Gibraltar

-

Southampton

Anthem of the Seas | 13 nights

04 Oct 20

£

1387

View Deal

Europe, Mediterranean

Anthem of the Seas

Royal Caribbean International

Southampton

-

Malaga

-

Nice (Villefranche)

-

La Spezia

-

Rome (Civitavecchia)

-

Cagliari

-

Gibraltar

-

Southampton

Italian Mediterranean

Southampton

-

Gibraltar

-

Nice (Villefranche)

-

La Spezia

-

Rome (Civitavecchia)

-

Capri

-

Cagliari

-

Seville

-

Southampton

Independence of the Seas | 14 nights

15 Jun 19

£

1393

View Deal

Europe, Mediterranean

Independence of the Seas

Royal Caribbean International

Southampton

-

Gibraltar

-

Nice (Villefranche)

-

La Spezia

-

Rome (Civitavecchia)

-

Capri

-

Cagliari

-

Seville

-

Southampton

Bermuda Cruise with Stay and Broadway Show

Baltimore

-

King's Wharf, Bermuda

-

Baltimore

Grandeur of the Seas | 10 nights

28 Aug 19

FREE centrally located handpicked hotel stay
Flights Included

£

1399

View Deal

Bermuda

Grandeur of the Seas

Royal Caribbean International

Baltimore

-

King's Wharf, Bermuda

-

Baltimore

Bermuda Cruise with Stays and Broadway Show

Baltimore

-

King's Wharf, Bermuda

-

Baltimore

Grandeur of the Seas | 10 nights

09 Oct 19

FREE centrally located handpicked hotel stay
Flights Included

£

1399

View Deal

Bermuda

Grandeur of the Seas

Royal Caribbean International

Baltimore

-

King's Wharf, Bermuda

-

Baltimore

The Ultimate Tour Of Malaysia

Singapore

-

Port Klang

-

Singapore

-

Penang

-

Singapore

Spectrum of the Seas | 11 nights

14 May 19

FREE centrally located handpicked hotel stay
Flights Included
Free Balcony Upgrade
Brand New Ship!
All Inclusive Cruise!

£

1399

View Deal

Asia & Indian Ocean

Spectrum of the Seas

Royal Caribbean International

Singapore

-

Port Klang

-

Singapore

-

Penang

-

Singapore

Japan, Philippines & Hong Kong

Hong Kong Kai Tak

-

Okinawa

-

Ishigaki Island

-

Subic

-

Hong Kong Kai Tak

Voyager of the Seas | 11 nights

13 Aug 19

FREE centrally located handpicked hotel stay
Flights Included

£

1399

View Deal

Asia & Indian Ocean

Voyager of the Seas

Royal Caribbean International

Hong Kong Kai Tak

-

Okinawa

-

Ishigaki Island

-

Subic

-

Hong Kong Kai Tak

New York & Quebec - Fall Foliage Northbound

Cape Liberty, New Jersey

-

Bar Harbor

-

Portland, Maine

-

St John, New Brunswick

-

Halifax

-

Charlottetown

-

Quebec

Adventure of the Seas | 12 nights

25 Sep 19

FREE centrally located handpicked hotel stay
Flights Included

£

1399

View Deal

North America

Adventure of the Seas

Royal Caribbean International

Cape Liberty, New Jersey

-

Bar Harbor

-

Portland, Maine

-

St John, New Brunswick

-

Halifax

-

Charlottetown

-

Quebec

Caribbean Transatlantic

Fort Lauderdale

-

Labadee

-

San Juan, Puerto Rico

-

Charlotte Amalie

-

Basseterre

-

Cork, Ireland

-

Southampton

Independence of the Seas | 16 nights

01 May 20

FREE centrally located handpicked hotel stay
Flights Included

£

1399

View Deal

Caribbean, Transatlantic, United Kingdom

Independence of the Seas

Royal Caribbean International

Fort Lauderdale

-

Labadee

-

San Juan, Puerto Rico

-

Charlotte Amalie

-

Basseterre

-

Cork, Ireland

-

Southampton

New Year in Singapore & Spice Of Asia

Singapore

-

Malacca

-

Port Klang

-

Penang

-

Phuket

-

Singapore

Quantum of the Seas | 11 nights

29 Dec 19

FREE centrally located handpicked hotel stay
Flights Included

£

1399

View Deal

Asia & Indian Ocean

Quantum of the Seas

Royal Caribbean International

Singapore

-

Malacca

-

Port Klang

-

Penang

-

Phuket

-

Singapore

10nt San Juan & Southern Caribbean Sunsets

San Juan, Puerto Rico

-

Bridgetown

-

St Georges, Grenada

-

Roseau

-

Philipsburg, St Maarten

-

Charlotte Amalie

-

San Juan, Puerto Rico

Vision of the Seas | 10 nights

01 Apr 20

FREE centrally located handpicked hotel stay
Flights Included

£

1399

View Deal

Caribbean

Vision of the Seas

Royal Caribbean International

San Juan, Puerto Rico

-

Bridgetown

-

St Georges, Grenada

-

Roseau

-

Philipsburg, St Maarten

-

Charlotte Amalie

-

San Juan, Puerto Rico

Rome 2nt Stay + 14nt Rome to Miami + Miami Stay

Rome (Civitavecchia)

-

Valencia

-

Malaga

-

Seville

-

Nassau

-

Miami

Explorer of the Seas | 14 nights

04 Nov 20

FREE centrally located handpicked hotel stay
Flights Included

£

1399

View Deal

Europe, Mediterranean

Explorer of the Seas

Royal Caribbean International

Rome (Civitavecchia)

-

Valencia

-

Malaga

-

Seville

-

Nassau

-

Miami

10nt Hong Kong, Okinawa & Ishigaki

Hong Kong Kai Tak

-

Okinawa

-

Ishigaki Island

-

Hong Kong Kai Tak

Voyager of the Seas | 10 nights

21 Jul 19

FREE centrally located handpicked hotel stay
Flights Included

£

1399

View Deal

Asia & Indian Ocean

Voyager of the Seas

Royal Caribbean International

Hong Kong Kai Tak

-

Okinawa

-

Ishigaki Island

-

Hong Kong Kai Tak

2nts Amsterdam with 12nts British Isles

Amsterdam

-

Inverness

-

Greenock (Glasgow)

-

Belfast

-

Dublin

-

Holyhead, UK

-

Cork, Ireland

-

Dover

-

Amsterdam

Brilliance of the Seas | 14 nights

10 Jun 19

FREE centrally located handpicked hotel stay
Flights Included

£

1419

View Deal

United Kingdom

Brilliance of the Seas

Royal Caribbean International

Amsterdam

-

Inverness

-

Greenock (Glasgow)

-

Belfast

-

Dublin

-

Holyhead, UK

-

Cork, Ireland

-

Dover

-

Amsterdam

3nt San Juan & 7nt Southern Caribbean

San Juan, Puerto Rico

-

Oranjestad, Aruba

-

Willemstad, Curacao

-

Kralendijk,Bonaire

-

Charlotte Amalie

-

San Juan, Puerto Rico

Freedom of the Seas | 10 nights

14 Nov 19

FREE centrally located handpicked hotel stay
Flights Included

£

1419

View Deal

Caribbean

Freedom of the Seas

Royal Caribbean International

San Juan, Puerto Rico

-

Oranjestad, Aruba

-

Willemstad, Curacao

-

Kralendijk,Bonaire

-

Charlotte Amalie

-

San Juan, Puerto Rico

Caribbean Serenade

Fort Lauderdale

-

Charlotte Amalie

-

St John's, Antigua

-

Roseau

-

Basseterre

-

Philipsburg, St Maarten

-

Fort Lauderdale

Serenade of the Seas | 11 nights

23 Apr 20

FREE centrally located handpicked hotel stay
Flights Included

£

1419

View Deal

Caribbean

Serenade of the Seas

Royal Caribbean International

Fort Lauderdale

-

Charlotte Amalie

-

St John's, Antigua

-

Roseau

-

Basseterre

-

Philipsburg, St Maarten

-

Fort Lauderdale

9nt Eastern Caribbean & Perfect Day

Fort Lauderdale

-

Basseterre

-

Charlotte Amalie

-

CocoCay

-

Fort Lauderdale

Oasis of the Seas | 9 nights

08 Jan 21

FREE centrally located handpicked hotel stay
Flights Included

£

1419

View Deal

Caribbean

Oasis of the Seas

Royal Caribbean International

Fort Lauderdale

-

Basseterre

-

Charlotte Amalie

-

CocoCay

-

Fort Lauderdale

Quebec & New York - Fall Foliage Southbound

Quebec

-

Charlottetown

-

Sydney, Canada

-

Halifax

-

St John, New Brunswick

-

Portland, Maine

-

Bar Harbor

-

Boston, USA

-

Cape Liberty, New Jersey

Adventure of the Seas | 15 nights

14 Sep 19

FREE centrally located handpicked hotel stay
Flights Included

£

1429

View Deal

North America

Adventure of the Seas

Royal Caribbean International

Quebec

-

Charlottetown

-

Sydney, Canada

-

Halifax

-

St John, New Brunswick

-

Portland, Maine

-

Bar Harbor

-

Boston, USA

-

Cape Liberty, New Jersey

Panama Canal Adventure

Fort Lauderdale

-

George Town, Cayman Islands

-

Cartagena, Colombia

-

Colon, Panama

-

Panama Canal

-

Puntarenas, Costa Rica

-

Puerto Quetzal

-

Puerto Vallarta

-

Los Angeles

Vision of the Seas | 18 nights

13 Nov 19

FREE centrally located handpicked hotel stay
Flights Included

£

1429

View Deal

Central America, Mexico, Panama Canal

Vision of the Seas

Royal Caribbean International

Fort Lauderdale

-

George Town, Cayman Islands

-

Cartagena, Colombia

-

Colon, Panama

-

Panama Canal

-

Puntarenas, Costa Rica

-

Puerto Quetzal

-

Puerto Vallarta

-

Los Angeles

2nt New York & 7nt Bahamas & Perfect Day

Cape Liberty, New Jersey

-

Port Canaveral

-

CocoCay

-

Nassau

-

Cape Liberty, New Jersey

Anthem of the Seas | 9 nights

12 Mar 21

FREE centrally located handpicked hotel stay
Flights Included

£

1429

View Deal

Bahamas

Anthem of the Seas

Royal Caribbean International

Cape Liberty, New Jersey

-

Port Canaveral

-

CocoCay

-

Nassau

-

Cape Liberty, New Jersey

10nt Southern Caribbean with San Juan Stay

San Juan, Puerto Rico

-

Punta Cana, Domnican Republic

-

Charlotte Amalie

-

Fort de France

-

Castries

-

Bridgetown

-

San Juan, Puerto Rico

Vision of the Seas | 10 nights

26 Feb 20

FREE centrally located handpicked hotel stay
Flights Included

£

1429

View Deal

Caribbean

Vision of the Seas

Royal Caribbean International

San Juan, Puerto Rico

-

Punta Cana, Domnican Republic

-

Charlotte Amalie

-

Fort de France

-

Castries

-

Bridgetown

-

San Juan, Puerto Rico

10nt San Juan & Southern Caribbean Sunsets

San Juan, Puerto Rico

-

Bridgetown

-

St Georges, Grenada

-

Roseau

-

Philipsburg, St Maarten

-

Charlotte Amalie

-

San Juan, Puerto Rico

Vision of the Seas | 10 nights

19 Feb 20

FREE centrally located handpicked hotel stay
Flights Included

£

1429

View Deal

Caribbean

Vision of the Seas

Royal Caribbean International

San Juan, Puerto Rico

-

Bridgetown

-

St Georges, Grenada

-

Roseau

-

Philipsburg, St Maarten

-

Charlotte Amalie

-

San Juan, Puerto Rico

10nt San Juan & Southern Caribbean Sunsets

San Juan, Puerto Rico

-

Bridgetown

-

St Georges, Grenada

-

Roseau

-

Philipsburg, St Maarten

-

Charlotte Amalie

-

San Juan, Puerto Rico

Vision of the Seas | 10 nights

04 Mar 20

FREE centrally located handpicked hotel stay
Flights Included

£

1429

View Deal

Caribbean

Vision of the Seas

Royal Caribbean International

San Juan, Puerto Rico

-

Bridgetown

-

St Georges, Grenada

-

Roseau

-

Philipsburg, St Maarten

-

Charlotte Amalie

-

San Juan, Puerto Rico

10nt San Juan & Southern Caribbean Sunsets

San Juan, Puerto Rico

-

Bridgetown

-

St Georges, Grenada

-

Roseau

-

Philipsburg, St Maarten

-

Charlotte Amalie

-

San Juan, Puerto Rico

Vision of the Seas | 10 nights

15 Apr 20

FREE centrally located handpicked hotel stay
Flights Included

£

1429

View Deal

Caribbean

Vision of the Seas

Royal Caribbean International

San Juan, Puerto Rico

-

Bridgetown

-

St Georges, Grenada

-

Roseau

-

Philipsburg, St Maarten

-

Charlotte Amalie

-

San Juan, Puerto Rico

2nt Houston & 7nt Western Caribbean

Galveston

-

Cozumel

-

George Town, Cayman Islands

-

Falmouth,Jamaica

-

Galveston

Liberty of the Seas | 9 nights

09 Aug 19

FREE centrally located handpicked hotel stay
Flights Included

£

1429

View Deal

Caribbean

Liberty of the Seas

Royal Caribbean International

Galveston

-

Cozumel

-

George Town, Cayman Islands

-

Falmouth,Jamaica

-

Galveston

Mediterranean Beaches

Southampton

-

Gibraltar

-

Cartagena, Colombia

-

Valencia

-

Barcelona

-

Nice (Villefranche)

-

Ajaccio

-

Malaga

-

Seville

-

Southampton

Independence of the Seas | 14 nights

27 Jul 19

£

1442

View Deal

Europe, Mediterranean

Independence of the Seas

Royal Caribbean International

Southampton

-

Gibraltar

-

Cartagena, Colombia

-

Valencia

-

Barcelona

-

Nice (Villefranche)

-

Ajaccio

-

Malaga

-

Seville

-

Southampton

Scandinavia & Russia

Southampton

-

Oslo

-

Copenhagen, Denmark

-

Helsinki, Finland

-

St Petersburg, Russia

-

Tallinn, Estonia

-

Stockholm, Sweden

-

Skagen

-

Stavanger, Norway

-

Southampton

Explorer of the Seas | 14 nights

23 Jun 19

£

1446

View Deal

Scandinavia, Russia

Explorer of the Seas

Royal Caribbean International

Southampton

-

Oslo

-

Copenhagen, Denmark

-

Helsinki, Finland

-

St Petersburg, Russia

-

Tallinn, Estonia

-

Stockholm, Sweden

-

Skagen

-

Stavanger, Norway

-

Southampton

2nts Tampa & 15nt Tampa to Amsterdam

Tampa

-

Ponta Delgada, Azores

-

Waterford

-

Cork, Ireland

-

Zeebrugge

-

Amsterdam

Brilliance of the Seas | 17 nights

02 May 19

FREE centrally located handpicked hotel stay
Flights Included

£

1449

View Deal

Europe, Transatlantic, United Kingdom

Brilliance of the Seas

Royal Caribbean International

Tampa

-

Ponta Delgada, Azores

-

Waterford

-

Cork, Ireland

-

Zeebrugge

-

Amsterdam

Canada New England with Boston & Big Apple

Cape Liberty, New Jersey

-

Bar Harbor

-

St John, New Brunswick

-

Halifax

-

Cape Liberty, New Jersey

Adventure of the Seas | 11 nights

01 Jul 19

FREE centrally located handpicked hotel stay
Flights Included

£

1449

View Deal

North America

Adventure of the Seas

Royal Caribbean International

Cape Liberty, New Jersey

-

Bar Harbor

-

St John, New Brunswick

-

Halifax

-

Cape Liberty, New Jersey

2nt New York & 7nt Bahamas & Perfect Day

Cape Liberty, New Jersey

-

Port Canaveral

-

CocoCay

-

Nassau

-

Cape Liberty, New Jersey

Anthem of the Seas | 9 nights

05 Mar 21

FREE centrally located handpicked hotel stay
Flights Included

£

1449

View Deal

Bahamas

Anthem of the Seas

Royal Caribbean International

Cape Liberty, New Jersey

-

Port Canaveral

-

CocoCay

-

Nassau

-

Cape Liberty, New Jersey

2nt New York & 7nt Bahamas & Perfect Day

Cape Liberty, New Jersey

-

Port Canaveral

-

CocoCay

-

Nassau

-

Cape Liberty, New Jersey

Anthem of the Seas | 9 nights

19 Mar 21

FREE centrally located handpicked hotel stay
Flights Included

£

1449

View Deal

Bahamas

Anthem of the Seas

Royal Caribbean International

Cape Liberty, New Jersey

-

Port Canaveral

-

CocoCay

-

Nassau

-

Cape Liberty, New Jersey

Far East Gems & Bali Beaches

Singapore

-

Penang

-

Langkawi

-

Phuket

-

Singapore

Voyager of the Seas | 14 nights

20 Jun 19

FREE centrally located handpicked hotel stay
Flights Included

£

1449

View Deal

Asia & Indian Ocean

Voyager of the Seas

Royal Caribbean International

Singapore

-

Penang

-

Langkawi

-

Phuket

-

Singapore

Caribbean Serenade & Sunsets

Fort Lauderdale

-

Labadee

-

San Juan, Puerto Rico

-

Charlotte Amalie

-

St John's, Antigua

-

Basseterre

-

Philipsburg, St Maarten

-

Fort Lauderdale

Serenade of the Seas | 11 nights

02 Apr 20

FREE centrally located handpicked hotel stay
Flights Included

£

1449

View Deal

Caribbean

Serenade of the Seas

Royal Caribbean International

Fort Lauderdale

-

Labadee

-

San Juan, Puerto Rico

-

Charlotte Amalie

-

St John's, Antigua

-

Basseterre

-

Philipsburg, St Maarten

-

Fort Lauderdale

Classic Caribbean

Fort Lauderdale

-

Ponce

-

Basseterre

-

Castries

-

St Georges, Grenada

-

Bridgetown

-

St John's, Antigua

-

Fort Lauderdale

Serenade of the Seas | 12 nights

09 Feb 20

FREE centrally located handpicked hotel stay
Flights Included

£

1449

View Deal

Caribbean

Serenade of the Seas

Royal Caribbean International

Fort Lauderdale

-

Ponce

-

Basseterre

-

Castries

-

St Georges, Grenada

-

Bridgetown

-

St John's, Antigua

-

Fort Lauderdale

12nt Southern Caribbean with Stays

Baltimore

-

St Croix

-

Philipsburg, St Maarten

-

Castries

-

Bridgetown

-

Basseterre

-

Baltimore

Grandeur of the Seas | 16 nights

26 Nov 19

FREE centrally located handpicked hotel stay
Flights Included

£

1449

View Deal

Caribbean

Grandeur of the Seas

Royal Caribbean International

Baltimore

-

St Croix

-

Philipsburg, St Maarten

-

Castries

-

Bridgetown

-

Basseterre

-

Baltimore

10nt Southern Caribbean with San Juan Stay

San Juan, Puerto Rico

-

Punta Cana, Domnican Republic

-

Charlotte Amalie

-

Fort de France

-

Castries

-

Bridgetown

-

San Juan, Puerto Rico

Vision of the Seas | 10 nights

25 Mar 20

FREE centrally located handpicked hotel stay
Flights Included

£

1449

View Deal

Caribbean

Vision of the Seas

Royal Caribbean International

San Juan, Puerto Rico

-

Punta Cana, Domnican Republic

-

Charlotte Amalie

-

Fort de France

-

Castries

-

Bridgetown

-

San Juan, Puerto Rico

10nt San Juan & Southern Caribbean Sunsets

San Juan, Puerto Rico

-

Tortola

-

St John's, Antigua

-

Bridgetown

-

Castries

-

Punta Cana, Domnican Republic

-

San Juan, Puerto Rico

Vision of the Seas | 10 nights

11 Mar 20

FREE centrally located handpicked hotel stay
Flights Included

£

1449

View Deal

Caribbean

Vision of the Seas

Royal Caribbean International

San Juan, Puerto Rico

-

Tortola

-

St John's, Antigua

-

Bridgetown

-

Castries

-

Punta Cana, Domnican Republic

-

San Juan, Puerto Rico

10nt San Juan & Southern Caribbean Sunsets

San Juan, Puerto Rico

-

Tortola

-

St John's, Antigua

-

Bridgetown

-

Castries

-

Punta Cana, Domnican Republic

-

San Juan, Puerto Rico

Vision of the Seas | 10 nights

08 Apr 20

FREE centrally located handpicked hotel stay
Flights Included

£

1449

View Deal

Caribbean

Vision of the Seas

Royal Caribbean International

San Juan, Puerto Rico

-

Tortola

-

St John's, Antigua

-

Bridgetown

-

Castries

-

Punta Cana, Domnican Republic

-

San Juan, Puerto Rico

9nt Miami & Western Caribbean Twist

Fort Lauderdale

-

Labadee

-

Falmouth,Jamaica

-

Cozumel

-

Fort Lauderdale

Oasis of the Seas | 9 nights

01 Jan 21

FREE centrally located handpicked hotel stay
Flights Included

£

1449

View Deal

Caribbean

Oasis of the Seas

Royal Caribbean International

Fort Lauderdale

-

Labadee

-

Falmouth,Jamaica

-

Cozumel

-

Fort Lauderdale

Canada New England with Boston & Big Apple

Cape Liberty, New Jersey

-

Bar Harbor

-

St John, New Brunswick

-

Halifax

-

Cape Liberty, New Jersey

Adventure of the Seas | 11 nights

03 Jun 19

FREE centrally located handpicked hotel stay
Flights Included

£

1469

View Deal

North America

Adventure of the Seas

Royal Caribbean International

Cape Liberty, New Jersey

-

Bar Harbor

-

St John, New Brunswick

-

Halifax

-

Cape Liberty, New Jersey

2nt New York & 7nt Bahamas & Perfect Day

Cape Liberty, New Jersey

-

Port Canaveral

-

CocoCay

-

Nassau

-

Cape Liberty, New Jersey

Anthem of the Seas | 9 nights

03 Apr 20

FREE centrally located handpicked hotel stay
Flights Included

£

1469

View Deal

Bahamas

Anthem of the Seas

Royal Caribbean International

Cape Liberty, New Jersey

-

Port Canaveral

-

CocoCay

-

Nassau

-

Cape Liberty, New Jersey

2nt New York & 7nt Bahamas & Perfect Day

Cape Liberty, New Jersey

-

Port Canaveral

-

CocoCay

-

Nassau

-

Cape Liberty, New Jersey

Anthem of the Seas | 9 nights

26 Feb 21

FREE centrally located handpicked hotel stay
Flights Included

£

1469

View Deal

Bahamas

Anthem of the Seas

Royal Caribbean International

Cape Liberty, New Jersey

-

Port Canaveral

-

CocoCay

-

Nassau

-

Cape Liberty, New Jersey

Big Apple, Bahamas & Perfect Day

Cape Liberty, New Jersey

-

Port Canaveral

-

CocoCay

-

Nassau

-

Cape Liberty, New Jersey

Anthem of the Seas | 10 nights

11 Nov 20

FREE centrally located handpicked hotel stay
Flights Included

£

1469

View Deal

North America, Bahamas

Anthem of the Seas

Royal Caribbean International

Cape Liberty, New Jersey

-

Port Canaveral

-

CocoCay

-

Nassau

-

Cape Liberty, New Jersey

Big Apple, Bahamas & Perfect Day

Cape Liberty, New Jersey

-

Port Canaveral

-

CocoCay

-

Nassau

-

Cape Liberty, New Jersey

Anthem of the Seas | 10 nights

27 Nov 20

FREE centrally located handpicked hotel stay
Flights Included

£

1469

View Deal

North America, Bahamas

Anthem of the Seas

Royal Caribbean International

Cape Liberty, New Jersey

-

Port Canaveral

-

CocoCay

-

Nassau

-

Cape Liberty, New Jersey

3nt San Juan & 7nt Southern Caribbean

San Juan, Puerto Rico

-

Philipsburg, St Maarten

-

Basseterre

-

St John's, Antigua

-

Castries

-

Bridgetown

-

San Juan, Puerto Rico

Freedom of the Seas | 10 nights

04 Jul 19

FREE centrally located handpicked hotel stay
Flights Included

£

1469

View Deal

Caribbean

Freedom of the Seas

Royal Caribbean International

San Juan, Puerto Rico

-

Philipsburg, St Maarten

-

Basseterre

-

St John's, Antigua

-

Castries

-

Bridgetown

-

San Juan, Puerto Rico

Boston & Caribbean Serenade

Boston, USA

-

Philipsburg, St Maarten

-

St John's, Antigua

-

Bridgetown

-

Oranjestad, Aruba

-

Willemstad, Curacao

-

Fort Lauderdale

Serenade of the Seas | 15 nights

24 Oct 19

FREE centrally located handpicked hotel stay
Flights Included
Free Upgrade to Oceanview Cabin

£

1469

View Deal

Caribbean, North America

Serenade of the Seas

Royal Caribbean International

Boston, USA

-

Philipsburg, St Maarten

-

St John's, Antigua

-

Bridgetown

-

Oranjestad, Aruba

-

Willemstad, Curacao

-

Fort Lauderdale

Caribbean Serenade

Fort Lauderdale

-

Charlotte Amalie

-

St John's, Antigua

-

Roseau

-

Basseterre

-

Philipsburg, St Maarten

-

Fort Lauderdale

Serenade of the Seas | 11 nights

19 Dec 19

FREE centrally located handpicked hotel stay
Flights Included

£

1469

View Deal

Caribbean

Serenade of the Seas

Royal Caribbean International

Fort Lauderdale

-

Charlotte Amalie

-

St John's, Antigua

-

Roseau

-

Basseterre

-

Philipsburg, St Maarten

-

Fort Lauderdale

11nt Canada & New England with New York Stay

Cape Liberty, New Jersey

-

Bar Harbor

-

Portland, Maine

-

Boston, USA

-

St John, New Brunswick

-

Halifax

-

Cape Liberty, New Jersey

Adventure of the Seas | 11 nights

06 Oct 20

FREE centrally located handpicked hotel stay
Flights Included

£

1469

View Deal

North America

Adventure of the Seas

Royal Caribbean International

Cape Liberty, New Jersey

-

Bar Harbor

-

Portland, Maine

-

Boston, USA

-

St John, New Brunswick

-

Halifax

-

Cape Liberty, New Jersey

Fort Lauderdale & Caribbean Crossing

Fort Lauderdale

-

Labadee

-

San Juan, Puerto Rico

-

Charlotte Amalie

-

Basseterre

-

Cork, Ireland

-

Southampton

Independence of the Seas | 17 nights

30 Apr 20

FREE centrally located handpicked hotel stay
Flights Included

£

1469

View Deal

Caribbean, Transatlantic, United Kingdom

Independence of the Seas

Royal Caribbean International

Fort Lauderdale

-

Labadee

-

San Juan, Puerto Rico

-

Charlotte Amalie

-

Basseterre

-

Cork, Ireland

-

Southampton

10nt San Juan & Southern Caribbean Sunsets

San Juan, Puerto Rico

-

Bridgetown

-

St Georges, Grenada

-

Roseau

-

Philipsburg, St Maarten

-

Charlotte Amalie

-

San Juan, Puerto Rico

Vision of the Seas | 10 nights

18 Mar 20

FREE centrally located handpicked hotel stay
Flights Included

£

1469

View Deal

Caribbean

Vision of the Seas

Royal Caribbean International

San Juan, Puerto Rico

-

Bridgetown

-

St Georges, Grenada

-

Roseau

-

Philipsburg, St Maarten

-

Charlotte Amalie

-

San Juan, Puerto Rico

2nt Houston & 7nt Western Caribbean

Galveston

-

Roatan, Bay Islands

-

Puerto Costa Maya

-

Cozumel

-

Galveston

Liberty of the Seas | 9 nights

02 Aug 19

FREE centrally located handpicked hotel stay
Flights Included

£

1469

View Deal

Caribbean

Liberty of the Seas

Royal Caribbean International

Galveston

-

Roatan, Bay Islands

-

Puerto Costa Maya

-

Cozumel

-

Galveston

4nt Cruise with Stays in Singapore and Hong Kong

Singapore

-

Penang

-

Phuket

-

Singapore

Voyager of the Seas | 10 nights

02 Jun 19

FREE centrally located handpicked hotel stay
Flights Included
FREE Upgrade to a Suite

£

1469

View Deal

Asia & Indian Ocean

Voyager of the Seas

Royal Caribbean International

Singapore

-

Penang

-

Phuket

-

Singapore

Bermuda Cruise with Stay and Broadway Show

Baltimore

-

King's Wharf, Bermuda

-

Baltimore

Grandeur of the Seas | 10 nights

03 Jul 19

FREE centrally located handpicked hotel stay
Flights Included

£

1479

View Deal

Bermuda

Grandeur of the Seas

Royal Caribbean International

Baltimore

-

King's Wharf, Bermuda

-

Baltimore

Canada New England with Boston & Big Apple

Cape Liberty, New Jersey

-

Bar Harbor

-

St John, New Brunswick

-

Halifax

-

Cape Liberty, New Jersey

Adventure of the Seas | 11 nights

17 Jun 19

FREE centrally located handpicked hotel stay
Flights Included

£

1479

View Deal

North America

Adventure of the Seas

Royal Caribbean International

Cape Liberty, New Jersey

-

Bar Harbor

-

St John, New Brunswick

-

Halifax

-

Cape Liberty, New Jersey

2nt New York & 7nt Bahamas & Perfect Day

Cape Liberty, New Jersey

-

Port Canaveral

-

CocoCay

-

Nassau

-

Cape Liberty, New Jersey

Anthem of the Seas | 9 nights

19 Feb 21

FREE centrally located handpicked hotel stay
Flights Included

£

1479

View Deal

Bahamas

Anthem of the Seas

Royal Caribbean International

Cape Liberty, New Jersey

-

Port Canaveral

-

CocoCay

-

Nassau

-

Cape Liberty, New Jersey

9nt Eastern Caribbean, Perfect Day & Miami Stay

Miami

-

Philipsburg, St Maarten

-

Charlotte Amalie

-

CocoCay

-

Miami

Symphony of the Seas | 9 nights

24 Sep 20

FREE centrally located handpicked hotel stay
Flights Included

£

1479

View Deal

Caribbean, Bahamas

Symphony of the Seas

Royal Caribbean International

Miami

-

Philipsburg, St Maarten

-

Charlotte Amalie

-

CocoCay

-

Miami

2nt Miami & 7nt Western Caribbean

Miami

-

Labadee

-

Falmouth,Jamaica

-

Cozumel

-

Miami

Symphony of the Seas | 9 nights

17 Sep 20

FREE centrally located handpicked hotel stay
Flights Included

£

1479

View Deal

Caribbean, Mexico

Symphony of the Seas

Royal Caribbean International

Miami

-

Labadee

-

Falmouth,Jamaica

-

Cozumel

-

Miami

9nt Western Caribbean & Perfect Day with Miami

Miami

-

Cozumel

-

Roatan, Bay Islands

-

Puerto Costa Maya

-

CocoCay

-

Miami

Symphony of the Seas | 9 nights

03 Dec 20

FREE centrally located handpicked hotel stay
Flights Included

£

1479

View Deal

Caribbean

Symphony of the Seas

Royal Caribbean International

Miami

-

Cozumel

-

Roatan, Bay Islands

-

Puerto Costa Maya

-

CocoCay

-

Miami

9nt Miami & Western Caribbean Twist

Fort Lauderdale

-

Labadee

-

Falmouth,Jamaica

-

Cozumel

-

Fort Lauderdale

Oasis of the Seas | 9 nights

26 Feb 21

FREE centrally located handpicked hotel stay
Flights Included

£

1479

View Deal

Caribbean

Oasis of the Seas

Royal Caribbean International

Fort Lauderdale

-

Labadee

-

Falmouth,Jamaica

-

Cozumel

-

Fort Lauderdale

9nt Western Caribbean & Perfect Day

Fort Lauderdale

-

Cozumel

-

Roatan, Bay Islands

-

Costa Maya

-

CocoCay

-

Fort Lauderdale

Oasis of the Seas | 9 nights

15 Jan 21

FREE centrally located handpicked hotel stay
Flights Included

£

1479

View Deal

Caribbean

Oasis of the Seas

Royal Caribbean International

Fort Lauderdale

-

Cozumel

-

Roatan, Bay Islands

-

Costa Maya

-

CocoCay

-

Fort Lauderdale

9nt Miami & Eastern Caribbean Twist

Fort Lauderdale

-

Philipsburg, St Maarten

-

San Juan, Puerto Rico

-

Labadee

-

Fort Lauderdale

Oasis of the Seas | 9 nights

19 Feb 21

FREE centrally located handpicked hotel stay
Flights Included

£

1479

View Deal

Caribbean

Oasis of the Seas

Royal Caribbean International

Fort Lauderdale

-

Philipsburg, St Maarten

-

San Juan, Puerto Rico

-

Labadee

-

Fort Lauderdale

8nt Southeast Coast & Bahamas with Stays

Baltimore

-

Charleston

-

Port Canaveral

-

CocoCay

-

Nassau

-

Baltimore

Grandeur of the Seas | 12 nights

27 Jan 20

FREE centrally located handpicked hotel stay
Flights Included

£

1499

View Deal

North America, Bahamas

Grandeur of the Seas

Royal Caribbean International

Baltimore

-

Charleston

-

Port Canaveral

-

CocoCay

-

Nassau

-

Baltimore

9nt Bahamas with New York & Baltimore Stays

Baltimore

-

Orlando

-

Miami

-

Key West

-

CocoCay

-

Nassau

-

Baltimore

Grandeur of the Seas | 13 nights

13 Oct 19

FREE centrally located handpicked hotel stay
Flights Included

£

1499

View Deal

Caribbean, Bahamas

Grandeur of the Seas

Royal Caribbean International

Baltimore

-

Orlando

-

Miami

-

Key West

-

CocoCay

-

Nassau

-

Baltimore

Hong Kong & Land of the Rising Sun

Hong Kong Kai Tak

-

Okinawa (Nagagusuku), Japan

-

Osaka

-

Kobe

-

Kochi, Japan

-

Hong Kong Kai Tak

Voyager of the Seas | 13 nights

08 Jul 19

FREE centrally located handpicked hotel stay
Flights Included

£

1499

View Deal

Asia & Indian Ocean, China

Voyager of the Seas

Royal Caribbean International

Hong Kong Kai Tak

-

Okinawa (Nagagusuku), Japan

-

Osaka

-

Kobe

-

Kochi, Japan

-

Hong Kong Kai Tak

2nt New York & 7nt Bahamas & Perfect Day

Cape Liberty, New Jersey

-

Port Canaveral

-

CocoCay

-

Nassau

-

Cape Liberty, New Jersey

Anthem of the Seas | 9 nights

26 Mar 21

FREE centrally located handpicked hotel stay
Flights Included

£

1499

View Deal

Bahamas

Anthem of the Seas

Royal Caribbean International

Cape Liberty, New Jersey

-

Port Canaveral

-

CocoCay

-

Nassau

-

Cape Liberty, New Jersey

15nt Northern Europe with Stockholm & Copenhagen

Stockholm, Sweden

-

Helsinki, Finland

-

St Petersburg, Russia

-

Tallinn, Estonia

-

Riga

-

Klaipeda

-

Fredericia

-

Aarhus

-

Copenhagen, Denmark

Jewel of the Seas | 15 nights

25 Jul 20

FREE centrally located handpicked hotel stay
Flights Included

£

1499

View Deal

Scandinavia, Baltic, Russia

Jewel of the Seas

Royal Caribbean International

Stockholm, Sweden

-

Helsinki, Finland

-

St Petersburg, Russia

-

Tallinn, Estonia

-

Riga

-

Klaipeda

-

Fredericia

-

Aarhus

-

Copenhagen, Denmark

New York, Canada & New England

Cape Liberty, New Jersey

-

Boston, USA

-

Portland, Maine

-

Bar Harbor

-

St John, New Brunswick

-

Halifax

-

Cape Liberty, New Jersey

Adventure of the Seas | 11 nights

20 Oct 20

FREE centrally located handpicked hotel stay
Flights Included

£

1499

View Deal

North America

Adventure of the Seas

Royal Caribbean International

Cape Liberty, New Jersey

-

Boston, USA

-

Portland, Maine

-

Bar Harbor

-

St John, New Brunswick

-

Halifax

-

Cape Liberty, New Jersey

Canada & New England with New York & Baltimore

Baltimore

-

Boston, USA

-

Portland, Dorset

-

Bar Harbor

-

St John, New Brunswick

-

Halifax

-

Baltimore

Grandeur of the Seas | 13 nights

12 May 19

FREE centrally located handpicked hotel stay
Flights Included

£

1499

View Deal

North America

Grandeur of the Seas

Royal Caribbean International

Baltimore

-

Boston, USA

-

Portland, Dorset

-

Bar Harbor

-

St John, New Brunswick

-

Halifax

-

Baltimore

9nt Eastern Caribbean & Perfect Day with Miami

Miami

-

Labadee

-

San Juan, Puerto Rico

-

Charlotte Amalie

-

CocoCay

-

Miami

Symphony of the Seas | 9 nights

10 Dec 20

FREE centrally located handpicked hotel stay
Flights Included

£

1499

View Deal

Caribbean, Bahamas

Symphony of the Seas

Royal Caribbean International

Miami

-

Labadee

-

San Juan, Puerto Rico

-

Charlotte Amalie

-

CocoCay

-

Miami

9nt Eastern Caribbean & Perfect Day with Miami

Miami

-

Labadee

-

San Juan, Puerto Rico

-

Charlotte Amalie

-

CocoCay

-

Miami

Symphony of the Seas | 9 nights

07 Jan 21

FREE centrally located handpicked hotel stay
Flights Included

£

1499

View Deal

Caribbean, Bahamas

Symphony of the Seas

Royal Caribbean International

Miami

-

Labadee

-

San Juan, Puerto Rico

-

Charlotte Amalie

-

CocoCay

-

Miami

9nt Western Caribbean & Perfect Day with Miami

Miami

-

Cozumel

-

Roatan, Bay Islands

-

Puerto Costa Maya

-

CocoCay

-

Miami

Symphony of the Seas | 9 nights

14 Jan 21

FREE centrally located handpicked hotel stay
Flights Included

£

1499

View Deal

Caribbean

Symphony of the Seas

Royal Caribbean International

Miami

-

Cozumel

-

Roatan, Bay Islands

-

Puerto Costa Maya

-

CocoCay

-

Miami

2nt Houston & 7nt Western Caribbean

Galveston

-

Cozumel

-

George Town, Cayman Islands

-

Falmouth,Jamaica

-

Galveston

Liberty of the Seas | 9 nights

16 Aug 19

FREE centrally located handpicked hotel stay
Flights Included

£

1499

View Deal

Caribbean

Liberty of the Seas

Royal Caribbean International

Galveston

-

Cozumel

-

George Town, Cayman Islands

-

Falmouth,Jamaica

-

Galveston

New York, Canada & New England

Cape Liberty, New Jersey

-

Boston, USA

-

Portland, Maine

-

Bar Harbor

-

St John, New Brunswick

-

Halifax

-

Cape Liberty, New Jersey

Adventure of the Seas | 11 nights

08 Sep 20

FREE centrally located handpicked hotel stay
Flights Included

£

1499

View Deal

North America

Adventure of the Seas

Royal Caribbean International

Cape Liberty, New Jersey

-

Boston, USA

-

Portland, Maine

-

Bar Harbor

-

St John, New Brunswick

-

Halifax

-

Cape Liberty, New Jersey

9nt Miami & Eastern Caribbean Twist

Fort Lauderdale

-

Philipsburg, St Maarten

-

San Juan, Puerto Rico

-

Labadee

-

Fort Lauderdale

Oasis of the Seas | 9 nights

19 Mar 21

FREE centrally located handpicked hotel stay
Flights Included

£

1499

View Deal

Caribbean

Oasis of the Seas

Royal Caribbean International

Fort Lauderdale

-

Philipsburg, St Maarten

-

San Juan, Puerto Rico

-

Labadee

-

Fort Lauderdale

3nts Sydney Stay & 8nts South Pacific

Sydney, Australia

-

Noumea

-

Lifou Island

-

Isle of Pines

-

Sydney, Australia

Radiance of the Seas | 13 nights

30 Oct 19

FREE centrally located handpicked hotel stay
Flights Included

£

1519

View Deal

Pacific

Radiance of the Seas

Royal Caribbean International

Sydney, Australia

-

Noumea

-

Lifou Island

-

Isle of Pines

-

Sydney, Australia

9nt Eastern Caribbean & Perfect Day with Miami

Miami

-

Labadee

-

San Juan, Puerto Rico

-

Charlotte Amalie

-

CocoCay

-

Miami

Symphony of the Seas | 9 nights

10 Sep 20

FREE centrally located handpicked hotel stay
Flights Included

£

1519

View Deal

Caribbean, Bahamas

Symphony of the Seas

Royal Caribbean International

Miami

-

Labadee

-

San Juan, Puerto Rico

-

Charlotte Amalie

-

CocoCay

-

Miami

9nt Eastern Caribbean & Perfect Day with Miami

Miami

-

Labadee

-

San Juan, Puerto Rico

-

Charlotte Amalie

-

CocoCay

-

Miami

Symphony of the Seas | 9 nights

21 Jan 21

FREE centrally located handpicked hotel stay
Flights Included

£

1519

View Deal

Caribbean, Bahamas

Symphony of the Seas

Royal Caribbean International

Miami

-

Labadee

-

San Juan, Puerto Rico

-

Charlotte Amalie

-

CocoCay

-

Miami

9nt Western Caribbean & Perfect Day

Fort Lauderdale

-

Cozumel

-

Roatan, Bay Islands

-

Costa Maya

-

CocoCay

-

Fort Lauderdale

Oasis of the Seas | 9 nights

12 Mar 21

FREE centrally located handpicked hotel stay
Flights Included

£

1519

View Deal

Caribbean

Oasis of the Seas

Royal Caribbean International

Fort Lauderdale

-

Cozumel

-

Roatan, Bay Islands

-

Costa Maya

-

CocoCay

-

Fort Lauderdale

Italian Mediterranean

Southampton

-

Gibraltar

-

Genoa

-

La Spezia

-

Rome (Civitavecchia)

-

Capri

-

Lisbon

-

Southampton

Anthem of the Seas | 14 nights

06 Jun 20

£

1521

View Deal

Europe, Mediterranean

Anthem of the Seas

Royal Caribbean International

Southampton

-

Gibraltar

-

Genoa

-

La Spezia

-

Rome (Civitavecchia)

-

Capri

-

Lisbon

-

Southampton

Caribbean Stars & New York Stay

Fort Lauderdale

-

Oranjestad, Aruba

-

Willemstad, Curacao

-

Kralendijk,Bonaire

-

St John's, Antigua

-

Charlotte Amalie

-

Cape Liberty, New Jersey

Adventure of the Seas | 17 nights

03 May 19

FREE centrally located handpicked hotel stay
Flights Included

£

1529

View Deal

Caribbean, North America

Adventure of the Seas

Royal Caribbean International

Fort Lauderdale

-

Oranjestad, Aruba

-

Willemstad, Curacao

-

Kralendijk,Bonaire

-

St John's, Antigua

-

Charlotte Amalie

-

Cape Liberty, New Jersey

2nts Fort Lauderdale & 7nts Western Caribbean

Fort Lauderdale

-

CocoCay

-

Cozumel

-

Puerto Costa Maya

-

Roatan, Bay Islands

-

Fort Lauderdale

Allure of the Seas | 9 nights

21 Feb 20

FREE centrally located handpicked hotel stay
Flights Included

£

1529

View Deal

Caribbean

Allure of the Seas

Royal Caribbean International

Fort Lauderdale

-

CocoCay

-

Cozumel

-

Puerto Costa Maya

-

Roatan, Bay Islands

-

Fort Lauderdale

Hollywood & Panama Canal

Los Angeles

-

Cabo San Lucas

-

Puerto Vallarta

-

Puerto Quetzal

-

Puntarenas, Costa Rica

-

Panama Canal

-

Colon, Panama

-

Cartagena, Colombia

-

George Town, Cayman Islands

-

Fort Lauderdale

Vision of the Seas | 18 nights

28 Oct 19

FREE centrally located handpicked hotel stay
Flights Included

£

1529

View Deal

Caribbean, Central America, Mexico, Panama Canal

Vision of the Seas

Royal Caribbean International

Los Angeles

-

Cabo San Lucas

-

Puerto Vallarta

-

Puerto Quetzal

-

Puntarenas, Costa Rica

-

Panama Canal

-

Colon, Panama

-

Cartagena, Colombia

-

George Town, Cayman Islands

-

Fort Lauderdale

Canada New England with Boston & Big Apple

Cape Liberty, New Jersey

-

Bar Harbor

-

St John, New Brunswick

-

Halifax

-

Cape Liberty, New Jersey

Adventure of the Seas | 11 nights

20 May 19

FREE centrally located handpicked hotel stay
Flights Included

£

1529

View Deal

North America

Adventure of the Seas

Royal Caribbean International

Cape Liberty, New Jersey

-

Bar Harbor

-

St John, New Brunswick

-

Halifax

-

Cape Liberty, New Jersey

Big Apple, Bahamas & Perfect Day

Cape Liberty, New Jersey

-

Port Canaveral

-

CocoCay

-

Nassau

-

Cape Liberty, New Jersey

Anthem of the Seas | 10 nights

19 Nov 20

FREE centrally located handpicked hotel stay
Flights Included

£

1529

View Deal

North America, Bahamas

Anthem of the Seas

Royal Caribbean International

Cape Liberty, New Jersey

-

Port Canaveral

-

CocoCay

-

Nassau

-

Cape Liberty, New Jersey

3nt Fort Lauderdale & 15nt Transatlantic

Fort Lauderdale

-

Labadee

-

San Juan, Puerto Rico

-

Charlotte Amalie

-

Basseterre

-

Cork, Ireland

-

Southampton

Independence of the Seas | 17 nights

29 Apr 20

FREE centrally located handpicked hotel stay
Flights Included

£

1529

View Deal

Caribbean, Transatlantic, United Kingdom

Independence of the Seas

Royal Caribbean International

Fort Lauderdale

-

Labadee

-

San Juan, Puerto Rico

-

Charlotte Amalie

-

Basseterre

-

Cork, Ireland

-

Southampton

2nt New York & 9nt Canada & New England

Cape Liberty, New Jersey

-

Boston, USA

-

Portland, Maine

-

St John, New Brunswick

-

Halifax

-

Bar Harbor

-

Cape Liberty, New Jersey

Adventure of the Seas | 11 nights

25 Aug 20

FREE centrally located handpicked hotel stay
Flights Included

£

1529

View Deal

North America

Adventure of the Seas

Royal Caribbean International

Cape Liberty, New Jersey

-

Boston, USA

-

Portland, Maine

-

St John, New Brunswick

-

Halifax

-

Bar Harbor

-

Cape Liberty, New Jersey

2nt Miami & 7nt Western Caribbean

Miami

-

Roatan, Bay Islands

-

Puerto Costa Maya

-

Cozumel

-

CocoCay

-

Miami

Symphony of the Seas | 9 nights

23 Apr 20

FREE centrally located handpicked hotel stay
Flights Included

£

1529

View Deal

Caribbean

Symphony of the Seas

Royal Caribbean International

Miami

-

Roatan, Bay Islands

-

Puerto Costa Maya

-

Cozumel

-

CocoCay

-

Miami

9nt Eastern Caribbean & Perfect Day with Miami

Miami

-

Labadee

-

San Juan, Puerto Rico

-

Charlotte Amalie

-

CocoCay

-

Miami

Symphony of the Seas | 9 nights

01 Oct 20

FREE centrally located handpicked hotel stay
Flights Included

£

1529

View Deal

Caribbean, Bahamas

Symphony of the Seas

Royal Caribbean International

Miami

-

Labadee

-

San Juan, Puerto Rico

-

Charlotte Amalie

-

CocoCay

-

Miami

9nt Eastern Caribbean & Perfect Day with Miami

Miami

-

Labadee

-

San Juan, Puerto Rico

-

Charlotte Amalie

-

CocoCay

-

Miami

Symphony of the Seas | 9 nights

22 Oct 20

FREE centrally located handpicked hotel stay
Flights Included

£

1529

View Deal

Caribbean, Bahamas

Symphony of the Seas

Royal Caribbean International

Miami

-

Labadee

-

San Juan, Puerto Rico

-

Charlotte Amalie

-

CocoCay

-

Miami

2nt Miami & 7nt Western Caribbean

Miami

-

Labadee

-

Falmouth,Jamaica

-

Cozumel

-

Miami

Symphony of the Seas | 9 nights

14 May 20

FREE centrally located handpicked hotel stay
Flights Included

£

1529

View Deal

Caribbean, Mexico

Symphony of the Seas

Royal Caribbean International

Miami

-

Labadee

-

Falmouth,Jamaica

-

Cozumel

-

Miami

2nt Miami & 7nt Western Caribbean

Miami

-

Labadee

-

Falmouth,Jamaica

-

Cozumel

-

Miami

Symphony of the Seas | 9 nights

08 Oct 20

FREE centrally located handpicked hotel stay
Flights Included

£

1529

View Deal

Caribbean, Mexico

Symphony of the Seas

Royal Caribbean International

Miami

-

Labadee

-

Falmouth,Jamaica

-

Cozumel

-

Miami

9nt Eastern Caribbean with Miami Stay

Miami

-

Philipsburg, St Maarten

-

San Juan, Puerto Rico

-

CocoCay

-

Miami

Symphony of the Seas | 9 nights

29 Oct 20

FREE centrally located handpicked hotel stay
Flights Included

£

1529

View Deal

Caribbean

Symphony of the Seas

Royal Caribbean International

Miami

-

Philipsburg, St Maarten

-

San Juan, Puerto Rico

-

CocoCay

-

Miami

9nt Eastern Caribbean with Miami Stay

Miami

-

Philipsburg, St Maarten

-

San Juan, Puerto Rico

-

CocoCay

-

Miami

Symphony of the Seas | 9 nights

04 Feb 21

FREE centrally located handpicked hotel stay
Flights Included

£

1529

View Deal

Caribbean

Symphony of the Seas

Royal Caribbean International

Miami

-

Philipsburg, St Maarten

-

San Juan, Puerto Rico

-

CocoCay

-

Miami

9nt Miami & Western Caribbean Twist

Fort Lauderdale

-

Labadee

-

Falmouth,Jamaica

-

Cozumel

-

Fort Lauderdale

Oasis of the Seas | 9 nights

29 Jan 21

FREE centrally located handpicked hotel stay
Flights Included

£

1529

View Deal

Caribbean

Oasis of the Seas

Royal Caribbean International

Fort Lauderdale

-

Labadee

-

Falmouth,Jamaica

-

Cozumel

-

Fort Lauderdale

Scandinavia & Russia

Southampton

-

Oslo

-

Copenhagen, Denmark

-

Tallinn, Estonia

-

St Petersburg, Russia

-

Helsinki, Finland

-

Stockholm, Sweden

-

Skagen

-

Stavanger, Norway

-

Southampton

Explorer of the Seas | 14 nights

07 Jul 19

£

1540

View Deal

Scandinavia, Russia

Explorer of the Seas

Royal Caribbean International

Southampton

-

Oslo

-

Copenhagen, Denmark

-

Tallinn, Estonia

-

St Petersburg, Russia

-

Helsinki, Finland

-

Stockholm, Sweden

-

Skagen

-

Stavanger, Norway

-

Southampton

Canaries & North Africa

Southampton

-

Vigo

-

Lisbon

-

Agadir

-

Lanzarote

-

Gran Canaria

-

Funchal

-

La Coruna

-

Southampton

Independence of the Seas | 12 nights

21 Jun 20

£

1548

View Deal

Canaries, Europe

Independence of the Seas

Royal Caribbean International

Southampton

-

Vigo

-

Lisbon

-

Agadir

-

Lanzarote

-

Gran Canaria

-

Funchal

-

La Coruna

-

Southampton

9nts South Pacific & 3nts Sydney Stay

Sydney, Australia

-

Noumea

-

Mystery Island

-

Port Vila, Vanuatu

-

Lifou Island

-

Sydney, Australia

Radiance of the Seas | 14 nights

24 Nov 19

FREE centrally located handpicked hotel stay
Flights Included

£

1549

View Deal

Pacific

Radiance of the Seas

Royal Caribbean International

Sydney, Australia

-

Noumea

-

Mystery Island

-

Port Vila, Vanuatu

-

Lifou Island

-

Sydney, Australia

18nt Miami & Panama Canal

Miami

-

Cartagena, Colombia

-

Colon, Panama

-

Panama Canal

-

Puntarenas, Costa Rica

-

Puerto Quetzal

-

Huatalco

-

Puerto Vallarta

-

Cabo San Lucas

-

Los Angeles

Vision of the Seas | 18 nights

12 Oct 19

FREE centrally located handpicked hotel stay
Flights Included

£

1549

View Deal

Central America, Mexico, Panama Canal

Vision of the Seas

Royal Caribbean International

Miami

-

Cartagena, Colombia

-

Colon, Panama

-

Panama Canal

-

Puntarenas, Costa Rica

-

Puerto Quetzal

-

Huatalco

-

Puerto Vallarta

-

Cabo San Lucas

-

Los Angeles

Iceland, Anchorage & Alaska

Seward

-

Hubbard Glacier

-

Juneau

-

Skagway

-

Icy Strait Point, Alaska

-

Ketchikan

-

Vancouver

Radiance of the Seas | 11 nights

26 Aug 19

FREE centrally located handpicked hotel stay
Flights Included
FREE Upgrade from Outside to Balcony

£

1549

View Deal

Alaska

Radiance of the Seas

Royal Caribbean International

Seward

-

Hubbard Glacier

-

Juneau

-

Skagway

-

Icy Strait Point, Alaska

-

Ketchikan

-

Vancouver

10nt Southern Caribbean Adventure from San Juan

San Juan, Puerto Rico

-

Charlotte Amalie

-

Basseterre

-

St John's, Antigua

-

Castries

-

Bridgetown

-

San Juan, Puerto Rico

Freedom of the Seas | 10 nights

15 Aug 19

FREE centrally located handpicked hotel stay
Flights Included

£

1549

View Deal

Caribbean

Freedom of the Seas

Royal Caribbean International

San Juan, Puerto Rico

-

Charlotte Amalie

-

Basseterre

-

St John's, Antigua

-

Castries

-

Bridgetown

-

San Juan, Puerto Rico

Ultimate Baltic Adventure

Copenhagen, Denmark

-

Arhus

-

Warnemunde

-

Helsinki, Finland

-

St Petersburg, Russia

-

Tallinn, Estonia

-

Stockholm, Sweden

Serenade of the Seas | 12 nights

19 Jun 19

FREE centrally located handpicked hotel stay
Flights Included

£

1549

View Deal

Scandinavia, Baltic, Russia

Serenade of the Seas

Royal Caribbean International

Copenhagen, Denmark

-

Arhus

-

Warnemunde

-

Helsinki, Finland

-

St Petersburg, Russia

-

Tallinn, Estonia

-

Stockholm, Sweden

17nt Quebec to Fort Lauderdale with Stays

Quebec

-

Charlottetown

-

Sydney, Canada

-

Halifax

-

St John, New Brunswick

-

Portland, Maine

-

Bar Harbor

-

Boston, USA

-

Orlando

-

Fort Lauderdale

Adventure of the Seas | 17 nights

05 Oct 19

FREE centrally located handpicked hotel stay
Flights Included

£

1549

View Deal

North America

Adventure of the Seas

Royal Caribbean International

Quebec

-

Charlottetown

-

Sydney, Canada

-

Halifax

-

St John, New Brunswick

-

Portland, Maine

-

Bar Harbor

-

Boston, USA

-

Orlando

-

Fort Lauderdale

2nt New York & 7nt Bahamas & Perfect Day

Cape Liberty, New Jersey

-

Port Canaveral

-

CocoCay

-

Nassau

-

Cape Liberty, New Jersey

Anthem of the Seas | 9 nights

16 Apr 21

FREE centrally located handpicked hotel stay
Flights Included

£

1549

View Deal

Bahamas

Anthem of the Seas

Royal Caribbean International

Cape Liberty, New Jersey

-

Port Canaveral

-

CocoCay

-

Nassau

-

Cape Liberty, New Jersey

Caribbean & Las Vegas

Southampton

-

Basseterre

-

Castries

-

Bridgetown

-

St John's, Antigua

-

Miami

Explorer of the Seas | 19 nights

05 Nov 19

FREE centrally located handpicked hotel stay
Flights Included

£

1549

View Deal

Caribbean, Transatlantic

Explorer of the Seas

Royal Caribbean International

Southampton

-

Basseterre

-

Castries

-

Bridgetown

-

St John's, Antigua

-

Miami

16nt Golden Triangle Trail with Dubai

Dubai

-

Abu Dhabi

-

Sir Bani Yas Island (UAE)

-

Muscat

-

Dubai

Jewel of the Seas | 16 nights

07 Dec 19

FREE centrally located handpicked hotel stay
Flights Included

£

1549

View Deal

Dubai & Emirates

Jewel of the Seas

Royal Caribbean International

Dubai

-

Abu Dhabi

-

Sir Bani Yas Island (UAE)

-

Muscat

-

Dubai

New York, Canada & New England

Cape Liberty, New Jersey

-

Boston, USA

-

Portland, Maine

-

Bar Harbor

-

St John, New Brunswick

-

Halifax

-

Cape Liberty, New Jersey

Adventure of the Seas | 11 nights

02 Jun 20

FREE centrally located handpicked hotel stay
Flights Included

£

1549

View Deal

North America

Adventure of the Seas

Royal Caribbean International

Cape Liberty, New Jersey

-

Boston, USA

-

Portland, Maine

-

Bar Harbor

-

St John, New Brunswick

-

Halifax

-

Cape Liberty, New Jersey

New York, Canada & New England

Cape Liberty, New Jersey

-

Boston, USA

-

Portland, Maine

-

Bar Harbor

-

St John, New Brunswick

-

Halifax

-

Cape Liberty, New Jersey

Adventure of the Seas | 11 nights

22 Sep 20

FREE centrally located handpicked hotel stay
Flights Included

£

1549

View Deal

North America

Adventure of the Seas

Royal Caribbean International

Cape Liberty, New Jersey

-

Boston, USA

-

Portland, Maine

-

Bar Harbor

-

St John, New Brunswick

-

Halifax

-

Cape Liberty, New Jersey

9nt Western Caribbean & Perfect Day with Miami

Miami

-

Cozumel

-

Roatan, Bay Islands

-

Puerto Costa Maya

-

CocoCay

-

Miami

Symphony of the Seas | 9 nights

28 Jan 21

FREE centrally located handpicked hotel stay
Flights Included

£

1549

View Deal

Caribbean

Symphony of the Seas

Royal Caribbean International

Miami

-

Cozumel

-

Roatan, Bay Islands

-

Puerto Costa Maya

-

CocoCay

-

Miami

2nt Houston & 7nt Western Caribbean

Galveston

-

Cozumel

-

George Town, Cayman Islands

-

Falmouth,Jamaica

-

Galveston

Liberty of the Seas | 9 nights

12 Jul 19

FREE centrally located handpicked hotel stay
Flights Included

£

1549

View Deal

Caribbean

Liberty of the Seas

Royal Caribbean International

Galveston

-

Cozumel

-

George Town, Cayman Islands

-

Falmouth,Jamaica

-

Galveston

Hong Kong + Japan & Philippines + Singapore

Hong Kong Kai Tak

-

Okinawa

-

Ilocos (Salomague), Philippines

-

Manila

-

Boracay

-

Singapore

Quantum of the Seas | 14 nights

21 Feb 20

FREE centrally located handpicked hotel stay
Flights Included
Free Upgrade to Oceanview Cabin

£

1549

View Deal

Asia & Indian Ocean

Quantum of the Seas

Royal Caribbean International

Hong Kong Kai Tak

-

Okinawa

-

Ilocos (Salomague), Philippines

-

Manila

-

Boracay

-

Singapore

9nt Miami & Western Caribbean Twist

Fort Lauderdale

-

Labadee

-

Falmouth,Jamaica

-

Cozumel

-

Fort Lauderdale

Oasis of the Seas | 9 nights

26 Mar 21

FREE centrally located handpicked hotel stay
Flights Included

£

1549

View Deal

Caribbean

Oasis of the Seas

Royal Caribbean International

Fort Lauderdale

-

Labadee

-

Falmouth,Jamaica

-

Cozumel

-

Fort Lauderdale

Bermuda Cruise with Stays and Broadway Show

Baltimore

-

King's Wharf, Bermuda

-

Baltimore

Grandeur of the Seas | 10 nights

05 Jun 19

FREE centrally located handpicked hotel stay
Flights Included

£

1569

View Deal

Bermuda

Grandeur of the Seas

Royal Caribbean International

Baltimore

-

King's Wharf, Bermuda

-

Baltimore

Japanese Explorer & Hong Kong Stay

Hong Kong Kai Tak

-

Okinawa

-

Fukuoka

-

Nagasaki

-

Kagoshima

-

Hong Kong Kai Tak

Voyager of the Seas | 13 nights

30 Jul 19

FREE centrally located handpicked hotel stay
Flights Included

£

1569

View Deal

Asia & Indian Ocean, China

Voyager of the Seas

Royal Caribbean International

Hong Kong Kai Tak

-

Okinawa

-

Fukuoka

-

Nagasaki

-

Kagoshima

-

Hong Kong Kai Tak

3nt San Juan & 7nt Southern Caribbean

San Juan, Puerto Rico

-

Oranjestad, Aruba

-

Willemstad, Curacao

-

Kralendijk,Bonaire

-

Philipsburg, St Maarten

-

San Juan, Puerto Rico

Freedom of the Seas | 10 nights

11 Jul 19

FREE centrally located handpicked hotel stay
Flights Included

£

1569

View Deal

Caribbean

Freedom of the Seas

Royal Caribbean International

San Juan, Puerto Rico

-

Oranjestad, Aruba

-

Willemstad, Curacao

-

Kralendijk,Bonaire

-

Philipsburg, St Maarten

-

San Juan, Puerto Rico

3nt San Juan & 7nt Southern Caribbean

San Juan, Puerto Rico

-

Oranjestad, Aruba

-

Willemstad, Curacao

-

Kralendijk,Bonaire

-

Philipsburg, St Maarten

-

San Juan, Puerto Rico

Freedom of the Seas | 10 nights

08 Aug 19

FREE centrally located handpicked hotel stay
Flights Included

£

1569

View Deal

Caribbean

Freedom of the Seas

Royal Caribbean International

San Juan, Puerto Rico

-

Oranjestad, Aruba

-

Willemstad, Curacao

-

Kralendijk,Bonaire

-

Philipsburg, St Maarten

-

San Juan, Puerto Rico