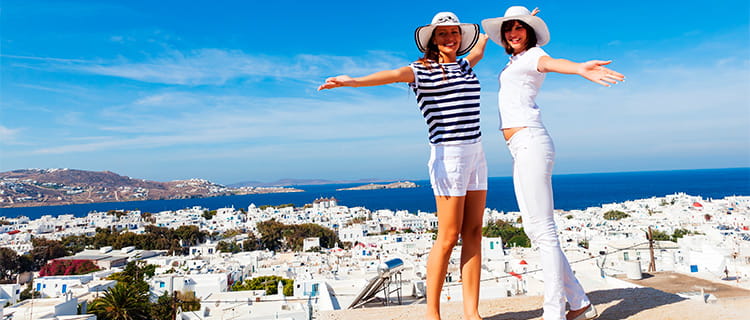 Mykonos
Mykonos is situated in the middle of the Aegean Sea and is famed as a cosmopolitan destination amongst the Greek islands and widely recognised as one of the great travel meccas. It is one of the most visited islands in the Aegean by tourists.
Points of Interest
---
The Windmills
From as early as the 16th century, the windmills are one of the most recognized landmarks of Mykonos.
Little Venice
Little Venice is one of the most beautiful and romantic places in the whole of Mykonos and offers a fantastic sunset.
Paraportiani Church
Paraportiani is considered a prime example of Cycladic architecture. The name of the island's most famous church also gives its location: outside the city walls.
Mykonos Beaches
The beaches of Mykonos are known for their crystalline waters, long stretches of golden sand, stunning views, and an abundance of water sports.
Delos Museum
Built in 1904, this museum displays exquisite artifacts and marble sculpture from the early Archaic period through Roman Imperial times.
Panagia Tourliani Monastery
Founded in 1542, This church founded in 1542 is renowned for its unique architecture and whitewashed exterior.
Town of Mykonos
Charming, whitewashed homes and blue-domed churches are built into the hillside situated under the Byzantine Monastery of St. John.
var chartData = [[7,9,13,17,22,26,28,28,24,18,12,8]]; filter.location = "venice"; filter.baseURL = "https://www.cruisenation.com/2_venice_dump_";
You have reached the end of the page. Go back to the top?