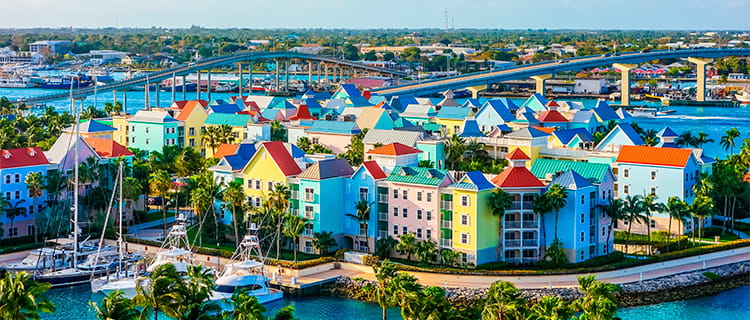 Nassau
Nassau is the capital of the Bahamas and is a member of the British Commonwealth which offers the taste of Europe with a Caribbean flavour.
Points of Interest
---
Atlantis Resort
Atlantis Resort is a resort and waterpark with everything from an art-filled casino to a nightclub, spa, dolphin habitat and Mayan Temple Waterslide.
Paradise Island
Paradise Island is located just off the shore of the city of Nassau and is the place to see and be seen.
Fort Charlotte
Built in 1789, this impressive British-colonial era fort is a short walk from downtown Nassau.
Beaches
Why not enjoy a private beach day on one of the famous sugary beaches, with activities such as dolphin or stingray encounters.
Seaworld Explorer
Observe the underwater colony of coral and many varieties of colourful tropical fish from your own personal window onboard this semi-submarine vessel.
Ardastra Gardens & Zoo
Best known for its flamingo's, the Ardastra Gardens & Zoo now has more than 300 animals.
Queen's Staircase/Fort Fincastle
A major landmark that is located in the Fort Fincastle, the Queen's Staircase are hand-carved limestone steps which were later named in honour of Queen Victoria.
Snorkeling
A trip to the Bahamas wouldn't be complete without taking the plunge in the turquoise waters that are filled to the brim with many species of fish and beautiful reef.
var chartData = [[7,9,13,17,22,26,28,28,24,18,12,8]]; filter.location = "venice"; filter.baseURL = "https://www.cruisenation.com/2_venice_dump_";
You have reached the end of the page. Go back to the top?