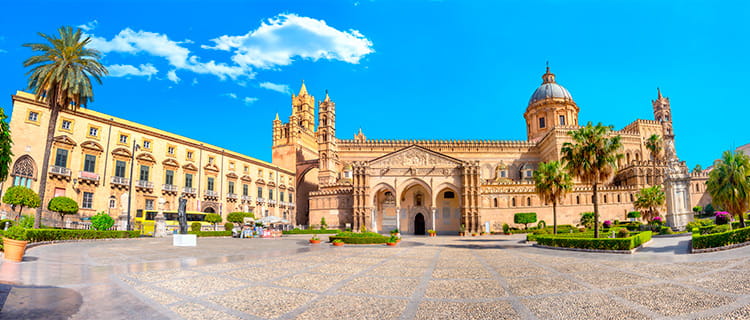 Palermo
The capital of Sicily, Palermo is a cultural feast located on the north coast of the island. Known as the "city of delights" for its marvellous and lavish gardens as well as magnificent mosques and palaces.
Points of Interest
---
Teatro Massimo
This famed opera house completed in 1897 is the largest in all of Italy. It is famous for being the setting of the final scenes of the Godfather Part III film.
Duomo di Monreale
With intricate mosaics covering the walls, ceiling and floor this 12th century cathedral was designed to the very finest detail.
Erice
This centuries old town is situated in the north west of Sicily, thousands of feet above Trapani. It features a Norman castle, and a labyrinthine of streets.
Ruins of Segesta
The Greek ruins at Segesta include a well preserved Doric temple and a great amphitheatre that opens up to the Sicilian landscape.
Cathedral of Palermo
This incredible cathedral complex includes royal tombs, a crypt, a treasury and a chapel.
Capuchin Catacombs
The Capuchin Catacombs of Palermo are not for the faint hearted. A somewhat macabre tourist attraction contains remains of some 8,000 men, women and children.
Palazzo dei Normanni
The building is the oldest royal residence in Europe, once serving the Kings of Sicily. Today it's the home of the Sicilian parliament.
L'Antica Masseria
Nestled in the countryside, surrounded by rolling green hills, this elegant hotel can be described in two words hospitable and tasty.
var chartData = [[7,9,13,17,22,26,28,28,24,18,12,8]]; filter.location = "venice"; filter.baseURL = "https://www.cruisenation.com/2_venice_dump_";
You have reached the end of the page. Go back to the top?