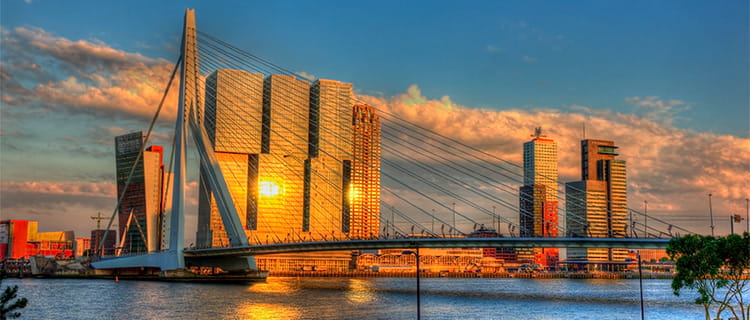 Rotterdam
Rotterdam is the largest port in Europe, making it an important industrial centre and economic powerhouse. Known as the city of architecture, Rotterdam is an intriguing mix of old and new.
Points of Interest
---
Canal Cruise
Sit back and relax as you glide through the centre of this beautiful city a perfect way to showcase the sights of Amsterdam.
Kinderdijk
Kinderdijk is home to nineteen original windmills, many in working order and now on the World Heritage List of UNESCO.
Anne Frank's House
Explore the hiding place where Anne Frank wrote her famous diary during World War II.
Van Gogh Museum
Gain insight into one of the most famous painters in the world. The gallery showcases Van Gogh's artwork and personal documents.
Delft
A charming city home to Royal Delft pottery, enjoy a walking tour in this area known for its ties with the Dutch Royal Family.
Royal Palace
This opulent Palace dominates Dam Square which has served a number of purposes since the mid 17th Century.
Delfshaven
A historic harbour and one of the oldest places in Rotterdam where you'll find antique shops, shipyard De Delft and the famous Pilgrim Fathers Church.
Keukenhof Tulip Festival
Known as the Garden of Europe, Keukenhof is situated near Lisse, it's the world's largest flower garden.
var chartData = [[7,9,13,17,22,26,28,28,24,18,12,8]]; filter.location = "venice"; filter.baseURL = "https://www.cruisenation.com/2_venice_dump_";
You have reached the end of the page. Go back to the top?