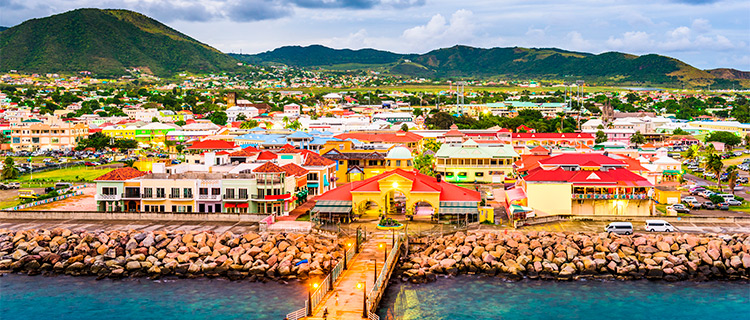 St Kitts
St. Kitts is an island in the West Indies and presents an exotic landscape with its dense rainforest, rolling fields and volcanoes combined with its white sandy beaches and warm waters it makes St. Kitts one of the most seductive spots in the Caribbean.
Points of Interest
---
St. Kitts Scenic Railway
This scenic railway runs around the major part of the island showcasing the loading sites which harvested sugar cane along the route.
Brimstone Hill Fortress
Boasting attractive panoramic views overlooking St. Kitts and Nevis this once military fortress is one of the best preserved in the Americas.
Romney Manor
The oldest sugar plantation on St. Kitts with its botanical gardens, set in a majestic location no visit to St. Kitts would be complete without a tour of the Historic Romney Manor.
Caribelle Batik
Most batik garments are produced at Romney Manor home of Caribelle Batik using fabrics including Sea Island Cotton into beautiful garments.
Plantations & Great Houses
Visit some of the grand homes which have been left behind by wealthy landowners that have been restored and filled with antiques.
Nevis
Nevis was once sprawling with sugar plantations, this Caribbean gem is one of the most unspoilt and relaxing islands in the Caribbean.
var chartData = [[7,9,13,17,22,26,28,28,24,18,12,8]]; filter.location = "venice"; filter.baseURL = "https://www.cruisenation.com/2_venice_dump_";
You have reached the end of the page. Go back to the top?