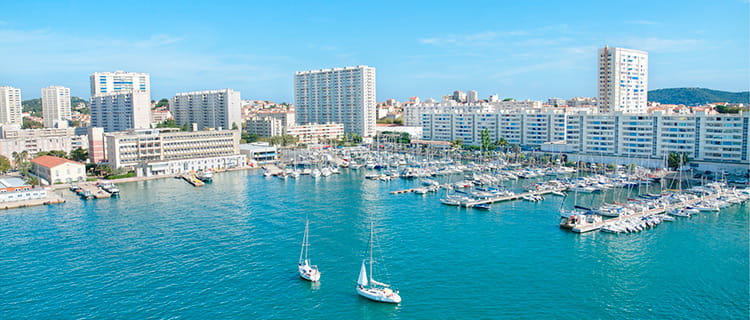 Toulon
Toulon is the capital of the Var and provides an excellent gateway to the riches of Provence and the Cote d'Azur, the setting for the legendary resort of St. Tropez. The essence of Southern France is everywhere with a miraculous fusion of sky and sea.
Points of Interest
---
St. Tropez
The elegant boutiques, galleries, pastel-coloured buildings and cafes are housed in the old quarter.
Aix-en-Provence
Aix boasts the legendary brasserie Le Deux Garcons, the elegant Cours Mirabeau and the finest shopping - and markets - in Provence.
Bormes-les-Mimosa
This 12th century village famous for its flower-filled narrow lanes is set in a magnificent mountain amphitheatre with sweeping views of Lavandou Bay.
Bandol
One of the great French wine appellations, Bandol produces big inky reds, minerally whites and arguably the greatest French rosé.
Les Sablettes
Stroll the promenade and visit the public garden of this famed beach and village, which boasts an array of cafes, shops and galleries.
Le Castellet
Sections of the 15th century ramports of this fortified hamlet still exists. Historical landmarks abound in this tiny town that's perched on the edge of a cliff.
Hyeres
The seaside town of Hyeres offers cobalt blue waters, snow-white sands, flourishing gardens, luxurious villas, and historical sights.
Sanary-sur-Mer
With only 60 days of rain. It's been called the sunniest place in France. An enchanting 16th century the beaches in Sanary-sur-Mer are open and active year 'round.
var chartData = [[7,9,13,17,22,26,28,28,24,18,12,8]]; filter.location = "venice"; filter.baseURL = "https://www.cruisenation.com/2_venice_dump_";
You have reached the end of the page. Go back to the top?