WOW! Escape the dreary British winter and soak up some sun with these incredible offers on the Costa Diadema sailing Dubai & the Emirates!
We've slashed prices across all sailings and you can now book from only £679 per person - and to make this deal even better we've even included a FREE 2-night stay in a hand-picked, centrally located hotel in the fascinating city of Dubai! Return flights from the UK and all meals on board the ship are also included.
You'll sail to destinations like Muscat and Doha plus enjoy an overnight stay on ship in the bustling metropolis of Abu Dhabi. Your flights are based on London Gatiwck although regional flights are also available.
This offer is exclusive to Cruise Nation so you won't find it anywhere else!
WHY WE LOVE THIS OFFER
Includes return Flights!
Includes FREE 2nt Dubai stay!
Overnight on ship in Abu Dhabi!
Massive Reduction!
Exclusive to Cruise Nation!
See our Deals
All of the deals we have on this sailing are below. Please note that our lowest prices are from London Gatwick, however we also have availibility from Birmingham, Edinburgh, Glasgow, London Heathrow, Manchester, Newcastle and Stansted.
All of the offers below can be booked through our website or by calling our Sales Team. To see the live prices from each airport, click "View Deal" and select your preferred airport.
The Beautiful Costa Diadema
The glamorous Costa Diadema is built for relaxation and fun! With lots of on board activities, lively bars, gourmet restaurants and the spa area, you're bound to find something on board that you'll love.
Among the special features not to be missed: an entire deck dedicated to children, complete with a castle and pirate galleon, plus the terrace on deck 5 for strolling and enjoying an cocktail at sunset: a real treat for vacationing in perfect Italian style. The cabins aboard our flagship are elegant, well-appointed and spacious for up to five guests. At any time of the day or night you'll be spoilt for choice on what to do: sports, games, a large three-story theater where international artists, and you too can be in the show with Tu sì que Vales... and then the Aperol Spritz Bar for a cocktail before dancing the night away at the disco, a games room for returning to your childhood, and a real German pub.
DESTINATIONS ON OFFER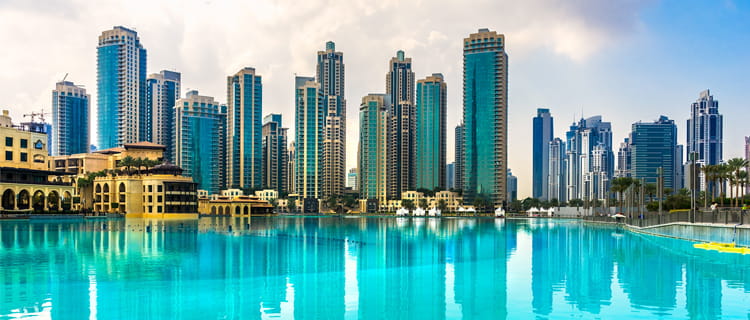 Dubai
Known as the jewel of the United Arab Emirates, Dubai has everything from 6 star hotels and Golden beaches to designer shopping malls and fun filled water parks! Dubai is truly a mix of cultures full of ancient mystery and yet still a modern tourist playground. Dubai is also home to the world's most luxurious hotel, the Burj Al Arab. The major cruise lines all lay anchor in Dubai, so whatever package you choose you're sure to enjoy the emirate culture, attractions and people.
Points of Interest
---
Burj Khalifa
Take a birds eye view of Dubai as you climb the world's tallest building The Burj Khalifa.
Dubai Mail
This ultimate shopping experience is packed full of food outlets, retail stores and entertainment.
Wild Wadi Water Park
Cool down and have a blast in the Wild Wadi Water Park. The water park is situated opposite the world famous Burj Al Arab.
Dubai Desert Safari
Smash your way through the sand dunes or feast on a barbecue under the stars.
Dubai Museum
See Dubai in a new light at the Dubai Museum. The museum is situated in the Al Fahidi Fort which was built in the 1700's.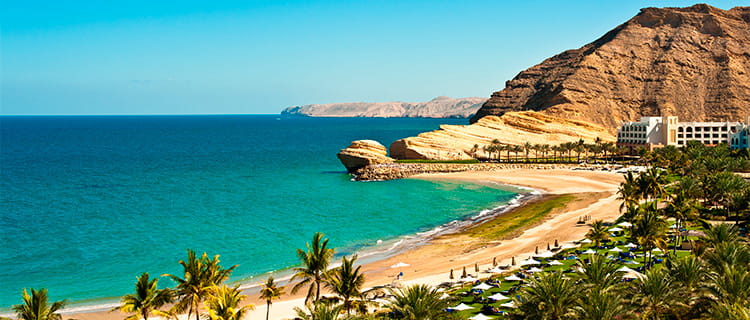 Muscat
Muscat is the capital city of Oman and provides tourists a unique blend of traditional and modern. Compared to other major cities in the Gluf, Muscat remains very low-key. You won't find any skyscrapers and even the cities office blocks retain the traditional Arab style of architecture. Muscat is undoubtedly at the heart of Oman and now over a quarter of the countries inhabitants live there and it's four times the size of the next largest city, Salalah.
Points of Interest
---
Mutrah Souk
Mutrah Souk is the most popular tourist destination in Muscat and possibly the whole of Oman. Although it's housed under modern timber roofing, it's one of the most authentic souks in Arabia and it offers a glimpse into Oman's past with tight alleyways and the aroma of frankincense and sandalwood. You can easily get lost if you venture from the main thoroughfare, but that's half the fun! You'll find some great shops selling a mixture of Indian and Omani items and as bargaining is expected, be prepared to haggle!
Sultan Qaboos Grand Mosque
Found in the suburb of Ghubrah, the Sultan Qaboos Grand Mosque is one of the largest and most spectacular mosques in the UAE. There is room inside for about 20,000 worshippers and this is the only mosque in Oman that is open to non-muslims. It is dressed in large quantities of white and red-brown marble on the inside, as well as the world's second largest carpet, you can also find a huge Swarovski crystal chadelier in the centre of the hall which is a mega-14 metres tall!
Bait al Zubair
If you're interested in understanding a bit more about Omani heritage and culture, then a visit to Bait al Zubair is a must. There is a good range of artifacts including weapons, jewellery, coins, and children will enjoy the model village complete with falaj.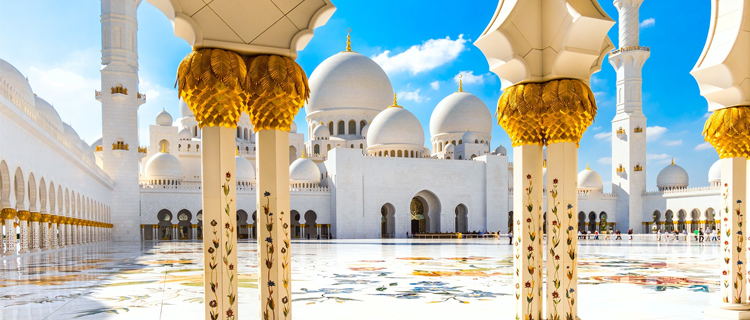 Abu Dhabi
Abu Dhabi is the federal capital of the United Arab Emirates. The city is home to many attractions including the sixth largest mosque in the world - the Sheikh Zayed. Abu Dhabi is the perfect destination for tourists, with several malls, an aquarium, dessert safaris, camel races and The Corniche - a spectacular 6km waterfront filled with go-cart riding, playgrounds and shows!
Points of Interest
---
The Corniche
The Corniche is a spectacular 6km waterfront featuring a range of activities including go-karting, playgrounds and stages.
Abu Dhabi Mall
This three storey mall is situated Tourist Club Area of Abu Dhabi.
Desert Safari
Smash your way through the sand dunes in a 4x4 with one of the specialist drivers.
Khalifa Park
Khalifa Park is located near the Grand Mosque. The park features an aquarium, museum and play parks.