WOW! Check out this incredible offer on board the newly-refurbished Royal Caribbean Independence of the Seas from only £799 as it sails from Fort Lauderdale around the Caribbean before heading across the Atlantic to Southampton!
We've slashed prices on this sailing and you can now book from only £799 per person - and to make this deal even better we've even included a FREE 2nt stay in the beach resort of Fort Lauderdale! Your flights from the UK to Fort Lauderdale are also included. Flights are based on London Gatwick. Regional flights may be available (supplement will apply) - please call for more details.
The itinerary includes Caribbean favourites such as Labadee (Royal Caribbean's private island), San Juan, St Thomas and St Maarten.
This offer has been reduced by over 50% and is exclusive to Cruise Nation so you won't find it anywhere else!
WHY WE LOVE THIS OFFER
Includes Flights!
Includes FREE 2nt stays in Fort Lauderdale!
Upgrade to Oceanview fr only £79 extra!
Less than £50 per person per night!
SAVE up to £1800 per couple!
Exclusive to Cruise Nation!
DESTINATIONS ON OFFER
Fort Lauderdale
Labadee
San Juan
St Thomas
St Maarten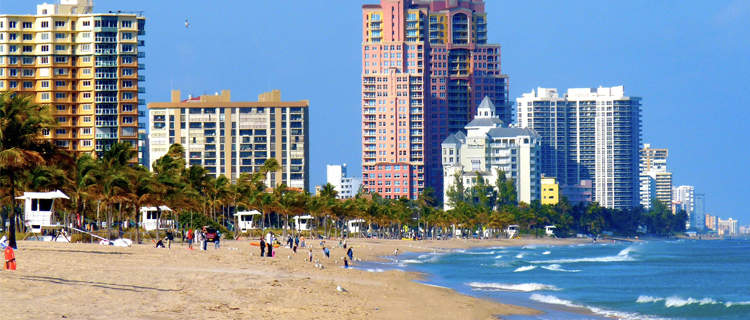 Fort Lauderdale
Fort Lauderdale boasts world class theatres, museums, sightseeing and shopping. A prime family tourist destination and famous for its beaches and boats Fort Lauderdale is known as the 'Venice of America' due to its expansive canal system.
Points of Interest
---
South Beach
Just twenty miles from the port is the international attraction known as South Beach, a trendy colourful part of Miami Beach.
Everglades
An airboat ride through the Florida Everglades is the perfect way to view the many endangered species hiding in the River of Grass.
Fort Lauderdale Beach
With more than seven miles of white sandy beaches the city of Fort Lauderdale offers every kind of water sport as well as many delightful shops and cafes.
Sawgrass Mills
Sawgrass Mills features more than 350 retail outlets and brand name stores making it one of the largest shopping centres in South Florida.
Las Olas Boulevard
This trendy downtown Fort Lauderdale district features a host of fabulous art galleries, electric boutiques are ideal for a stroll.
Flamingo Gardens & Wildlife Sanctuary
Home to over a dozen flamingos this ecologically-friendly estate is set on 60 acres and showcases rare native and exotic plants also includes a tram ride around the aviary.
Intracoastal Waterway
This unique stretch of water has become known as the 'Venice of America' with more than 300 miles of inland waterways that pass by five-star hotels and million-dollar estates.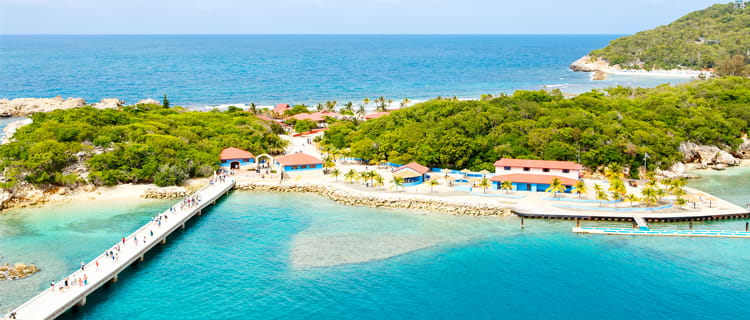 Labadee
Labadee is a private paradise island owned by Royal Caribbean. This exclusive island offers crystal clear waters, pristine beaches, awe-inspiring scenery and plenty of fun filled activities there is a lot to love about a day in Labadee.
Points of Interest
---
Dragon Tail Beach
This beach is the largest on the island, it's centrally located and best for visitors who want to relax and soak up the sun.
Dragon's Breath Zip Line
Take an exhilarating ride 2,600 foot down to the water's edge travelling up to 50 miles per hour on one of the longest zip lines in the world, you will have spectacular views as you soar above Labadee.
Malfini Beach
Escape the hustle and bustle of the rest of the island and visit the secret paradise of Malfini beach, here you will be able to enjoy a day of pure relaxation.
Dragon's Tail Coaster
Located 680 feet on Santa Maria Mountain, you will find Dragon's Tail roller coaster. Race down a track travelling at 30 miles per hour through the mountainside forest.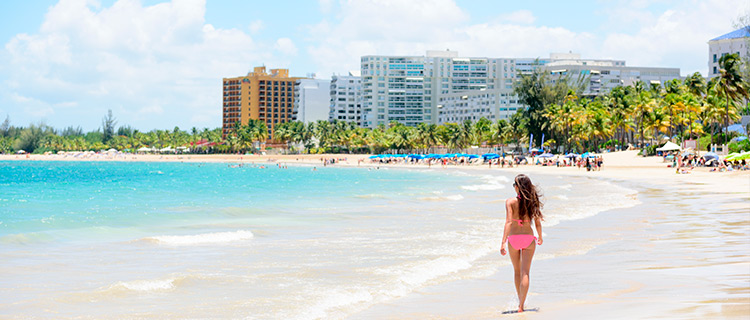 San Juan
San Juan is the capital city of Puerto Rico, known as La Ciudad Amurallada (the walled city) its also one of the biggest natural harbours in the Caribbean. This beautiful island has stunning beaches and enchanting rainforests.
Points of Interest
---
La Casa Blanca
Dating back to 1520's this house was the family home of Juan Ponce de Leon, famed explorer and the first Spanish Governor of Puerto Rico. Today, it's a museum of 16th and 17th century artefacts.
La Fortaleza
Built in the mid 1500's it was the first in a series of military facilities but soon became the official Governors Residence, visitors can stroll through the beautiful rooms and banquet halls.
Bacardi Rum Factory
Learn about the history of how Bacardi evolved into one of the world's most popular spirits. Guests will also be able to learn about the rum making process, and sample hand crafted cocktails.
El Catedral de San Juan Bautista
The original church dates back to the 1500s, it's one of the most admired churches in Puerto Rico, and its the final resting place of the Spanish explorer Juan Ponce de Leon.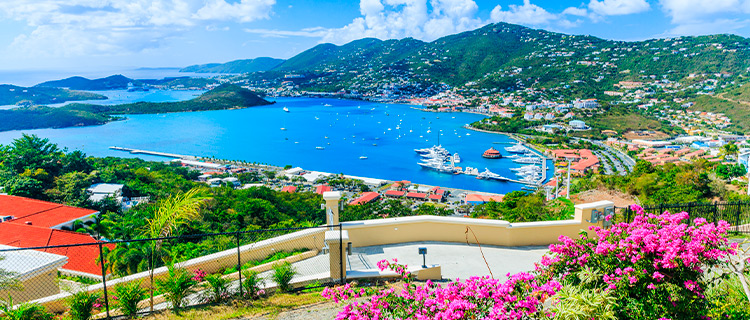 St. Thomas
St. Thomas is a water lover's paradise, offering every imaginable water sport and white sand beaches with palms that sway in the breeze. The harbour is easily one of the Caribbean's most scenic.
Points of Interest
---
Magens Bay
Visit one of the world's best beaches, the beautiful one mile stretch is a public park and was donated to the people of the Virgin Islands by Arthur Fairchild.
Blackbeard's Castle
Blackbeard's castle can be reached by walking up the "99 Steps" with pirate hideouts, historic manor houses, botanical gardens, waterfalls and much more this is one of the Caribbean's premier attractions.
Coral World Ocean Park
Spend the day at Coral World Ocean Park getting up close and personal with sea creatures and take the opportunity to pet a shark or hand feed a stingray.
Central Park
Spanning 843 acres Central Park is located in Manhattan. Among ist attractions are the Central Park Zoo, a pool and an ice skating rink.
St. Peter Great House
This Great House nestled in the volcanic peaks of St. Thomas boasts a lush Botanical Garden and nature trail, streaming waterfalls, wildlife and 150 species of Caribbean plants and fruits.
Butterfly Garden
Visit the lush tropical botanical garden where knowledgeable guides will teach you all they know about these fascinating creatures.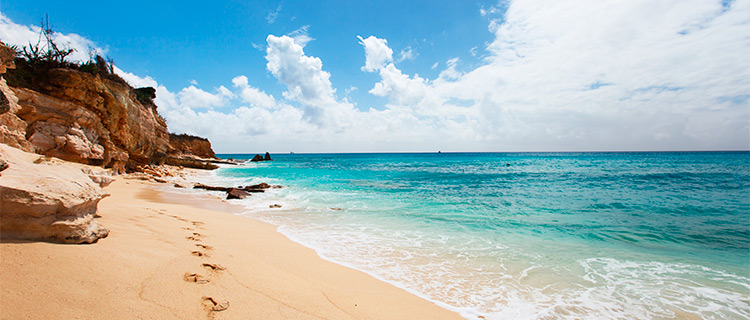 St Maarten
St. Maarten is one of the smallest land masses divided between two countries the Dutch and French sides of the island. And it's this split personality that lends so much to the island's charms and reputation for the finest cuisine in the Caribbean.
Points of Interest
---
Philipsburg
Philipsburg the Dutch capital of St. Maarten charms with colonial architecture, sun-swept beaches and historic buildings.
Grand Case
This charming seaside town is renowned for its exceptional dining and culinary variety and is hailed as the ''Gourmet Capital of the Caribbean''.
Marigot
Wander through the charming streets and experience a taste of this capital city of French St. Martin filled with sidewalk cafes, bistros and trendy art galleries.
Butterfly Farm
Walk through the lush foliage and learn about the life cycle of a dazzling array of exotic butterflies in their natural, tropical setting.
Orient Beach
Light waves, sparkling sand and cool trade winds make this one of the most popular beaches. Its the optional clothing French side that attracts the most attention.
America's Cup Regatta
A once in a lifetime opportunity to race million dollar yachts in the turquoise blue waters of the Caribbean Sea.
St. Maarten Zoo
This zoo boasts an number of rare and exclusive animals all exclusively from the tropics unlike anything in the U.S.
Outdoor Adventure
A fine collection of venues to sail, swim, snorkel and kayak or take an exhilarating Segway tour on the boardwalk.